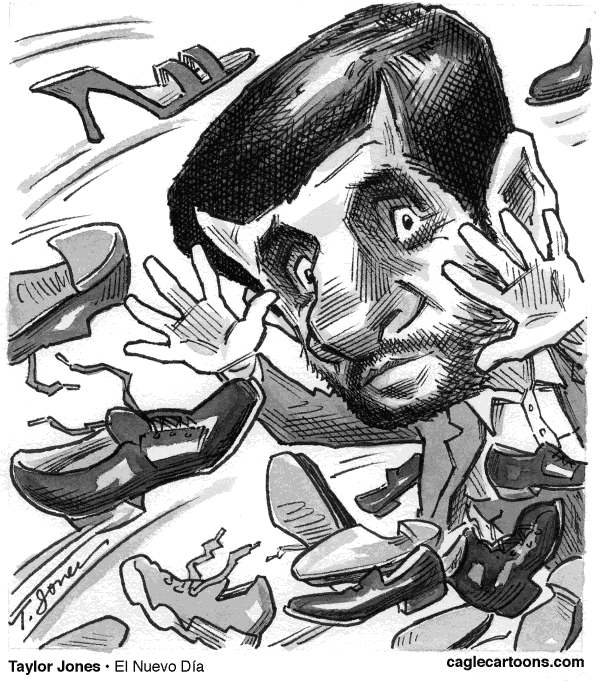 Is a major crackdown now underway in Iran? Some news organizations, including the BBC, say yes in the wake of controversial election results that have raised a slew of issues involving Iran, the Obama administration's proposed approach to it, the Middle East, and even American press coverage.
UPDATE: Opposition candidate Mir Hossein Moussavi appeared at a protest rally. Here's the latest from CNN:
Iran's defeated main opposition leader appeared at a rally Monday, the first time he has been seen in public since last week's elections which he says were rigged to give hardline President Mahmoud Ahmadinejad overwhelming victory.

Reformist Mir Hossein Moussavi, whose claims of fraud in Friday's vote have fueled three days of unrest and prompted authorities to launch a probe, spoke to supporters in Tehran's Freedom Square using a loudspeaker, and clasped his hands over his head as the crowd cheered.

Wearing a striped shirt and smiling, he appeared confident, despite official election results showing that President Mahmoud Ahmadinejad convincingly won Friday's election.

Hundreds of thousands of people turned out for the demonstration, said Amir Mehdi Kazemi, a reporter for the Iranian government-backed station.

CNN Chief International Correspondent Christiane Amanpour saw a pair of four-wheel drive vehicles — believed to be transporting Moussavi to the rally –pass at high speed to join the march, one with security officials hanging off the car and the other with a camera.

Crowds shouted "Moussavi! Moussavi!" as they passed.
Here's the rest of this post, as posted earlier today:
The BBC has this extensive piece which details a crackdown now going on in several areas:
Since the overwhelming election victory for incumbent President Mahmoud Ahmadabad there have been reports of opposition members being arrested, newspapers being censored and banned and internet sites being blocked.
Some details from the BBC report:
—Opposition: Conflicting reports about whether opposition candidate Mir Hossein Mousavi has been arrested. Some reports of some key activists and opposition figures, and even some relatives of them, being arrested, but some later released.
—Domestic Media:
There has been a filtering of many web sites, censorship of newspapers before printing, and restrictions on the broadcast of news of the three losing candidates, according to the reformist newspaper Aftab-e Yazd.

Sarmayeh, another reformist newspaper, has reported that Kalameh Sabz (Green Word), the paper run by Mir Hossein Mousavi, was nowhere to be found in Tehran on Monday. The Associated Press is quoting an unnamed editor as saying that the paper was blocked at the printing house because the authorities were upset with statements by Mr Mousavi reported in it….

…..Sarmayeh's censored article on Green Word also discussed the suspension of Velayat, a newspaper circulating in Qazvin, a town to the west of Tehran.
According to Reporters Without Borders, a Paris-based group that campaigns for press freedom, a number of leading journalists had been arrested. …There is no word of about 10 other journalists who have either been arrested or gone into hiding, the group says….Over the last few days, fours of the main pro-reform newspapers have been closed or prevented from questioning the official election results….Two Farsi-language TV stations were partially jammed on Sunday….Reporters Without Borders said the editor of the news website Nooroz, Said Shariti, has been arrested and 10 or so pro-opposition websites have been censored.
Also reports of slow internet and problems getting on Facebook and You Tube.
—Foreign Media: A clampdown reportedly is seen in foreign and independent media. this includes blocking of Farsi-language Voice of American broadcasts, curbing access to the BBC's Persian-language satiilite TV and access problems on the BBC's website. German reporters said they were prevented from doing their jobs. Tapes from an Italian news crew were confiscated by police after their Iranian interpreter was beaten up. Swedish network news was told its reporters had to get out of Iran since the elections were over.
And then there's this from the Telegraph, which notes how deadly serious the clampdown is — amid allegations that Ahmadabad came in third:
Iran's reformist presidential candidate Mir-Hossein Mousavi has called off a major rally to protest last Friday's election results, amid claims police had been cleared to open fire on protesters.

…..Mr Mousavi's wife and co-campaigner, Zahra Ranavard, was reported as warning that riot squads would be equipped with live ammunition, raising the prospect of serious bloodshed.

Iran's Interior Ministry said Mr Mousavi would be responsible for any consequences if he went ahead with the protest.

Mr Mousavi's cancellation of the protest came as sporadic disturbances continued around the Iranian capital, and reports circulated of leaked interior ministry statistics showing him as the clear victor in last Friday's polls.

The statistics, circulated on Iranian blogs and websites, claimed Mr Mousavi had won 19.1 million votes while Mahmoud Ahmadinejad had won only 5.7.
Meanwhile, The Christian Science Monitor notes that much of the information about what is going on Iran has come out of Twitter and blogs — versus the once-mighty mainstream media:
As protests against Iranian President Mahmoud Ahmadinejad's declared electoral victory continue in cities across Iran and the Iranian government cracks down on media coverage, Iranians are using Twitter and blogs to spread information about events on the gorund there.

Over the weekend, following the Iranian government's announcement of Mr. Ahmadinejad's proclaimed landslide victory over challenger Mir Hussein Mousavi, protesters flooded the streets of Tehran and other Iranian cities. The Iranian government then moved to shut down foreign reporting, according to niacINsight, the blog of the National Iranian American Council, a nonpartisan, nonprofit organization. The NIAC wrote at 4:35 p.m. on Sunday that "NBC and ABC have had their cameras and film confiscated. BBC has been ordered out of the country."

Indeed, a broadcast by John Simpson, of BBC, shows that the foreign press have had to become more discreet in their reporting – much of the video in the broadcast appears to be shot from a camera hidden in a bag. But the video also shows the crowd chasing off a member of the secret police who tried to shut down the BBC's cameras. In a press release, Reporters Without Borders chastised the Iranian government's censorship and called upon the world, and European nations in particular, not to recognize the announced election results.

As a result of the Iranian government's attempts at censorship, much of the best first-hand information out of Iran is coming via the blogosphere. Several bloggers, like Andrew Sullivan of The Atlantic and Nico Pitney of The Huffington Post , have been live-blogging the events of the election.
At the same time, there are several other developments that are worth watching:
–Suggestions that perhaps Ahmadinejad could have won but the numbers were inflated by government rigging.
Here's part of a piece in the Washington Post by Ken Ballen and Patrick Doherty, who were involved with a pre-election phone poll in Iran:
The election results in Iran may reflect the will of the Iranian people. Many experts are claiming that the margin of victory of incumbent President Mahmoud Ahmadinejad was the result of fraud or manipulation, but our nationwide public opinion survey of Iranians three weeks before the vote showed Ahmadinejad leading by a more than 2 to 1 margin — greater than his actual apparent margin of victory in Friday's election.

While Western news reports from Tehran in the days leading up to the voting portrayed an Iranian public enthusiastic about Ahmadinejad's principal opponent, Mir Hossein Mousavi, our scientific sampling from across all 30 of Iran's provinces showed Ahmadinejad well ahead.

Independent and uncensored nationwide surveys of Iran are rare. Typically, preelection polls there are either conducted or monitored by the government and are notoriously untrustworthy. By contrast, the poll undertaken by our nonprofit organizations from May 11 to May 20 was the third in a series over the past two years. Conducted by telephone from a neighboring country, field work was carried out in Farsi by a polling company whose work in the region for ABC News and the BBC has received an Emmy award. Our polling was funded by the Rockefeller Brothers Fund.

The breadth of Ahmadinejad's support was apparent in our preelection survey. During the campaign, for instance, Mousavi emphasized his identity as an Azeri, the second-largest ethnic group in Iran after Persians, to woo Azeri voters. Our survey indicated, though, that Azeris favored Ahmadinejad by 2 to 1 over Mousavi.
Poll crunching maven Nate Silver takes an extensive look at election results HERE and concludes:
But, there are some important differences between the two races; in the first round in 2005, you had five candidates who were fairly competitive — two conservatives, two reformists, and one (Rafsanjani) who is probably best considered a centrist (by Iranian standards). This time, you had only two candidates who received a competitive number of votes. And, obviously, Iran is a complicated and ever-changing place, with votes that may shift along ethnic fault lines in addition to political ones.

I simply don't know anything more than I've reported here and in Saturday's post. Based on conversations with people who are a bit more informed about Iranian domestic politics, it seems absolutely possible that Ahmadinejad in fact won (although his share of the vote was probably boosted through "dirty tricks" — intimidation both before and during the election, jamming text messaging services, etc.) and also absolutely possible that the election was stolen. The statistical evidence is intriguing but, ultimately, inconclusive.
One consequence of events in Iran: the possibility that the EU may take a harder line against the country:
European Union foreign ministers Monday expressed "serious concern" about Iran's use of force against post-election demonstrators, raising the prospect of a harder E.U. line against the country.

In a statement, the E.U. ministers also called on Iran to investigate how the contested re-election of President Mahmoud Ahmadinejad was calculated.

Since 2003, three E.U. countries, the U.K., France and Germany, have negotiated with Iran to ensure it won't develop nuclear weapons. These countries have largely tried to play a mediating role between Iran and the U.S., which severed diplomatic relations with Tehran and imposed trade sanctions after the 1979 revolution.

The E.U., by contrast, has used a milder approach, continuing most of its political and economic ties with the country.

Over the past two years it has imposed limited sanctions against Iranian banks and has banned trade in materials that could aid a nuclear weapons program, but has continued to allow most commercial relations.

But the contested reelection of President Ahmadinejad Friday and subsequent crackdown against protesters who allege that the vote was rigged has provoked a stronger-than-usual E.U. response.
–How the issue plays out domestically. Conservatives are outraged over how some liberals and moderates are comparing Ahmadinejad to George Bush and/or Karl Rove.
–The impact of events in Iran on Iran, the United States and elsewhere. Here are some thoughts from experts via RealClearWorld.
–The impact of events on the Obama administration's emerging policy of trying to open a dialogue with Iran. Do elections seriously weaken or strengthen the Obama administration's hand? One view from Daniel Dezner, writing on his blog on Foreign Policy:
1) Tehran's influence in the region is going to ebb. Iran's power in the Middle East in recent years has emanated from a mix of hard power (nuke progam, oil, support of Hebollah) and soft power (Ahmadinejad's economic populism, ranting against corrupt Arab elites, and general pugnaciouness towards Israel). Regardless of the result now, the election has killed their soft power in the region. This doesn't mean that Iran's influence disappears — see all the hard power stuff. Still, with each passing day of protests, Ahmadinejad looks more like a bully than a leader of a transnational social movement.

2) Multilateral coordination just got easier. Just as with North Korea, it gets ever easier for the United States to create a united front among its allies and other great powers when dealing with Iran going forward. The reaction in the West has been pretty uniform on the election results. When the nuclear negotiations break down — and they will break down — it should be easier to coordinate both the security and foreign policy responses.

3) No more two-level games for Iran. If Mousavi had won outright, the Obama administration would have been in a serious bind on the nonproliferation question. The president of Iran doesn't control the nuclear program; the supreme leader controls it. With Mousavi as the public face of Iran, however, it would have been tougher for the Obama administration to describe Iran as unyielding when it refused to make any serious concessions on its nuclear program. Furthermore, Mousavi could always ask the Obama administration to back off on the nuclear question because of hardliner resistance back home. That gambit won't play, now.
–On the other hand, some argue Obama is now "between the Shah and a hard place"..
–A new era in international journalism? Has Tweeter now firmly established itself as a reporting tool? Tweeters lambasted CNN for its post-election coverage.
The cartoon by Taylor Jones, El Nuevo Dia, Puerto Rico, is copyrighted and licensed to appear on TMV. All Rights Reserved. Unauthorized reproduction prohibited.