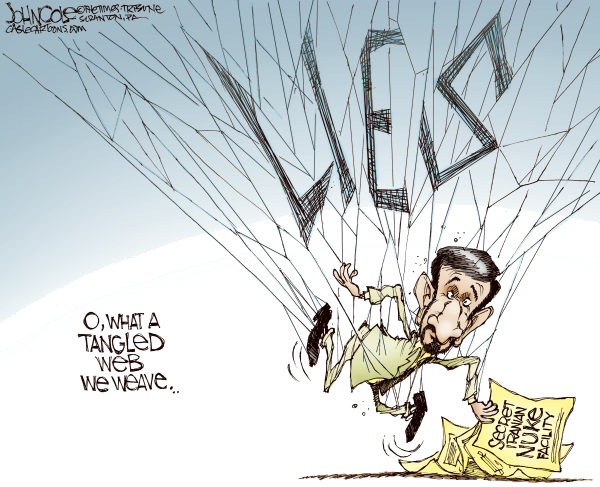 Iran's in-your-face stance continues as it test fire short-range missiles, with some cable reports saying long range tests will come in coming months. The New York Times reports:
Iran test-fired short-range missiles as its elite Revolutionary Guards began war games on Sunday aimed at boosting the Islamic Republic's deterrent capabilities, official media reported.
The missile maneuvers coincide with increased tension in Iran's nuclear dispute with the West, after last week's disclosure by Tehran that it is building a second uranium enrichment plant.
State radio said the Guards on Monday would test-fire the Shahab 3 missile, which Iranian officials say has a range of around 2,000 km, potentially putting Israel and U.S. bases in the Gulf within reach. It has been tested several times before.
Iran's English-language Press TV said two short-range missiles as well as a multiple missile launcher were tested on the exercise's first day.
It showed footage of a missile launch in desert-like terrain, leaving a vapor trail.
"Iran tests two short-range missiles," it said in a scrolling headline, naming them as the ground-to-ground Fateh (Victorious) missile and the Tondar (Thunder) naval missile.
The Revolutionary Guards said "the drill aims to maintain and boost the country's armed forces deterrent capabilities," Press TV said.
As has been evident for some time now, Iran seems to be almost defying the U.S., Israel and other countries to try and stop them from moving towards nuclear weapons. This is just the latest nose-thumbling act.
A Blog for All agrees:
That's clearly putting a thumb in the eye of the West and the US in
particular.

The Iranian tests often coincide with statements of bravado and threats against those who might seek to restrict Iran's nuclear technologies. This is little different.
The cartoon by John Cole, The Scranton Times-Tribune, is copyrighted and licensed to run on TMV. Unauthorized reproduction is prohibited. All rights reserved.
Joe Gandelman is a former fulltime journalist who freelanced in India, Spain, Bangladesh and Cypress writing for publications such as the Christian Science Monitor and Newsweek. He also did radio reports from Madrid for NPR's All Things Considered. He has worked on two U.S. newspapers and quit the news biz in 1990 to go into entertainment. He also has written for The Week and several online publications, did a column for Cagle Cartoons Syndicate and has appeared on CNN.