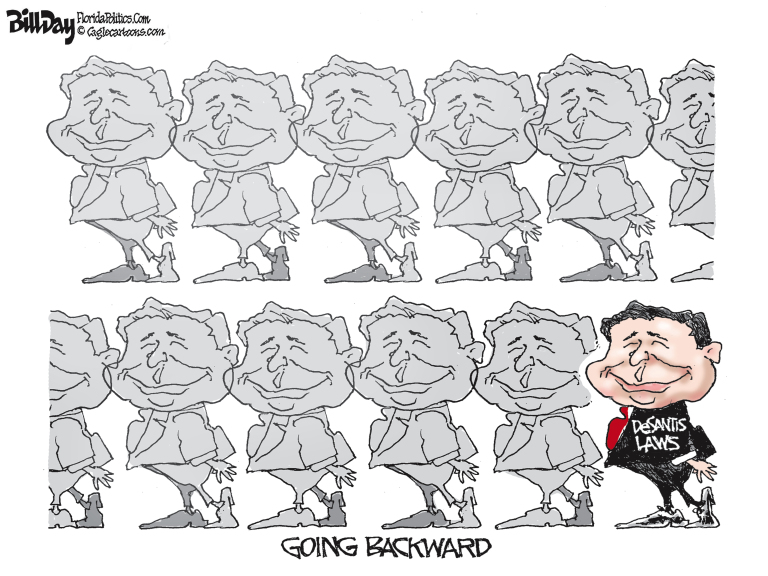 By Robert Coutinho
Ron DeSantis is running for President of the United States. In order to differentiate himself from his
primary rival, the forty-fifth president, he seems hell-bent (quite literally, as you will see) on proving
just how much more qualified he is.
DJT has been showing us just how evil a man he can be. He has brazenly attacked Congress in an attempt to prevent the peaceful transition of power. Job completed; it was anything but peaceful onJan. 6, 2021. He defamed a woman that he has been found by a jury of his peers in New York (at the time his state of residency) to have sexually assaulted, they even awarded punitive damages. The very next night, he defamed her again. I guess that the punitive damages were not enough.
Good luck with the next jury on their awarding of punitive damages. Job completed there. He speaks, therefor he lies. There is virtually no other situation. I wish that I were kidding, but he seems to not have spoken for five minutes without lying, so job completed there, too. He has brazenly committed extortion, and punishment for failure, upon numerous political allies and rivals. These include, but are not limited to Senator John McCain, Representative Cheney, Senator McConnell, Senator Cruz, Senator Graham, Attorney General Barr, Vice President Pence, and Governor DeSantis himself. Once again, job completed.
While committing all of these evil acts, DJT has not been idle in the greed sector. He has allegedly
been grafting off of the presidency by setting up numerous back-door pay-outs from various international players. His son-in-law received a $2 billion contract to control the Saudi family's portfolio in spite of having no credentials to invest.
No offense, but my brother worked at Fidelity for years as a wildly successful analyst, since, you know, he analyzed. The Saudi family could have asked him. I'm pretty sure that he would have come out of retirement for half that amount. In addition, DJT has, allegedly, been taking money for all sorts of causes, and then not using the money for said causes—instead using them for his own legal fees, for payouts, for hamberders (sic): you get the idea.
Now if you are Ron DeSantis, and you are going to compete with DJT on his own level, you have a serious job ahead of you.
You could try to point out just how evil this bugger is, but that is so yesterday. Besides, others have tried and failed to win over DJT's supporters by showing just how evil the guy is. So what is a Florida governor to do? Well, with a super-majority in both his House and Senate, he has taken the bold step of trying to prove that, when it comes to ideology, he is not only equal to the task, but he is better at it! He is willing to prove that he is more efficient, more effective, and even more creative when it comes to being a true ideologue.
In my previous article, I showed how the Florida legislature and governor passed a law requiring banks to loan to, "business(es) with for-profit prisons, guns, porn, bad agriculture, dirty energy, or extractive industry…" I was gobsmacked when I saw that! Rarely do we see such blatant, obvious, deliberate evil thrown into our faces. Not only that, but they did it with fanfare! Now that's some truly blatant advertisement there!
However, DeSantis and his Republican cronies in the Florida legislature were not finished! No sir; they had even more in store for us. They next passed a law making it illegal for credit card companies to help anyone (presumably law enforcement, but also, I assume, private investigators and such) to track gun and ammunition sales. I want you to understand something. Law enforcement can, and will, ask a credit card company to help them track the sale of a candy bar or a cake. However, Florida law now forbids the credit card companies from assisting in the tracking of guns and ammunition.
Because? Yeah! You know, they have to show their true colors, and this is how they are going to do it!
After they passed that law, I wondered if they had planning sessions in the Florida Governor's Mansion. You know, brainstorming sessions about what other things they could perpetrate on their state in the name of anti-woke-ism. I figured it had to be deliberate, since there is almost no way they could stumble into this kind of evil accidentally. Then they passed another law. I'm not kiddin you. Before I could even write another article, they passed a law allowing medical discrimination.
I know that you are thinking that what I just wrote is impossible. I know that you are thinking that the medical licensing boards would take away the licenses of the people involved. Well, the Florida law prohibits the licensing boards from revoking the licenses. The law allows discrimination based on the religious beliefs of the medical providers, so long as they are not based on a patient's race, color, religion, sex or national origin. However, the law is so vague that unwed mothers could be turned away from a hospital and/or refused assistance in delivery of their children, patients could be refused treatment for sexually transmitted diseases, etc
In the ultimate insult, the law also protects doctors when they disseminate unfounded rumors. Remember all of the false claims about Covid-19 that got spread around? Well the Surgeon General of Florida was one of those spreaders. He was a big supporter of hydroxy-choroquine. This law makes it illegal for an employer to fire or even sanction a doctor for spreading such unfounded or even false information.
So, if you are wondering if 45's administration could ever be topped for its promulgation of evil, don't tempt fate. There is always a way to make things worse.
DeSantis and his cronies in Florida are trying to prove that they are more anti-woke than DJT could ever be. They are trying to prove that they are more efficient, more up-to-date, more effective and more creative. DJT is like a bull trying to kill a swarm of bees! DeSantis and his people want you to know that they are like ninjas attacking a defenseless village of peasants!
Remember, anti-woke means anti-GOOD. DeSantis and his people are the best at promoting anti-woke! They are doing their absolute best to prove it! They are enshrining that into law in Florida every week.
Robert Coutinho is a disabled pharmaceutical chemist. He contracted ME/CFS in 1997 and has been
housebound since that time. He has written numerous articles and comments on this site, especially
dealing with world economics, which he learned during his extended illness. He is a former U.S. Army
Chemical Corps officer who served in the 10 th Mountain Division. He lives with his family in
Massachusetts.