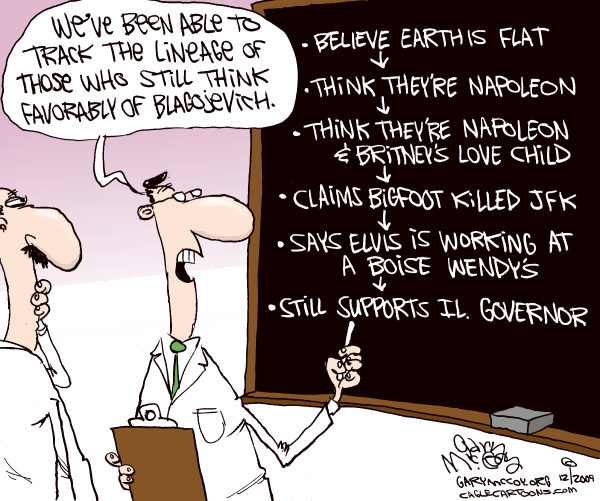 Illinois Gov. Rod Blagojevich has now been impeached: so now comes the trial….thus guaranteeing a continuation of a story that has "legs" and that's a boon to newspaper cartoons everywhere:
The Illinois House of Representatives impeached Governor Rod Blagojevich for abuses of power after federal prosecutors accused him of trying to auction President- elect Barack Obama's former U.S. Senate seat.

The House voted 114-1 today to remove Blagojevich for violations of the state constitution such as creating health- care programs unauthorized by the Legislature and rewarding campaign contributors with jobs and contracts. Blagojevich now faces a trial in the Senate of the fifth-most-populous U.S. state.

Blagojevich, 52, is the first governor impeached in Illinois's 191-year history. A 67-page report underpinning today's vote said the governor should be removed for "scheming to obtain a personal benefit for the Senate appointment" and engaging in "abuse of office of the highest magnitude."

"This is a good, glad happy day for the state of Illinois because it shows that no one is above the law," said state Representative William Black, the deputy leader of Republicans in the House.
This means Gov. Blagojevich will have more than a bad hair day. Given his rock bottom popularity in polls and the number of politicos of both parties who now have no use for him, it's unlikely he'll serve out the rest of his term in the end.
Cartoon by Gary McCoy, Cagle Cartoons
UPDATE: AP video on impeachment:
Joe Gandelman is a former fulltime journalist who freelanced in India, Spain, Bangladesh and Cypress writing for publications such as the Christian Science Monitor and Newsweek. He also did radio reports from Madrid for NPR's All Things Considered. He has worked on two U.S. newspapers and quit the news biz in 1990 to go into entertainment. He also has written for The Week and several online publications, did a column for Cagle Cartoons Syndicate and has appeared on CNN.