Iceland Volcanic Ash Stops Northern Europe's Flights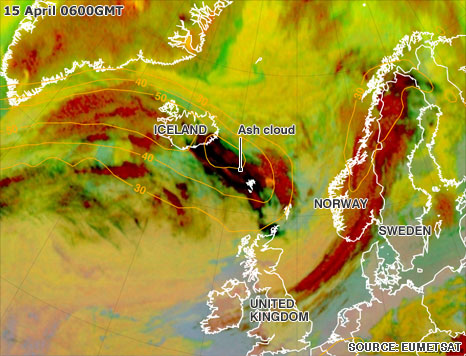 Volcanic ash from Iceland has caused flights all over Northern Europe to be cancelled — and air space even closed.
The culprit is under a glacier in Iceland.The BBC reports:
Flights have been disrupted across northern Europe by volcanic ash drifting south and east from Iceland.

Airspace was closed or flights cancelled in countries including the UK, the Republic of Ireland, Denmark, Norway, Sweden and Finland.

The ash, which can damage aeroplane engines, was produced by a volcanic eruption under a glacier in Iceland.

Flooding was reported as the glacier melted, and up to 800 people were evacuated from the area on Wednesday.

By Thursday afternoon, the UK had shut its airspace and other countries, from Belgium to Scandinavia, were in the process of following suit.

Airspace was shut down to all but emergency flights from midday (1100 GMT) on Thursday to 0700 BST (0600 GMT) on Friday, at the earliest. It was also closed in Ireland.

"Volcanic ash represents a significant safety threat to aircraft," said the UK's Air Traffic Control Service (Nats).
The satellite photo at the top of this post, via the BBC's website, shows the brownish ash cloud.
CBS offers the video of the eruption caught on tape:

And here's CBS on the closing of Heathrow airport:

UPDATE: How long can the ash last? CNN: