(Updated) Live by the Tweet, Be Vanquished by the Tweet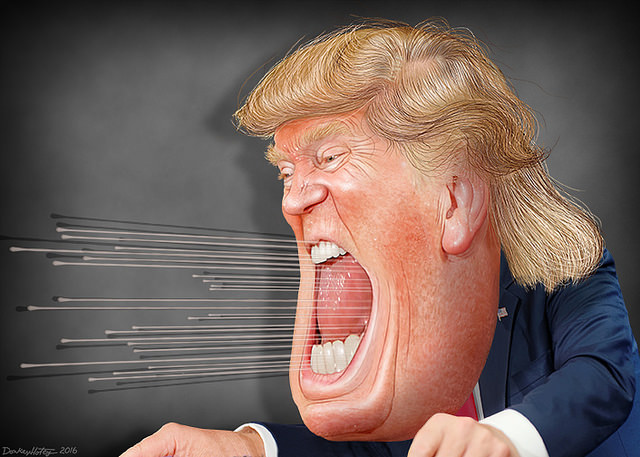 [Scroll to bottom for update]
By now most Americans have read the infamous "3 a.m. tweet":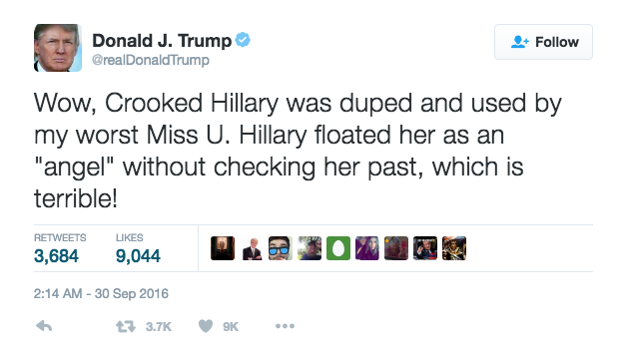 Donald Trump posted that tweet in the very early morning hours after the first presidential debate with Hillary Clinton. The debate during which Clinton exposed Trump's humiliating, sexist treatment of former Miss Universe, Alicia Machado.
But impulse-driven and decency-lacking Trump could not stop himself.
A little while later — still in the middle of the night — he tweeted an unseemly invitation to still-sleeping Americans to go and "check out" an alleged sex tape featuring the former Miss Universe:
"Did Crooked Hillary help disgusting (check out sex tape and past) Alicia M become a U.S. citizen so she could use her in the debate?"
The number of people, organizations, countries — name it — which have been at the receiving end of this thin-skinned man's vulgar tweeter attacks has grown astronomically and there is no sign that this man's electoral elevation to the highest, most respected office in the land will cure his affliction.
The New York Times has been keeping a running list of Trump's vicious insults on its website, and in October published the entire list in its print edition.
It took a 2-page spread to accommodate the infamous tweeter's list of victims which include: The president of the United States, other foreign leaders and nations, presidential candidates and politicians from both parties, journalists, pundits and media organizations, celebrities, television personalities, entertainers, protesters, African Americans, Muslims, Latinos, women — of course, in particular those who have accused him of sexual misconduct — even Gold Star families, the cast of a Broadway hit, "Hamilton," and things such as a lectern in the oval office.
Lately, Trump's ire has been directed at the cast of "Saturday Night Live," where Alec Baldwin has been doing a fabulous job of impersonating and mocking the thin-skinned president-elect. Baldwin's success can be fairly measured by the number and intensity of nasty tweets flung at him in response by the president-elect.
Last night, after Baldwin made fun of Trump's prolific, unhealthy and un-presidential twitter habits, it took Trump less than one hour to express his "disgust" in a tweet to Baldwin (Watch the SNL video here):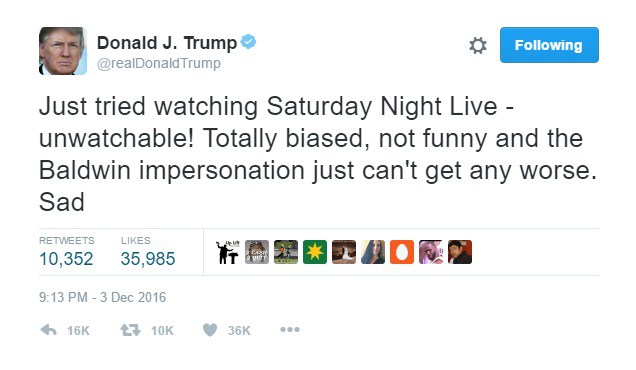 To which Baldwin promptly replied in a tweet,
Release your tax returns and I'll stop.
Ha
Baldwin's tweet was short, to the point and effective.
But then, "A Woman Just Stood Up To Trump's Latest Outburst On Twitter – And America Is Cheering Her On."
A series of tweets by Danielle Muscato, formerly Dave Muscato, have quickly gone viral on social media.
Muscato starts out with a tweet that I will paraphrase:
@realDonaldTrump, You are the president-elect. Pick your…battles, man. You're embarrassing yourself.
In the tweets, Muscato tells Trump that Baldwin's impression isn't "Sad," But, "You know what is sad?" she asks. That "in 7 wks you'll be responsible for 330m lives & you can't think of anything better to do than tweet abt a comedy show. You know that actual lives are at stake, right?
In subsequent tweets, Muscato asks Trump if he knows how many "trans people" have been murdered since election day? How many veterans killed themselves? How many children "went to bed tonight without enough food to eat? She adds "Do you even care?"
Muscato tweets about Trump's "blind trust" ("You don't even know what [it] is…"), about Trump surrounding himself with gold and beautiful women which he "objectifies, about "stacking his cabinet with the very same people he promised to remove from his influence," etc.
Muscato concludes:
@realDonaldTrump. You can fight us on it — and you are. And you will. But you will lose. Because history is on our side. We may not live to see it but we know we will win. We will fight you every step, so be ready. You can't stop progress, no matter how hard you try."
Read the complete set of tweets here.
Yes, this author respects the office of the President of the United States. But the man occupying that office has to earn my respect.
~~
Update:
This evening, not-yet-president Trump "slammed" China in two separate tweets — and there are plenty of "likes":
Donald J. Trump [email protected] 5h5 hours ago
Did China ask us if it was OK to devalue their currency (making it hard for our companies to compete), heavily tax our products going into
5,264 replies 10,734 retweets 32,271 likes
Donald J. Trump [email protected] 5h5 hours ago
their country (the U.S. doesn't tax them) or to build a massive military complex in the middle of the South China Sea? I don't think so!
5,998 replies 7,593 retweets 25,592 likes

Lead image: Courtesy DonkeyHotey.com