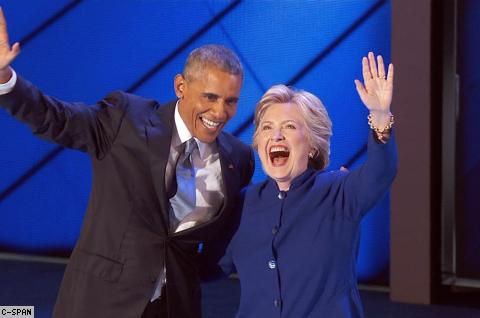 In terms of ratings, the Democrats' convention TV "specials" are beating the Donald Trump produced ones. Variety reports:
The final TV ratings are in for the second night of the Democratic National Convention, and once again the DNC attracted a larger audience than its Republican counterparts did last week.

From 10-11:15 p.m. — a timeframe that included headline speaker Bill Clinton's nearly 50-minute speech extolling the virtues of official Democratic nominee Hillary Clinton — NBC, ABC, CBS, CNN, MSNBC, Fox News, and Fox Business Network drew an average audience of 24.7 million.

That number is slightly below the total for Night 2 of 2012's DNC, which drew 25.12 million across those networks, minus Fox Business, but plus PBS and Current TV. It is, however, nearly 5 million more pairs of eyeballs than Night 2 of the 2016 RNC drew last Tuesday (19.75 million).
Meanwhile, the network ratings rankings aren't surprising: CNN (which yours truly as a former newspaper journalist watches since the network most adheres to classic journalism school standards) was in the lead, MSNBC second and Fox News third. That is not a surprise since a large chunk of Fox News' viewers are Republicans who won't want to watch a Democratic Party convention:
CNN, which garnered the biggest convention audience of the night, was once again up sharply from 2012's draw, with 5.93 million total viewers from 10-11:15, and 2.05 million in the important-to-cable-news demographic of 25-54. In 2012, CNN drew 4.13 million total viewers from 10-11 p.m. and 1.54 million in the 25-54 demo.

MSNBC slipped behind second-place NBC with 3.83 million viewers and 1.17 million in the 25-54 demo, but remained ahead of ABC, CBS, and Fox News.

Fox News slipped to a not-unexpected last place in terms of DNC coverage, with 2.85 million total viewers and 634,000 in the 25-54 demo.
The big takeout here, though, is that the Democrats got more people to tune and and be exposed to its message. And the contrast between the two conventions wasn't just in tone, but due to the RNC missing many prominent Republican big names who stayed away and featuring many B or C list celebrities — versus the DNC convention which had the party's top figures and top celebrities.
Joe Gandelman is a former fulltime journalist who freelanced in India, Spain, Bangladesh and Cypress writing for publications such as the Christian Science Monitor and Newsweek. He also did radio reports from Madrid for NPR's All Things Considered. He has worked on two U.S. newspapers and quit the news biz in 1990 to go into entertainment. He also has written for The Week and several online publications, did a column for Cagle Cartoons Syndicate and has appeared on CNN.