Guest Poet: Bernanke Goes Along Again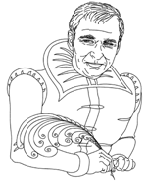 Another poetic gem from TMV's favorite poet, Michael Silverstein, aka Wall Street Poet:
Bernanke Goes Along Again
Here's a tip for Ben Bernanke
One that he should not ignore
When you cave to market wishes
Markets always ask for more.
Cutting rates at ev'ry downturn
Don't produce the long-term hero
Markets just view it as weakness
Soon demand rates down to zero.
The real way to stem a crisis
Ain't to give away the store
When you bow to market pressure
You're the problem, not the cure.
Copyright 2008 Michael Silverstein