Great Music – Chapter 6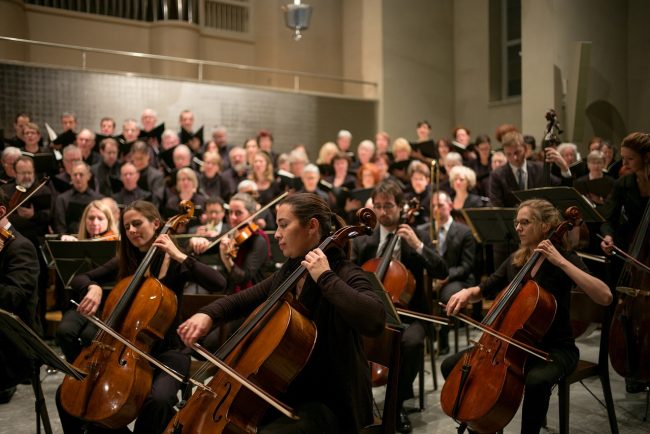 Today we're going to take a little detour on our examination of Great Music. Probably the most dramatic and emotional music is that composed for a large orchestra and chorale group. Such a piece of music produces a wall of sound that impacts all our senses. The eyes can see a couple hundred musicians on the stage, the ears can hear all the glorious music and because of the wall of vibrations the musical sound produces, one can literally feel the impact of the music on the body.
Orchestral music combined with a chorale has been around since the days of Bach. He wrote Cantatas which combined the two modes of music. Any composer who wrote symphonies usually had at least one or two of them use both an orchestra and chorale group – think Beethoven's 9th Symphony or Mahler's 4th Symphony etc. However, when a composer writes a Symphony, it is the orchestra which is dominant but with something like Handel's Messiah(a later Great Music subject), it is the chorale part that is dominant.
However there is one type of music where the orchestra and choral group are about equal and these pieces are usually very religious in nature and concern the nature of death and resurrection – they are called Requiem. They are usually written to honor some important person. Probably the most famous such piece of music is Mozart's Requiem. This is the music he was working on as he was dying. He died before it was finished and his wife hired other composers to finish it working from Mozart's scribbled notes. Because the composers who finished this work were not in Mozart's league as composers, it is a bit uneven in quality. However, the Lacrimosa portion of the Mozart Requiem stands alone as one of the greatest pieces of music ever written.
As to a full blown Requiem, my personal favorite is one written by French composer, Gabriel Faure who lived from 1845 to 1924. Even at the young age of 9 his musical talent was evident and he was sent to Music School in Paris. Among his teachers was another famous French composer, Camille Saint-Saens. He composed a vast library of piano music and in his later years turned more toward orchestral and chorale works. The version of his Requiem was finished in 1901 just as he started, like Beethoven, to go deaf.
I deliberately choose a You Tube without scenes from the orchestra and chorale group so you can just close your eyes and listen to the glorious music. One of the reasons composers write large scale works of music with a full orchestra and chorus is to overwhelm the listener so that the listener cannot avoid letting the music get inside. Most composers are trying to reach the emotional core of a person – that is the reason the music was written in the first place. When Faure's music reaches a crescendo it is almost like being in the presence of G-d. As a man one can feel small and insignificant is the presence of such an overwhelming sound. Be not ashamed if you begin to shed a tear at this magnificent sound, or in my case become a waterworks of tears – this was Faure's goal.