Great Music Chapter 4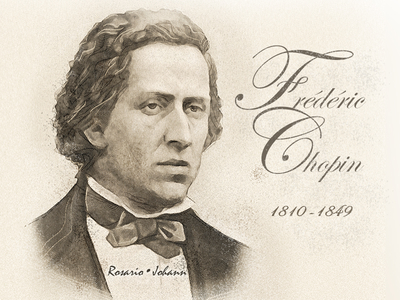 Chopin, along with Beethoven, are two of my most favorite composers. With Beethoven I identified with his infirmity, deafness, and his ability to succeed in spite of it. With Chopin, I identified with his introspective melancholy that infuses most of his music. This chapter of great music will focus on Chopin, a composer from what is now known as Poland. Growing up in the Polish territory was fraught with danger and confusion. The various European parties along with Russia were continually dividing Poland up into vassal states and the Polish economy suffered greatly. As a young man with musical talent, Chopin knew his future had to be elsewhere, and he immigrated to Paris, at age 21.
He soon met, and moved in with, the famous French writer Amantine-Lucile-Aurore Dupin, better known as George Sand. Compared with Poland, Paris was alive with opportunities to perform and to meet and learn from other musicians like Franz Liszt. Most of Chopin's compositions were written during this Paris time. The piece I have elected to illustrate Chopin's music is his Nocturne in C#m. Anyone who has seen the movie, The Pianist, will recognize this piece of music as it was required by a Nazi officer for a Jewish prisoner to play the piano for his personal enjoyment.
Chopin was by nature a delicate and small framed man who for most of his life was very sickly and most believe he contracted tuberulosis and died at the far too young age of 39 which leads to another interesting story. Chopin always stated that he wanted to be buried in his beloved Poland. When he died, his sister knew it would be impossible to have his body sent to Warsaw for burial since the Russian and Austrian border guards who controlled Poland at the time would never let it in. His sister then arranged for his heart to be cut out from his body which she put in an urn of cognac to preserve it and hid it under her petticoats to carry back to Warsaw. Chopin's heart was installed in the Holy Cross Church in Warsaw where it remains to this day. His body was buried in a Paris cemetery.
On a personal note, my wife and I being musicians did what is natural to musicians. We gave our respects to Chopin's grave in Paris and then grabbed a night train to Warsaw to give our respects to his heart in Warsaw.
The pianist I have chosen to present this wonderful piece of music is Valentina Lisista, a Ukranian concert pianist who was trained at the Kiev Conservatory. It was there she met and married a fellow pianist, Alexi Kuznetsoff. They soon left for the United States to make their mark on the music world and earn a decent living. It was soon apparent that there were opportunities for Valentina since she was a much better pianist than Alexi (a situation I am VERY familiar with). Valentina then had a DVD made of Chopin Etudes. The recording company and Valentina became very upset since many people were taking cuts of the DVD videos and putting them on YouTube. But a funny thing happened, sales of the DVD's soared when YouTube viewings soared.
Since then Valentina has become one of the most viewed Classical pianists on YouTube with more than 100 million views. In my old position on the New Jersey State Arts Commission, I worked with Valentina and her representative to get a concert here at the New Jersey Performing Arts Center but could never pull it off. One interesting aspect to our discussions did emerge and that was she took her first $1 million in YouTube earnings and bought her favorite piano, a Bosendorfer Imperial 290, a hand made grand piano that anyone can buy as long as you have a handy $360,000. It has 8 extra notes in the bass clef but they are hardly ever used. Valentina has discovered that a musician can make a LOT more money from YouTube than they could ever make in a performing career.
Notice how her long fingers caress each note. She does what every great pianist does, she does not push the music out of the piano but merely releases the music that the piano already contains. I hope you enjoy this sample of Chopin's music because it is truly representative of his melancholy and reflective style. Many people consider Chopin's music morose and sad, but as you sit back and listen see how many memories flash through you mind.