Great Music – Chapter 36 Led Zeppelin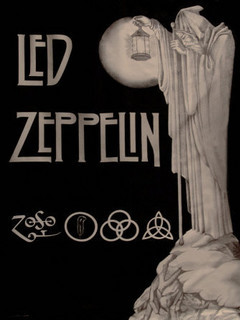 In trying to keep TMV'ers off balance, this week's Great Music article returns to the hard rock of my youth. Specifically, the band Led Zeppelin and the one particular song they created which lives on and on, Stairway to Heaven.
Led Zeppelin was formed in 1968 in London, then the primary hot spot for Rock music. After initially calling themselves " The New Yardbirds" and undergoing numerous personnel changes the band then adopted a new name, Led Zeppelin, after the name of the German airship Hindenburg which met a disaster trying to land in New Jersey. For the band's successful years it consisted of Jimmy Page on guitar, John Paul Jones on Keyboards, Robert Plant for vocals and Jon Bonham on drums.
The band became extremely popular in the 1970's touring America and the rest of the world playing to sellout crowds everywhere. This was the era of Rock where band members and groupies became entwined in all sorts of debauchery. Going to a Rock concert in this era meant no sitting in nice comfortable chairs listening to the music but joining the crowd on the floor screaming and dancing to the music. For those of you too young to remember those days, it was an unforgettable experience. To illustrate the kind of frenzy associated with Rock music in the 1970's here is a video clip of Led Zeppelin performing "Black Dog" in NYC in 1973.
Touring bands lead a very difficult life, days and nights are almost always inverted and after a night of intense music and being wired to the hilt, alcohol and drugs are used as a downer to come off the highs of performing so one can sleep. My wife Cinder in her rock band days used Jack Daniels right out of the bottle to come down off the highs. Unfortunately, many rock bands overused the alcohol/drug medicine in their touring. In fact, Jon Bonham, the drummer died of alcohol poisoning in 1978 which led to the dissolution of Led Zeppelin.
The creation of Stairway to Heaven in 1971 was completely different. The band members were on a retreat to a cottage in rural Wales. It was built off of a gentle melody strummed by Page on the guitar. Perhaps because of the relaxed atmostphere, this song had an almost acoustical feeling. When it was released as a single it was greeted with disdain by Led Zeppelin fans around the world who wanted more of the heavy metal rock the band was famous for.
However, of all the songs created by Led Zeppelin "Stairway to Heaven" remains the best loved and most copied song of their catalog. Even Classical musicians love this song and it has been performed by orchestras around the world. Just about all of my teen piano students get around to asking if I've ever heard of this song and if so could they play it. I then reach back to my music shelves and pull out several books of piano transcriptions of every Led Zeppelin song they ever performed.
To the younger TMV'ers in the audience, I've got to tell you that you missed the great era of Rock Music when it was raw and untamed and the bass notes so vibrant that your body shook in the sound waves emanating from giant speakers. But here is a gentle rock song that fits well with the current music era.