Great Music – Chapter 14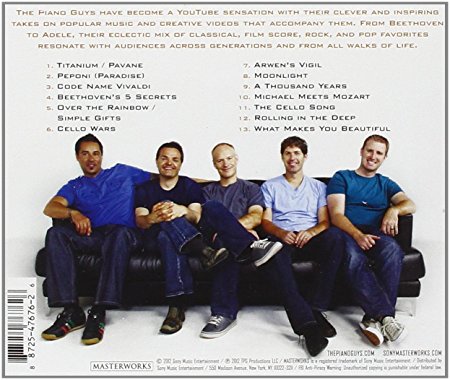 This article is about the Piano Guys, a phenomenon only possible because of You Tube. 10 years ago they were just a group of guys that hung around a music and piano store in St. George, Utah. The store was called, of course, Piano Guys and all the members of the group were tangentially associated with music but all had other careers. They started to put some music videos up on YouTube and were surprised at how well received they were. Consequently, they started to put up more music videos of themselves playing some original music but mainly arrangements of pop and classical music. The musical core of the group involves Jon Schmidt on the piano and Steven Sharp Nelson on the cello.
They came to fame on YouTube because they shot their music videos in some of the most beautiful and out of the way places on earth. The piano and cello playing at the bottom of Victoria Falls in Africa, to the back alleys of Jerusalem to Himalaya Mountains. These unique settings quickly made the Piano Guys one of the most popular YouTube destinations but it disguised their real musical talent. All the members of the Piano Guys are practicing Mormans and frequently espouse their faith at concerts.
To get some idea of their popularity, 3 years ago their Your Tube videos surpassed one billion views and recently they just passed 2 billion views. In addition, they have put out numerous CD's, sheet music books and live concerts all around the world. In the video I am about to show, you can get a good idea of how exciting their live shows can be. We had the privilege of being at this concert on a planned stop over in Salt Lake City on our way to L.A. This particular video was captured at their live concert at Red Butte Garden just outside Salt Lake City, Utah where the Piano Guys played an original piece of music they call Beethovens 5 Secrets. This piece of music was composed in honor of Beethoven's saying:
Don't only Practice Your Art
But force your way into its Secrets
For it and Knowledge can
Raise Men to the Divine
This piece of music opened the show and as you will see, the Piano Guys "borrowed" virtually all the musicians from the local University and even had to supplement that with High School musicians. The surprise of musicians popping up all over the place was exciting and when you finish the video, maybe you will understand why we HAD to make a Salt Lake City stopover. All you have to do is look at Steven Sharp Nelson's face when the music is finished to understand what music means to him and to myself as well as everyone who attended.