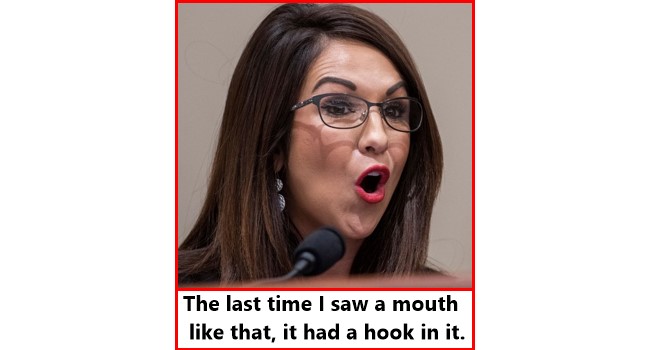 GOP Congresswoman Lauren Boebert lied. In other news that you already knew, water is wet, and bears defecate in the woods.
That a politician would lie about anything is usually a given. That a politician would lie about something that took place in public is risky on the part of the politician. That a politician would be oblivious to cameras being ubiquitous nowadays is rather amusing. Now, Lauren Boebert has revealed herself to be oblivious, as the following headline in the Denver Post reveals.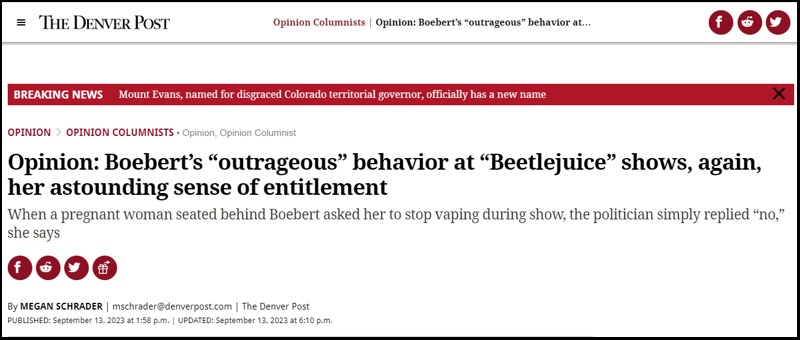 Denver Post editor Megan Schrader makes this observation:
"U.S. Rep. Lauren Boebert will probably try to spin her latest embarrassing incident as a culture-war victory against the 'elitist' liberals.

The framing is easy: Those snobby stiffs in Denver don't know how to cut loose and have a good time if they can't tolerate someone having a little fun at a live performance described as a 'lusty riot' in The Denver Post. Oh, and clearly Boebert was targeted for being a Republican by patrons who complained about her behavior, right?

But the true arc running through the many Boebert scandals — whether they are performative or genuine – is her astounding sense of entitlement. The tired trope of politicians throwing their titles around to excuse bad behavior is ironically true of Boebert, who took office claiming to be an outsider who was just an everyday Coloradan trying to raise her family in God's Country.

Boebert didn't care if she ruined the musical 'Beetlejuice' playing at the Buell Theatre for anyone else, and she certainly didn't care if the pregnant woman sitting behind her had to breathe her second-hand smoke from a vape pen. Boebert denies that she was vaping, although she did admit to taking photos of the live performance."
It's too bad for Boebert that Denver's 9NEWS has a video of her doing what she said she didn't do.
The Hill reports, "Boebert's campaign manager, Drew Sexton, confirmed in a statement to The Hill on Wednesday that Boebert was escorted out of the theater Sunday, but he denied claims the congresswoman was vaping."
Apparently, "Drew Sexton" is an alias for Muhammad Saeed al-Sahhaf, who is remembered by his nickname Baghdad Bob.

As I see it, instead of removing Boebert from the theater, the ushers should have let her be eaten by a sandworm.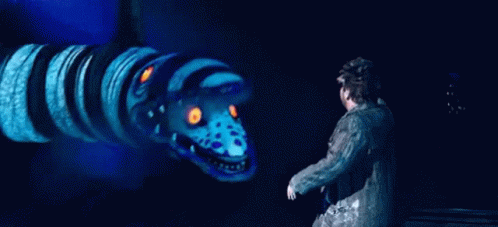 The "Wanted" posters say the following about David: "Wanted: A refugee from planet Melmac masquerading as a human. Loves cats. If seen, contact the Alien Task Force."