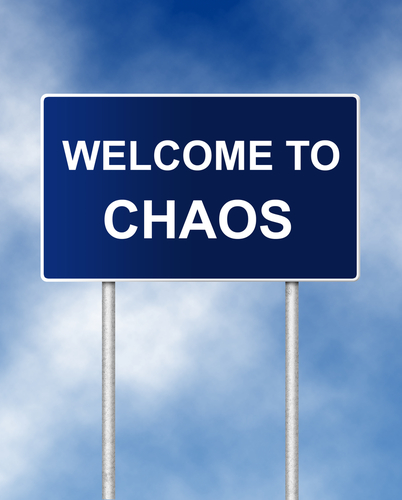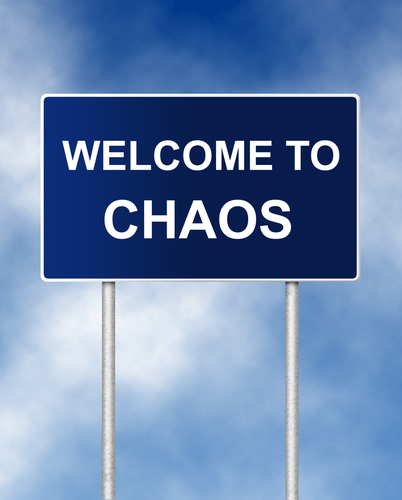 Welcome to chaos. Political chaos. The frenzied race for the 2016 Republican Presidential nomination has turned into a quintessential example of a political fight or flight mechanism in motion. The Republican establishment now is (begrudingly) warming up to billionare Donald Trump — as a way to stop Texas. Senator Ted Cruz, who they fear could cause massive Republican losses down the line for Republicans on election day.
And, as many have pointed out, to know him (if you in any way stand in his way or in the way he wishes to present his image) is to hate him. Meanwhile, the conservatives, using William F. Buckley's iconic National Review as a platform, springboard and symbol, are coming out to try and stop Trump and rally support for the more ideologically pure Cruz.
And that's the way it operates in a party that largely purged, dissed, or disdained anyone considered a moderate — a word almost as dirty in the GOP today as the phrase "gun control."
The scramble is on among many in the establishment which has fled Ted:
'Republican Party leaders and prominent senators are sharpening their knives against Ted Cruz, expressing growing alarm over his candidacy as he continues to mount a serious threat in Iowa.

In interviews with CNN, a growing number of Republicans are beginning to echo remarks made by the likes of former Sen. Bob Dole and Iowa Gov. Terry Branstad, warning that the party would suffer deep losses down the ticket and risk electing a Democratic president if the Texas senator wins the nomination.

"I think we'll lose if he's our nominee," said Orrin Hatch, the most senior Republican in the Senate.

"There's a lot of people who don't feel he can appeal to people across the board," Hatch said. "For us to win, we have to appeal to the moderates and independents. We can't just act like that only one point of view is the only way to go. That's where Ted is going to have some trouble."

It's not just Jeb Bush supporters like Hatch who are speaking out more aggressively. A large number of GOP senators say Cruz's divisive tactics, which have included describing his colleagues as part of a corrupt "Washington cartel," will make it hard — if not impossible — to get behind him if he's the nominee.

"It would be a major challenge because of the wounds that are deep," said Indiana Sen. Dan Coats, who is neutral in the race so far.

"An awful lot of us really didn't like to be targeted as corrupt, establishment bought by the lobby establishment," Coats added. "It sure looks like someone was using it as a way to gain notoriety as the only true conservative in Washington."

The bitter feelings come at an urgent time for Republicans. Cruz is neck-and-neck with Donald Trump in Iowa, and a win in the Hawkeye State could put the Texas freshman on solid ground heading into the rest of the primary contests in February. A loss in Iowa, however, could set Cruz back substantially as the race turns to New Hampshire, where Trump is running ahead of the pack and others like Marco Rubio, Jeb Bush and John Kasich are vying for second place.

There's no love for Cruz, who many in the party believe has chosen to engage in tactics aimed at dividing the GOP. He famously led the charge to defund Obamacare in 2013, a battle that precipitated a 16-day government shutdown. He battled with his party's strategy on immigration, the debt ceiling and the budget, even one time pulling GOP senators into session on a Saturday during Christmas season.

And Cruz's accusation earlier this year that Senate Majority Leader Mitch McConnell is a liar over his deal-making on the Export-Import Bank angered many Republicans.

"Ted Cruz has burned some bridges with some fellow senators," said Sen. Shelley Moore Capito of West Virginia. "You do see people coming out with more aggressive comments" ahead of Iowa.
This piece is echoed by the Washington Post's reporting:
The Republican establishment — once seen as the force that would destroy Donald Trump's outsider candidacy — is now learning to live with it, with some elected and unelected leaders saying they see an upside to Trump as the nominee.

In the past few days, Trump has received unlikely public praise from GOP luminaries who said they would prefer him to his main rival, Sen. Ted Cruz of Texas.

In private, some veteran conservative Republicans have been reaching out to Trump. And Trump himself called the ultimate establishment figure in Washington, Senate Majority Leader Mitch McConnell of Kentucky, for a talk late last year.

"If it came down to Trump or Cruz, there is no question I'd vote for Trump," said former New York mayor and 2008 presidential candidate Rudolph W. Giuliani, who has not endorsed a candidate. "As a party, we'd have a better chance of winning with him, and I think a lot of Republicans look at it that way."

This warming toward Trump comes after establishment favorites such as Sen. Marco Rubio of Florida, New Jersey Gov. Chris Christie and former Florida governor Jeb Bush have failed to reach the top tier. It signals that, among the party's entrenched elites, there is a growing fear that none of those candidates may be able to beat both Trump and Cruz.

Many have decided that Trump — for all his faults — is better. For one thing, many Republicans in Congress especially despise Cruz, who has a history of picking long-shot fights and blaming other Republicans when is unsuccessful.

Beyond that personal hostility, there's a political calculation. If Cruz is nominated, they say, he could alienate swing voters with his brand of scorched-earth conservatism. If he's elected, they fear, Cruz would shut Republican moderates out of power.
Whatever moderates are left. The lack of moderates — and turning "moderate" into a sneering, dirty word, the same way conservatives turned "liberal" into such a dirty word that liberals now call themselves "progressives" — is why there is really no firewall to protect candidates who don't appeal largely to gut emotions or who aren't the darlings of wealthy conservative talk radio or cable show hosts (demonizing a party or ideology can make you big bucks).
The tail isn't only waggling the dog, it's strangling the dog.
Meanwhile, on the Stop Trump front, today will be a big day for the National Review:
For months, Republican leaders have worried about how to stop 2016 frontrunner Donald Trump. Now, one of the conservative movement's most influential publications is taking matters into its own hands.
National Review is dedicating a special issue of its magazine, one week before the Iowa caucuses, to stopping Trump. "Against Trump," blares the magazine cover. Inside, a blistering editorial questions Trump's commitment to conservatism, warning voters that backing him is tantamount to allowing the conservative movement to have "fallen in behind a huckster."

"Trump is a philosophically unmoored political opportunist who would trash the broad conservative ideological consensus within the GOP in favor of a free-floating populism with strong-man overtones," the editorial reads.
And that's just the start.
The National Review issue features anti-Trump essays from more than 20 conservative thinkers, leaders and commentators spanning the GOP's ideological spectrum from David Boaz, executive vice president of the libertarian-infused Cato Institute, to William Kristol, the hawkish editor of the Weekly Standard, to David McIntosh, president of the Club for Growth. All call for Republicans to nominate someone other than Trump.
(William Kristol, in case you forgot, is the son of a famous political scientist and is the same guy who served on the staff of former Vice President Dan Quayle and who touted Sara Palin's political virtues in 2008).
"This is the time to mobilize," said National Review editor Rich Lowry, who is also a weekly opinion columnist at POLITICO. "The establishment is AWOL, or even worse, so it's up to people who really believe in these ideas and principles, for whom they're not just talking points or positions of convenience, to set out the marker."
Although Trump has dominated national presidential polls since last summer, he has been subjected to relatively minor attacks on the airwaves. Instead, the more traditional candidates have turned into a circular firing squad shooting at each other, especially anyone who emerges as a possible top Trump alternative. The campaigns and super PACs supporting Marco Rubio, Ted Cruz, Jeb Bush and Chris Christie have aired millions in ads slamming one another. (The super PAC supporting John Kasich has been the notable exception in targeting Trump.)

With Cruz clinging to a narrow lead in Iowa, and Trump leading everywhere else, the question of who to choose between the two has convulsed through Republican circles in recent days and weeks.
Some leading GOP voices, most notably Bob Dole, have argued that Trump is a deal-maker with whom establishment Republicans could actually work, unlike Cruz. Former GOP Senate leader Trent Lott said he'd take Trump over Cruz, too. And longtime Iowa Gov. Terry Branstad has announced his opposition to Cruz, though he has not backed Trump.

And the quote of the day goes to:
The idea of choosing between Cruz and Trump, though, has soured many Republicans. "It's like being shot or poisoned," Sen. Lindsey Graham, who recently dropped out of the presidential race and endorsed Bush, said on Capitol Hill Thursday. "What does it really matter?"
For movement conservatives, Lowry said, the choice is clear: Anybody but Trump.
The problem for the GOP: neither Trump nor Cruz could wind up being appealing to the voters it needs to patch together a winning combination, unless the Democrats do their job for them and stay home because the candidate they backed for the Democratic nomination lost. Which has happened before in political history. So perhaps future chaos among the Dems who seem gathering in a circular firing squad will gift the U.S. a President Cruz or President Trump.
"In your dreams" — or "In your nightmares.."?