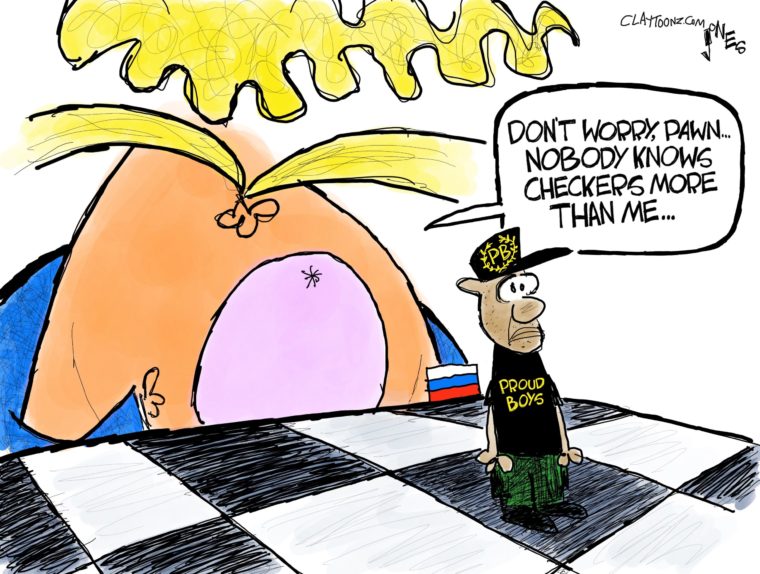 Republicans are upset over right-wing terrorist and Proud Boys leader Enrique Tarrio being sentenced to 22 years in prison for his role in organizing his gang to attack the Capitol on January 6, 2021. His sentence for seditious conspiracy is the heaviest out of the over 1,100 people charged in connection to the attack.
His supporters and fellow MAGAts are howling that this sentencing is unfair because Tarrio wasn't at the Capitol on January 6, or even in the city. But those MAGAts are either dishonest, ignorant, or both. As it's been noted by others, Hitler was never at any of the concentration camps yet he's still guilty. Osama bin Laden wasn't in New York City on 9/11 but he's still guilty. Charles Manson was not at the scene of Sharon Tate's murder and he was still guilty. And the defense of Tarrio not being in Washington that day isn't innocent, as he was only out of the city because a judge kicked him out over charges of burning a Black Lives Matter banner that belonged to a Black church in Washington after an earlier pro-Trump rally and of being in possession of two high-capacity rifle magazines bearing a Proud Boys logo.
The Proud Boys are bullies. They are a white nationalist terrorist group even though their leader, Tarrior, is of African and Cuban descent. They've inserted themselves on the local level in conflicts over coronavirus mandates and anti-racism being taught in schools. They've engaged in physical attacks at LGBTQ events. It's probably why Donald Trump told them on national television during his debate with future president Joe Biden, "Stand back and stand by," right after saying he didn't know anything about them.
Trump said similar things about Qanon, not knowing anything about them, and then stating that they "love their country."
The longest sentence before Tarrio's was 18 years which went to one of his co-defendants and fellow Proud Boy, Ethan Nordean, and Oath Keepers leader Stewart Rhodes. There were three other Proud Boys in this case, Joseph Biggs, Zachary Rehl, and Dominic Pezzola who were each sentenced last week to between 10 and 17 years in prison.
Conor Mulroe, a prosecutor on the case, said Tarrio's leadership of the terrorist group "was about violence and manipulation." Mulroe also said, "He demonized his perceived adversaries. He glorified the use of force against them. He elevated the street fighting element in his group — the so-called rally boys — and he practiced and endorsed the use of disinformation, deceiving the public and cultivating fear."
Spreading disinformation, deceiving the public, and cultivating fear is what every MAGAt does. They're actually implementing those tactics now in defense of Tarrio.
Prosecutors said that after Joe Biden defeated Donald Trump in the presidential election, the Proud Boys was "thirsting for violence and organizing for action" and ultimately fought at the Capitol "to keep their preferred leader in power no matter what the law or the courts had to say about it."
The proceedings for all five of the Proud Boys sentenced dwelled on complex questions surrounding what is known as a terrorism sentencing enhancement. The adjustment can be used to increase defendants' sentences if prosecutors can show that their actions were meant to influence "the conduct of government by intimidation and coercion."
Mulroe said, that even if the Proud Boys "never dream of strapping a bomb to their chests," they were "thrilled at the notion of traveling from city to city and beating their adversaries unconscious in a street fight."
Don't be confused by the MAGAt propaganda machine. Enrique Tarrio and his fellow Proud Boys are terrorists. Oath Keeper Stewart Rhodes is a terrorist. That Qanon Shaman jackass is a terrorist. The dumbass with his feet on Nancy Pelosi's desk is a terrorist. Everyone who attacked a cop that day or even entered the Capitol is a terrorist. Ashli Babbitt WAS a terrorist.
Everyone who defends these terrorists are supporters of terrorism and that goes for the biggest ringleader of them all, Donald Trump.
Donald Trump, as a national security threat, is a terrorist, who's already floated the idea that if he's re-installed into the White House (sic), he'll pardon his terrorists.
Posted in Uncategorized and taggedon September 8, 2023. 1 Comment
Post navigation? Elon's Home For Haters
ONE COMMENT