Four months after announcing it, Trump JUST gave $1 million to veterans group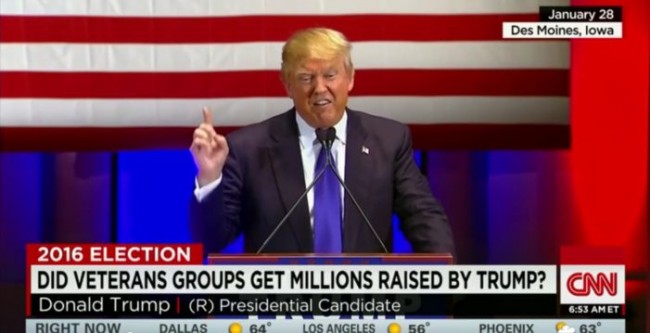 Isn't it time to just come and and state the facts? Republican to-be-sure 2016 Presidential nominee Donald Trump lied when he skipped the Fox News debate in January, ran a televised fund-raiser event at the same time to benefit veterans, and announced that he had personally given $1 million to veterans groups. According to the Washington Post, he donated the money MONDAY NIGHT as the clamor (especially from the Post, which has a long record of journalistic fearlessness) over what happened to all the big bucks he announced he had raised for veterans grew.
No matter how you twist it, donating the money four months later isn't what he said in January. He had said he donated it then. The Post:
Almost four months after promising $1 million of his own money to veterans' causes, Donald Trump moved to fulfill that pledge Monday evening — promising the entire sum to a single charity as he came under intense media scrutiny.

Trump, now the presumptive Republican presidential nominee, organized a nationally televised fundraiser for veterans' causes in Des Moines on Jan. 28. That night, Trump said he had raised $6 million, including the gift from his own pocket.

"Donald Trump gave $1 million," he said then.

As recently as last week, Trump's campaign manager had insisted that the mogul had already given that money away. But that was false: Trump had not.
Please note: this will make zero difference to Trump supporters. They will jump through all kinds of hoops to insist, well, he really gave it. but let's run that line again:
"Donald Trump gave $1 million," he said then.

As recently as last week, Trump's campaign manager had insisted that the mogul had already given that money away. But that was false: Trump had not.
I was a reporter for a good many years, and when a story that isn't flattering takes on "legs" the targets of those stories will try several things: 1)don't return phone calls (a bad idea) 2)deny everything and then have to back track later, 3)admit the unflattering report is true (too difficult for most) and 4) do something quickly to try and deflate the story.
#4 is what is going on here:
In recent days, The Washington Post and other media outlets had pressed Trump and his campaign for details about how much the fundraiser had actually raised and whether Trump had given his portion.

The candidate refused to provide details. On Monday, a Post reporter used Twitter — Trump's preferred social-media platform — to search publicly for any veterans groups that had received Trump's money.

By Monday afternoon, The Post had found none. But it seems to have caught the candidate's attention.

Later Monday evening, Trump called the home of James K. Kallstrom, a former FBI official who is chairman of the Marine Corps-Law Enforcement Foundation. The charity aids families of fallen Marines and federal law enforcement officers.

Trump told Kallstrom that he would give the entire $1 million to the group, according to Kallstrom's wife. Sue Kallstrom said she was not sure whether the money had been transferred yet.
The Post notes that other big fundraisers had given their gifts before.
But the Trump campaign is truth challenged, and the sad fact is that a somewhat a media that has relaxed its 20th century journalistic standards and downsized during this campaign season has not been up to the challenge of dealing with Trump's repeated falsehoods.
Trump, his followers and spokespeople brush off fact checked facts about his assertions like flakes of dandruff falling from a scalp covered by an expensive hair weave.
Trump had told the Post he had to vet the organizations, but in this case:
For this particular donation, it would seem that little new vetting was required because Trump already knew the recipient well. The Marine Corps-Law Enforcement Foundation had already received more than $230,000 in donations from the Donald J. Trump Foundation — a charity controlled by Trump but largely funded by others. Last year, the group gave Trump its "Commandant's Leadership Award" at a gala in New York.

When asked Tuesday whether he had given the money this week only because reporters had been asking about it, Trump responded: "You know, you're a nasty guy. You're really a nasty guy. I gave out millions of dollars that I had no obligation to do."
That's the best defense is a good offense, a tactic Trump (and so many on the left and right use in comments on the Internet) uses often.
Trump's call on Monday night stood in contradiction to an account given Friday by campaign manager Corey Lewandowski. "The money is fully spent," Lewandowski said then. "Mr. Trump's money is fully spent."

On Tuesday, Trump said Lewandowski would not have been in a position to know that. "I don't know that Corey would even know when I gave it out," he said.

In the same interview, Trump said the fundraiser had raised about $5.5 million for veterans overall. He said he was not sure how much of it remained to be given away.

That also contrasted with the account last week from Lewandowski, who said that about $4.5 million had been raised and that Trump's effort had fallen short of the promised $6 million because some unnamed big donors had backed out.
There's more in the Post article.
What continues to be notable is how there are no consequences for Trump. It could be that we're in a new century with a new kind of politics: truth-free politics. Repeating assertions, old conspiracy theories that proved to be excreted bull meals more than 20 years ago, name calling — it all is more effective than aggressively discussing issues. And most of the media is indeed complicit in this: most don't challenge as the Washington Post is doing here, and the cable channels see Trump as a ratings and cash cow so they let him get on when he wants to — and while doesn't always get softballs, but has had enough softball interviews to provide softballs for all of the schools in California.
It's a hyperactive media: the big story was Trump defying Fox News, having a fundraiser that raised $6 million. Now, then asked about the money, the Trump campaign responds in effect: "Well…….." And, on balance, gets away with it.
Good for the Post's @Fahrenthold, whose HONEST journalism got Trump to pony up the money he promised to veterans.https://t.co/smnHMPxZZF

— Rex Huppke (@RexHuppke) May 25, 2016
Using vets as political props and lying about giving money to veterans' causes is the new "telling it like it is." https://t.co/5FBbVmj8jr

— Dan Murphy (@bungdan) May 25, 2016
Trump could lay this matter to rest by producing a summary of each #veterans organization he provided money to, but he can't. #NeverTrump

— H??? A?????? (@HahnAmerica) May 24, 2016
Trump blames Hillary for veterans' protest after he's caught lying about donating millions https://t.co/GLfx4ztJjM pic.twitter.com/f4A5LDixFd

— Raw Story (@RawStory) May 25, 2016
Bottom Line: Donald Trump Blatantly Lied About His Veterans' Fundraiser https://t.co/YH3Kiw1tta pic.twitter.com/3C6Hda3MOm

— Charles Johnson (@Green_Footballs) May 25, 2016
Appears Trump decided to make good on his pledge of $1m to veterans during @Fahrenthold's tweetstorm on the subject. https://t.co/aG3x9qQciE

— southpaw (@nycsouthpaw) May 24, 2016
Four months later, Trump says he gave $1m to vet group; timing contradicts earlier statement from campaign manager https://t.co/njRdsDcVSB

— Catherine Rampell (@crampell) May 24, 2016
trump thought he could just say "i gave $6 million to veterans" because he says so much other bs the media doesnt bother to check.

— Oliver Willis (@owillis) May 24, 2016
Worth noting that polling has shown that Trump's promises re: $ to veterans are a key driver of his negatives. People think he's a liar.

— Liz Mair (@LizMair) May 24, 2016
Yes, Trump lies to wounded veterans in Iowa. But I'm sure he won't lie to your pet cause/group.

— Steve Deace (@SteveDeaceShow) May 21, 2016