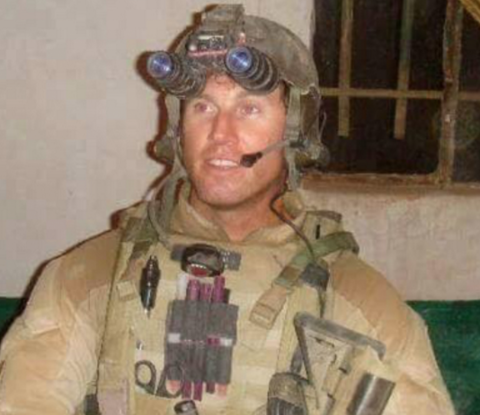 The death of any of our service men or women in combat is tragic enough. When such a loss occurs during one of our cherished holidays, the pain and grief are somehow magnified. The first casualty in any major combat operation carries a grim significance.
On Friday the Department of Defense (DoD) announced the death of a sailor who was supporting Operation Inherent Resolve in Syria. He is the first American service member killed in Syria.
According to DoD news releases, Navy Senior Chief Petty Officer Scott C. Dayton, 42, of Woodbridge, Virginia, died on Thanksgiving Day in northern Syria, of wounds sustained in an improvised explosive device blast.
Dayton was mortally wounded in the vicinity of Ayn Issa in northern Syria, according to a Combined Joint Task Force – Operation Inherent Resolve news release. Ayn Issa is approximately 35 miles north of Raqqa, the capital of ISIL's self-proclaimed state.
He was assigned to Explosive Ordnance Disposal Mobile Unit Two, which is based in Virginia Beach, Virginia.
On Thanksgiving Day, Defense Secretary Ash Carter offered his condolences to Dayton's family, friends and other loved ones.
"I am deeply saddened by the news on this Thanksgiving Day that one of our brave service members has been killed in Syria while protecting us from the evil of ISIL…It is a painful reminder of the dangers our men and women in uniform face around the world to keep us safe."
The secretary added, "Please keep this service member's family, friends and teammates in your thoughts and prayers, and this Thanksgiving I hope you will join me in expressing thanks to all of our dedicated troops who selflessly protect us every day."
Army Lt. Gen. Stephen J. Townsend, commander of Combined Joint Task Force – Operation Inherent Resolve, said in a release, "The entire counter-ISIL coalition sends our condolences to this hero's family, friends and teammates…On this Thanksgiving, please be thankful that there are service members willing to take up the fight to protect our homeland from ISIL's hateful and brutal ideology."
American troops are in Syria in support of Operation Inherent Resolve, the operation to eliminate the ISIL terrorist group and the threat it poses to Iraq, Syria, the region and the wider international community.
According to reports, more than 300 U.S. Special Operation Forces are on the ground in Syria in recruitment, training and advisory roles.
According to the Military Times:
"Dayton's qualifications included: Enlisted Explosive Ordnance Disposal Warfare Specialist and Enlisted Surface Warfare Specialist.
Joining the Navy in 1993, Dayton attended boot camp in Orlando, Florida, then did back-to-back decommissioning crew tours of two ammunition ships, first the Pyro and then the Flint.
He then was ordered to the pre-commissioning crew of the guided-missile destroyer Cole, first as the crew formed in Norfolk and then Pascagoula, Mississippi, as the ship was being built. He became a Cole plank owner when the ship commissioned on June 8, 1996, and served onboard until early 1999, a year before the ship was attacked by terrorists in Yemen.
His next three years were spent pushing recruits at Recruit Training Command before entering the EOD program in 2002, attending dive school and EOD school before his initial tour at EOD Mobile Unit One in San Diego.
Next, he returned to EOD school for more training before transferring to Norfolk where he served two sea tours at EOD Mobile Unit Two at Little Creek, separated by a shore tour at the EOD Training Unit at Fort Story in Virginia Beach.
His current tour at Mobile Unit Two started in May 2014.
His awards include: the Bronze Star, Joint Service Commendation Medal, Navy and Marine Corps Commendation Medal, seven Navy and Marine Corps Achievement Medals, Combat Action Ribbon, Navy Unit Commendation, Navy "E" Ribbon, Good Conduct Medal, National Defense Service Medal, Armed Forces Expeditionary Medal, two Iraq Campaign Medals, and Sea Service Deployment Ribbon.
"
Our condolences to this brave sailor's family, loved ones and friends.
Lead photo of Senior Chief Scott Dayton, source: U.S. Navy

The author is a retired U.S. Air Force officer and a writer.