Europeans watch helplessly as Trump knee-caps their G7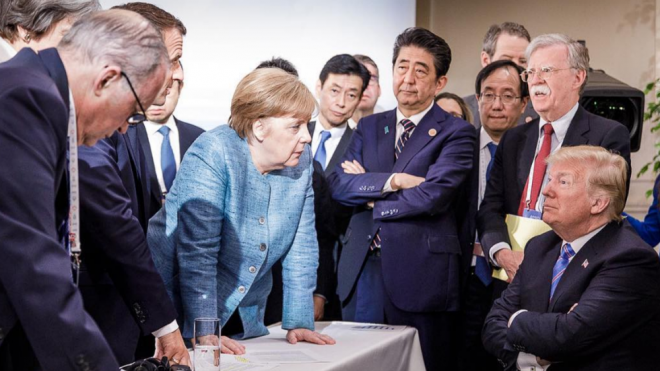 The tense forced smiles at the G-7 Summit today confirmed that the Humpty Dumpty of Western unity in peacetime has broken into too many fragments to recover its preeminent influence in shaping the rules-based and treaty-based world order set up after World War II.
President Donald Trump's knee-capping of America's chief allies at La Malbaie, Quebec, is causing apprehension around the world because the shift away from Western global leadership towards China and Russia may no longer be dialed back.
The so far unfathomed Trump mind has thrown the remaining six – France, Germany, Britain, Italy, Canada and Japan (plus the European Commission) – deep into confusion. Together, they can be formidable players particularly in economic affairs.
But they have never known life outside benign American leadership. For decades, they managed to convince American Presidents that acting together like the Seven Samurai was the best way to remain number one in world affairs and shape the global economic order in their collective favor.
Now Trump, risen to power on an irresistible wave of popular contempt for prevailing economic and trade theses, is giving them no truck and also inundating them with unilaterally imposed rules based on obscure laws found only in American legal tomes.
He is relentlessly hammering his square into the round hole of past agreements and treaties, including those applied by the World Trade Organization.
The other six are faced with draconian unilateral demands on trade that could cause huge financial and job losses in their democracies.
Worse, Trump's unilateral implosion of the nuclear deal with Iran will cause losses worth hundreds of billion dollars and penalties worth billions of dollars for their companies and banks.
Yet, there is almost nothing they can really do to cause the American economy enough pain for Trump to back down. Germany's Angela Merkel and France's Emmanuel Macron have bravely been saying that the others can defy Trump by sticking together and isolating the US to punish his obduracy.
But that is bluster and their impotence is there for the entire world to see. Without hanging on to American coattails, Europeans have almost no clout in global affairs despite their great economic strength collectively.
The problem is that US leadership has been the glue to their own internal unity. Trump is relentlessly pouring thinner into that glue. Perhaps, at some future point they will not need the support of American economic power as much, and Trump and his successors will show respect again. For the moment, that Humpty Dumpty has fallen off the wall.
European companies will face massive losses even if their governments somehow manage to mollify Iran to keep their contracts intact, because the Trump administration will punish them severely under US laws with no regard for their own legal systems.
Even Macron's sycophancy has backfired, signaling that Europeans may have sorely misjudged Trump. Macron and others thought he was driven preponderantly by narcissism and ego, but he may be a wilier populist politician than critics would like to admit.
Trump is turning out to be a formidable poker player but of a very unusual kind. Poker players and diplomatic negotiators are expected to look inscrutable at the table and keep their hands and red lines well hidden.
But Trump puts no veils on his disdain for the poker game of G7 diplomacy or the assets of other players at the table.
He has flummoxed everyone by actually pushing without moderation an agenda trumpeted well in advance without pretense of diplomatic civility. The others see it as being thoroughly outrageous, but they fooled themselves by dismissing it as bluster that could be overwhelmed by facts.
The other power players at the table — Macron, Merkel, Britain's Theresa May and European Commission President Jean-Claude Juncker – claim Trump is being disruptive for reasons of domestic American politics and not because he believes the offensive positions causing them to reel and stagger.
And herein lies the crunch. Is Trump making life painfully difficult for them with an eye to the November mid-term polls and will return to reason afterwards? Or does he truly believe with support from a large majority of Republican voters that the European allies have enriched themselves selfishly at the expense of the American people and deceived past Presidents for decades?
Clarity on these issues either way would make it much easier for the other six to develop usable negotiating positions to handle Trump's onslaughts. But on clarity, the garrulous tweeter is a sphinx.