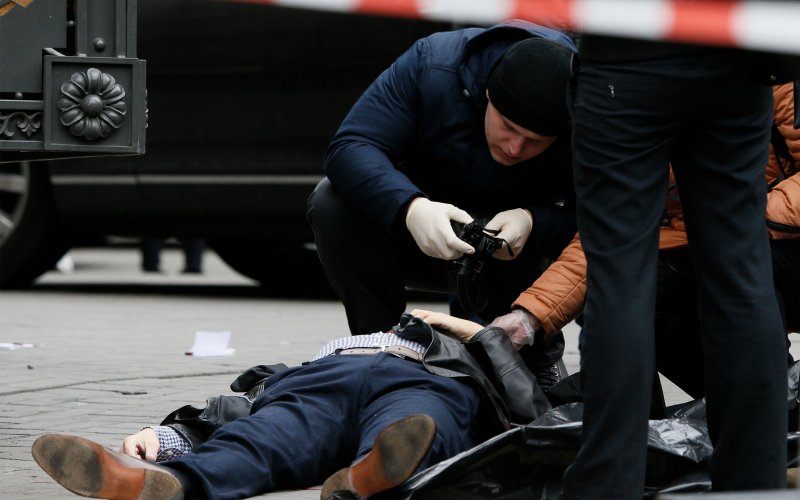 Just because people with connections to Donald Trump's Russia scandal keep dying or disappearing unexpectedly does not necessarily mean that their heart attacks, assassinations in broad daylight, mysterious exits and other premature departures are any more than an uncanny number of coincidences. (Cough, cough.) But the guy authorities claim was critically injured when his bathtub fell on him on the eve of a court appearance that would have been deeply embarrassing to the Vladimir Putin regime who also happens to be a key witness in a U.S. fraud case took my conspiracy-averse, never-leap-to-conclusions investigative self over the top.
By my count, 10 people have unexpectedly left this mortal coil, have been disappeared or gravely injured since Election Day who were Russia scandal principals or may have had connections to them.
I hasten to add that while there is mounting evidence amidst this mounting carnage that Trump's campaign colluded with the Kremlin in its multi-pronged effort to influence the outcome of the 2016 election by sabotaging Hillary Clinton — or in other words provided aid and comfort to a hostile foreign power trying to commandeer the process at the heart of American democracy — there is no evidence that the president or his surrogates are directly responsible for this epidemic, while there may be explanations having nothing to do with nefarious connections for a couple of the 10 men.
The bathtub guy is lawyer NIKOLAI GOROKHOV, who represents the family of Sergei Magnitsky, an attorney who mysteriously died in custody in Moscow in 2009 after accusing law enforcement and tax officials of massive fraud to the tune of $230 million.
Gorokhov also is a key witness for the U.S. government in a related money laundering suit brought by Trump-fired U.S. Attorney Preet Bharara against a Russian holding company. It is believed that Gorokhov was thrown from the top floor of his Moscow apartment building on March 21, on the eve of that court appearance, and is in hospital with severe head injuries, but authorities claim he was injured while attempting to lift a bathtub up to his apartment with rope that snapped. A pro-Putin tabloid dutifully published several photographs of a broken bathtub.
Other victims include:
DENIS VORONENKOV, 46, fatally shot on a Kiev street on March 23 (photo above), was a former colonel in the Russian military and Putin insider who fled to Ukraine when he became a whistleblower and was preparing to testify about the inner workings of the Putin regime. He was being hunted by Russia's Federal Security Service (FSB).
ALEX ORONOV, 69, a naturalized U.S. citizen who ran a fertilizer business in his native Ukraine, died under unexplained circumstances there on March 2. Oronov reportedly had set up a meeting between Michael Cohen, Trump's personal lawyer, with whom he had family ties, and Russian officials where a "peace plan" for control of Russian-held Crimea was hatched.
Russian U.N. Ambassador VITALY CHURKIN, 64, widely believed to be a spy, was rushed to hospital from his office at Russia's U.N. mission in New York on February 20 after suddenly becoming ill. The initial report that he had suffered a heart attack was withdrawn because medical examiners said the death required further study.
OLEG EROVINKIN, 61, who is believed to have been instrumental in helping former British spy Christopher Steele compile an explosive dossier detailing Putin's alleged hold on Trump, was found dead in the back seat of his Lexus in Moscow on December 26 in what almost certainly was a murder, although authorities claimed it had been a heart attack.
Although YVES CHANDELON, 62, was not Russian, he was chief NATO auditor responsible for investigating money laundering. He was found in his car in a Belgian town on December 21 with with a single gunshot wound to the head in what may have been a murder made to resemble a suicide. Although Chandelon was left handed, the gun was found in his right hand and was not one of three he owned.
ANDREI KARLOV, 62, Russia's ambassador to Turkey, was assassinated on December 19 as he made a speech at a photography exhibit in Ankara by a man later identified as a Turkish police officer, who shot Karlov in the back and reportedly shouted: "Don't forget Aleppo! Don't forget Syria!"
Later on the same day, Russian Foreign Ministry diplomat PETR POLSHIKOV, 56, was found dead from a gunshot wound in his Moscow apartment. Two spent bullets were found near the body and the murder weapon under a bathroom sink, but little else is known about the circumstances of his death.
SERGEI MIKHAILOV, 59, and DMITRY DOKUCHAEV, 33, who worked for the FSB, which was responsible for U.S. election hacking, were arrested in early December and charged with working for the CIA shortly before they disappeared. Mikhailov reportedly was accused of passing on information about Russian efforts to breach U.S. election systems.
Initial reports indicated that SERGEI KRIVOV, 63, like Gorokhov had taken a dry dive, in this case from the roof of the Russian consulate in New York, on the morning of November 8, Election Day, and suffered blunt force injuries, but Russian officials quickly changed their story and said he had died of a heart attack. Krivov was widely believed to be a counter spy who coordinated efforts to prevent U.S. eavesdropping.
Trying to ascertain a pattern, let alone make sense of this epidemic is a fool's errand.
But one possible explanation for some of the deaths, notably those of Mikhailov and Dokuchaev, are that they are the result of a purge related to U.S. election hacking. Another is that old standby: A victim is hot on the trail of damaging information and has to be eliminated, which might explain Chandelon's death.
Oh, and for the record, in the 10th week of Donald Trump's presidency and as the Russia scandal continues to simmer, he has yet to say one harsh word about Putin, who was the target of yuge nationwide protests over the weekend, while continuing to praise him.
What's with that?
OF RELATED INTEREST BY SHAUN MULLEN:
–http://themoderatevoice.com/russia-scandal-bombshell-trump-used-prince-darkness-enhance-putin-ties/
—http://themoderatevoice.com/trump-doggy-paddles-putins-filth-republicans-gobble-bowls/ This has been updated with a new headline.
—http://themoderatevoice.com/trump-doggy-paddles-putins-filth-republicans-gobble-bowls/ This has been updated with a new headline.
–-http://themoderatevoice.com/real-russia-scandal-trumps-support-putins-quest-new-cold-war/