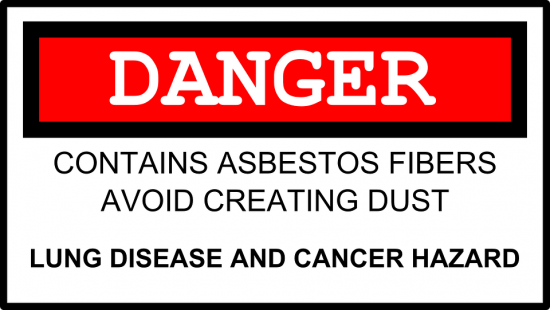 by Charles MacGregor
It's been more than eight months since the Environmental Protection Agency released its list outlining the first ten chemicals for review as part of the agency's reformed Toxic Substances Control Act. Included on the high-profile list of chemicals for evaluation was asbestos, once again putting the dangerous mineral in the EPA's crosshairs. Asbestos was once formerly synonymous with strength and resiliency, given its durable nature and resistance to heat and most chemicals, but is now seen as a threat linked to several rare and aggressive diseases. While the agency continues evaluating asbestos to determine its risks to public health, the United States also grapples with the results stemming from decades of use.
Although raw asbestos imports into the United States have dwindled to only about 340 tons annually, and all of it for use in the chlor-alkali industry, the threat of older asbestos applications continues to play a role in public discourse. Each year, between 2,000-3,000 people are diagnosed with mesothelioma, an aggressive cancer with a poor prognosis and low chance of long-term survival. In a vast majority of cases, patients were exposed to airborne asbestos fibers decades ago, but due to the disease's long latency period, symptoms are often slow to develop.
The EPA sought to curb the amount of damage caused by asbestos through rules issued as part of the Toxic Substances Control Act by banning certain asbestos applications and heavily regulating others. Use of asbestos slowed as safer alternatives to the mineral were introduced, and in 1989 the agency attempted to implement a full phasing out of asbestos use in the U.S. following an exhaustive study. The final ruling was struck down by the Fifth Circuit Court of Appeals in 1991, rolling back a majority of the EPA's regulations. Asbestos use has been in limbo ever since, though under current rules newly-manufactured products may contain up to one percent asbestos.
Last year's passage of the Frank R. Lautenberg Chemical Safety for the 21st Century Act has helped open several doors for the EPA, including giving them the power to more effectively pursue regulations that have an impact on public health. In the case of asbestos, it means a second chance to phase out its use in the United States and eventually curb the number of asbestos-related diseases diagnosed each year. But despite giving the TSCA more teeth and giving the EPA additional tools to do its job, the current administration has turned the tide in several key ways.
Shortly after arriving in office, President Donald Trump signed an executive order meant to reduce regulations and cut spending, dubbed the "2-for-1" order. Where the Lautenberg Act cut some of the red tape associated with assigning and creating new regulations, Trump's executive order forces agencies to remove two of them for every one issued. In addition, the net impact of the new regulations is not allowed to increase budgetary spending without proper authorization. In essence, agencies will have to pick and choose which rules to enforce, while possibly throwing out other necessary regulations. While there might be room to phase out older rules from the books, the executive order does carry the capacity to impact public health outcomes.
Additionally, the Lautenberg Act and TSCA are facing proposed legislation that may essentially undo much of what was recently done to help the EPA effectively regulate chemicals it deems dangerous. The Regulatory Accountability Act was proposed earlier this year by Ohio Republican Sen. Rob Portman and is described as a bill meant to "reform the process by which Federal agencies analyze and formulate new regulations and guidance documents, and for other purposes." While the recently introduced bill does have bipartisan support, reform groups have taken to calling it the "License to Kill" bill, suggesting the bill would require agencies to jump through a time-consuming and rigorous series of reviews before attempting to issue new rules. What this means is that many of the barriers broken down by the Lautenberg Act would be rebuilt and applied across the board to every agency tasked with protecting consumers.
Asbestos use has fallen, but the threats associated with the mineral remain. The EPA has an opportunity to close the book on a mineral that could have been phased out nearly three decades ago, but was hampered by overbearing stipulations it couldn't meet. There is hope that the EPA will once again define asbestos as a public health risk and push for an eventual ban, but as the political climate constantly evolves, the need for constant education is key to success. Then the U.S. can join the dozens of other countries that have already phased out the mineral's use and move one step closer to reducing the number of preventable diseases caused by accidental exposure to asbestos.
——

Charles MacGregor is a health advocate specializing in mesothelioma education. He spends his time teaching others about the dangers of asbestos exposure while also advocating for an eventual ban of asbestos in the United States. When not working, he enjoys hiking and watching baseball.