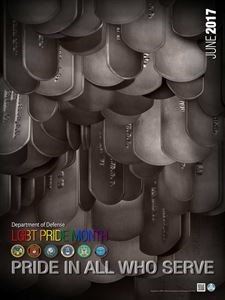 One year ago, declaring that "no person should be judged by anything but the content of their character," President Barack Obama signed a proclamation designating June as Lesbian, Gay, Bisexual, and Transgender (LGBT) Pride Month to recognize DoD's lesbian, gay, bisexual and transgender service members and civilians.
Also, a year ago, Secretary of Defense Ash Carter, said the following as part of LGBT Pride Month:
Throughout our history, brave LGBT soldiers, sailors, airmen, Coast Guardsmen, and Marines have served and fought for our nation. Their readiness and willingness to serve has made our military stronger and our nation safer. We continue to take great pride in all that these men and women contribute to the Department and our mission. Their hard work, courage, and sacrifices make them respected members of our diverse DoD family.
Navy Secretary Ray Mabus, also celebrating LGBT Pride Month last year, said the policy that banned openly gay people from serving in the military was "insidious and morally wrong…its repeal has led to a strengthened, more diverse force."
One month ago, the United States Department of Defense, its Secretary, its Joint Chiefs of Staff, its generals and admirals, its soldiers, sailors, airmen and Marines, were "celebrating" diversity within their ranks, were recognizing "all military and civilian men and women who serve and are part of the LBGT community as equal, contributing members of the total force…"
Just a month ago, two top members of the Defense Department were celebrating such diversity with words like these:
Anthony M. Kurta, performing the duties of the undersecretary of defense for personnel and readiness, as quoted by DoD News, Defense Media Activity, said:
"The struggles, sacrifices and successes among the LGBT community continue to shape our history and remind us to uphold tolerance and justice for all.
"Diversity is more than race, gender and ethnicity. It includes, among other things, the diversity of thought, diversity of ability, diversity of background, diversity of language, of culture and skill. It is very broad."
Air Force Maj. Gen. Patricia A. Rose, mobilization assistant to the deputy chief of staff for logistics, engineering and force protection said, according to DOD News, "naysayers will say diversity is just a form of political correctness …to them I say, 'Look to history.'"
Rose looks at World War II to provide "bold insight into the power of inclusion as opposed to exclusion":
"While our enemies were trying to prop up the superiority of their monolithic cultures, we were utilizing the vast and distinct skill sets our diverse nation had to offer…"
Rose cites the examples of "Rosie the Riveter", and groups in the military such as the Tuskegee Airmen, Navajo Code Talkers and auxiliary units of women, such as the Women's Army Corps, or WACs; the Women Accepted for Volunteer Emergency Service, or WAVES; and the Women Airforce Service Pilots, or WASPs.
Also, about one year ago, then-presidential candidate Trump promised:
Thank you to the LGBT community! I will fight for you while Hillary brings in more people that will threaten your freedoms and beliefs.
He made other promises that he would be supportive of gay people serving in the military.
One year later, not only did the commander in chief break the tradition by not uttering a single word about LGBT Pride Month, but, on Wednesday, tweeted out an announcement that blindsided his generals, stunned most Americans and betrayed the LGBT community:
After consultation with my Generals and military experts, please be advised that the United States Government will not accept or allow Transgender individuals to serve in any capacity in the U.S. Military…Our military must be focused on decisive and overwhelming victory and cannot be burdened with the tremendous medical costs and disruption that transgender in the military would entail.
The "consultation with my Generals" turned out to be a fairy tale – there was zero notice or preparation.
The Joint Chiefs of Staff, including chairman General Joseph Dunford, were not aware President Donald Trump planned to tweet a ban on transgender service members, three US defense officials told CNN — the latest indication that top military leaders across all four service branches were blindsided by the President's announcement.
The "tremendous medical costs…that transgender in the military would entail," turns out to be a gross exaggeration bordering on a lie.
The notion that transgender troops in the military would "entail disruption" has been rebuked time and time again by objective studies, experience and, according to Slate.com:
…flies in the face of empirical research showing transgender troops don't hurt readiness. Quite the contrary: Wednesday's move will only make it harder to maintain readiness, by slightly shrinking the pool of eligible recruits, removing current service members, and signaling to many others that today's military is not the kind of employer they want to work for.
So, what are we left with?
Sadly, we are left with the flailing of a failing president consumed by the "Russian thing" and trying everything in his tweet repertoire to divert attention to everything else — away from the "Russian thing."
The author is a retired U.S. Air Force officer and a writer.