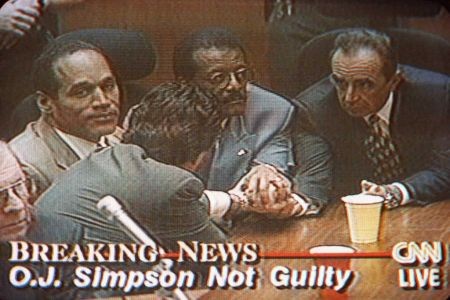 Will there be definitive proof that despite his claims of searching world wide for his wife's "real" killer (comedians noted he was apparently searching the country's best golf courses), a knife reportedly found on former O.J. Simpson's property in Brentwood will turn out to have been used in the killing and perhaps provide evidence that it been used by OJ? The LA Times, which uses cautious journalistic standards, made sure it put a hedge in its headline: "Knife reportedly found on former O.J. Simpson property is being tested by LAPD". And in it's story –but it sounds as if this could be a new development in the case:
In another twist in the long-running O.J. Simpson saga, Los Angeles police are investigating and testing a knife that was reportedly recovered on property once owned by the former football star.

The elite Robbery-Homicide Division is investigating a buck knife now in the possession of the Los Angeles Police Department.

The knife was apparently turned over to a police officer a number of years ago by a person doing construction work at the property, a law enforcement source said.

At a press conference at LAPD headquarters Friday morning, Capt. Andrew Neiman said the officer was a traffic cop and was working on a movie set when he was given the knife.

Detectives learned of the knife's existence more recently, and are now investigating where it came from, according to police, who cautioned that the investigation is still in its early stages.

Attorney Carl Douglas — a member of O.J. Simpson's legal "dream team" that secured his 1995 acquittal in the deaths of his ex-wife, Nicole Brown Simpson, and her friend Ron Goldman — on Friday called the story "ridiculous."

"It's amazing how the world cannot move on from this case!" Douglas said. "And it, and the media, is apparently still fascinated by everything O.J. Simpson."

Douglas said he remembers that "there were indications that two different knives may have been used. One with a straight edge, and one with a serrated edge." But he cautioned that people sometimes will do anything for 15 minutes of fame.

The officer who had the knife was retiring and apparently informed robbery-homicide detectives of the weapon's existence in the last few months. An LAPD detective informed superiors, who immediately launched an investigation into the knife's history and ordered a series of forensic tests to determine whether it had any connection with the June 12, 1994, murders of Nicole Brown Simpson and Goldman.

Finding the knife that killed the two had been an obsession of police and others in the wake of the murders.
So, as you can say about the critically praised TV series about the Simpson case and trial: stay tuned.
Joe Gandelman is a former fulltime journalist who freelanced in India, Spain, Bangladesh and Cypress writing for publications such as the Christian Science Monitor and Newsweek. He also did radio reports from Madrid for NPR's All Things Considered. He has worked on two U.S. newspapers and quit the news biz in 1990 to go into entertainment. He also has written for The Week and several online publications, did a column for Cagle Cartoons Syndicate and has appeared on CNN.