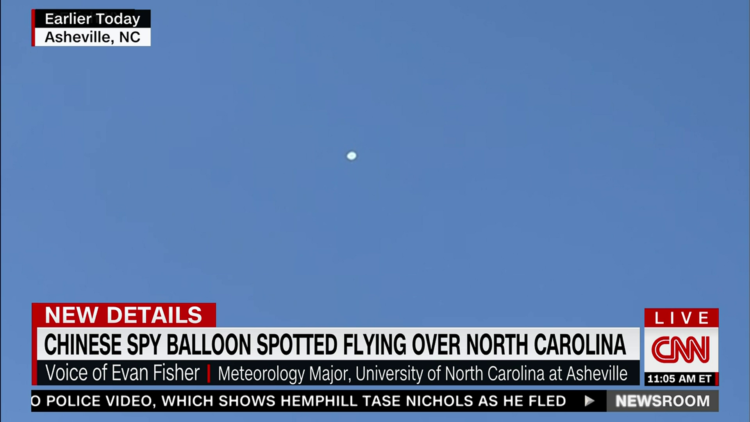 When the Chinese spy balloon was shot down by the U.S. military it seemingly deep-sixed a Republican attack narrative used by some members of Congress, conservatives on social media andonservative political entertainment media talk show hosts. It turns out that Joe Biden wasn't not acting earlier in the week: he gave the Pentagon the order to shoot it down when it would be safe to do so and not pose a threat to people below on Wednesday.
Now comes the death of a talking point that has contined to rage: yes, indeed, Chinese balloons flew over the United States under Donald Trump. But Trump took no action and it was never disclosed. Forbes sums it up:
Talking heads on cable TV are up in arms about the Chinese spy balloon that was floating across the continental U.S., before it was shot down Saturday afternoon. Conservative commentators have insisted President Joe Biden should've ordered the balloon be shot down earlier and that a foreign balloon flying over U.S. territory never would've happened under President Donald Trump. But it did happen under Trump, according to several new reports.

The Chinese government claims the balloon, which was first spotted by civilians on Wednesday over Billings, Montana, was actually just a weather balloon that was blown off course. But the Pentagon says it's definitely a surveillance balloon and China had the ability to maneuver the aircraft.

"I can nearly guarantee you that that balloon would not still be flying if we were still there," Mike Pompeo, former Secretary of State under Trump, told Sean Hannity on Friday.

But is Pompeo telling the truth? The Pentagon was quick to point out on Thursday that this kind of thing has happened before, though it didn't get into specifics.

"Instances of this kind of balloon activity have been observed previously over the past several years," Pentagon Press Secretary Pat Ryder said in a statement published online.

But several reports have been published in the past two days that give us a better sense of when spy balloons operated by New Cold War adversaries have sailed into U.S. airspace. Bloomberg News reported on Friday that Chinese balloons flew over the U.S. while President Trump occupied the White House.

"The balloon spotted this week over Montana was not the first time the U.S. has detected Chinese balloons over their territory—with previous incursions occurring during the Trump Administration," Bloomberg reported.

But an unnamed source from the Trump administration insisted to Bloomberg in that same article that it wasn't a big deal.

"One top national security official from the administration of former President Donald Trump said none of the Chinese spy balloons were near sensitive sites or had payloads as large as this one appears to carry," Bloomberg continued.

And if you can't trust an unnamed official who worked for Trump, who can you trust, right?
Go to the link to read the article in its entirety.
So narratives proved to be false about a)Biden not taking any action on the Chinese spy balloon, since he ordered the Pentagon to take it down on Wednesday and b)that this would never happen under Donald Trump. Basically, the default is immediately multi-prong attack.
What do Republicans say when they're proven proven wrong?
This:
And this:

(Time to pivot to the next outrage.)
Three Chinese spy balloons flew over while Trump was President.

How many did he shoot down? https://t.co/M31p443EPE

— Rick Wilson (@TheRickWilson) February 5, 2023
It has been reported by US officials that THREE Chinese balloons flew over the US, and in US airspace during Trump's tenure.

So, no. No he wouldn't have. pic.twitter.com/SM9nOrGF3l

— Jax Persists (@LadyJayPersists) February 5, 2023
If Republicans are mad at Joe Biden for ONE Chinese spy balloon flying near the US – which he shot down – wait until they find out Trump let THREE Chinese spy balloons fly over the US and never told the public about them.

— Jack Cocchiarella (@JDCocchiarella) February 5, 2023
I think we need congressional hearings to look into why Trump took no action to stop the incursion of three previous Chinese spy balloons.

— Claude Taylor (@TrueFactsStated) February 5, 2023
Coddler of tyrants, dictators and murderers has thoughts. https://t.co/OdUVmXE64N

— Michael Freeman (@michaelpfreeman) February 5, 2023
I'm always game to criticize D's for foreign policy screw ups (like Pelosi's idiotic trip to Taiwan) but I think Biden handled this Spy Balloon thing perfectly. Strong, smart response. Now they'll quietly get Blinken trip back afoot after a cooling pause. ??

— Mike Murphy (@murphymike) February 5, 2023
You heard about the balloons during the Trump administration, right? Of course you didn't. https://t.co/dh59htCwHT

— Jack Hopkins (@thejackhopkins) February 4, 2023
Democrats appearing tomorrow on Sunday shows, if you're not a putz, please demand an answer for why ex President Trump insisted on keeping frequent Chinese surveillance balloon overflights of the US a secret.

— Josh Marshall (@joshtpm) February 5, 2023
Wow. The US military just confirmed in an official statement that there were at least THREE Chinese spy balloons that flew over the US when Trump was president. Trump kept it a secret and did not shoot them down.

The Republican narrative just imploded. https://t.co/omCLkiTZ4Q pic.twitter.com/F9j4AMvrpL

— No Lie with Brian Tyler Cohen (@NoLieWithBTC) February 5, 2023
?MAJOR BREAKING: The Pentagon confirms that at least THREE Chinese spy balloons flew over the US during Trump's presidency and he HID THEM from the public and never shot them down.

— MeidasTouch (@MeidasTouch) February 5, 2023
As Tommy Lee Jones famously asked another actor in The Fugitive, "Do you want to change your bullshit story?"

We now know Trump let 3 Chinese balloons pass through U.S. airspace without shooting them down.

What's your story now? https://t.co/lA7wdX1Zdk

— Rep. Eric Swalwell (@RepSwalwell) February 5, 2023
The Pentagon confirmed Trump let THREE Chinese spy balloons fly over the U.S. without shooting them down or telling the Public.

Donald Trump owed tens of millions to the Bank of China during his presidency.

I wonder if these two are connected?

— Jack Cocchiarella (@JDCocchiarella) February 5, 2023
WATCH: Fox Host Says Biden Won't Shoot Down Spy Balloon Because Hunter Biden's Laptop — Just Hours Before Balloon Shot Downhttps://t.co/59MlgM2Qh1

— Republicans against Trumpism (@RpsAgainstTrump) February 5, 2023
Except for that part where there were at least TWO similar balloons over the US during Trump's Administration and not only did he NOT shoot it down, he kept it secret so Americans wouldn't find out and embarrass him.

Sit down, Three-Toes. Let the adults handle this. https://t.co/GADtMiuAdv

— Stonekettle (@Stonekettle) February 5, 2023
WOW. The Pentagon just confirmed that THREE Chinese balloons flew over the U.S. during the Trump presidency & not only did he not shoot them down, but he also didn't say anything about it. Shows you how ridiculous Republicans are right now by only talking about the balloon.

— Victor Shi (@Victorshi2020) February 5, 2023
Unfortunately, a Russian spy balloon still remains in South Florida. pic.twitter.com/s5z4Z1wD9f

— MeidasTouch (@MeidasTouch) February 4, 2023
Pop goes the news cycle.

— Dan Rather (@DanRather) February 4, 2023
Joe Gandelman is a former fulltime journalist who freelanced in India, Spain, Bangladesh and Cypress writing for publications such as the Christian Science Monitor and Newsweek. He also did radio reports from Madrid for NPR's All Things Considered. He has worked on two U.S. newspapers and quit the news biz in 1990 to go into entertainment. He also has written for The Week and several online publications, did a column for Cagle Cartoons Syndicate and has appeared on CNN.