Update, Dec 27
The Washington Post reported that Shelly Simonds is challenging the court decision; the story fails to mention guidance on voter intent.
After the official recount, a three-judge panel in Virginia ruled that an uncounted ballot should instead be considered a vote for the Republican candidate. All three judges were "elected by a Republican-controlled legislature."
The panel's decision created a tie in the state legislative contest between Democrat Shelly Simonds and Republican Del. David Yancey.
According to the Washington Post:
[Newport News Circuit Court Judge Bryant L. Sugg] said that the ballot in question contained a mark for Democrat Shelly Simonds as well as a mark for Republican Del. David Yancey but that the voter had made another mark to strike out Sim­onds's name.
However, the ballot does not meet that description: the voter has not crossed out Simonds' name.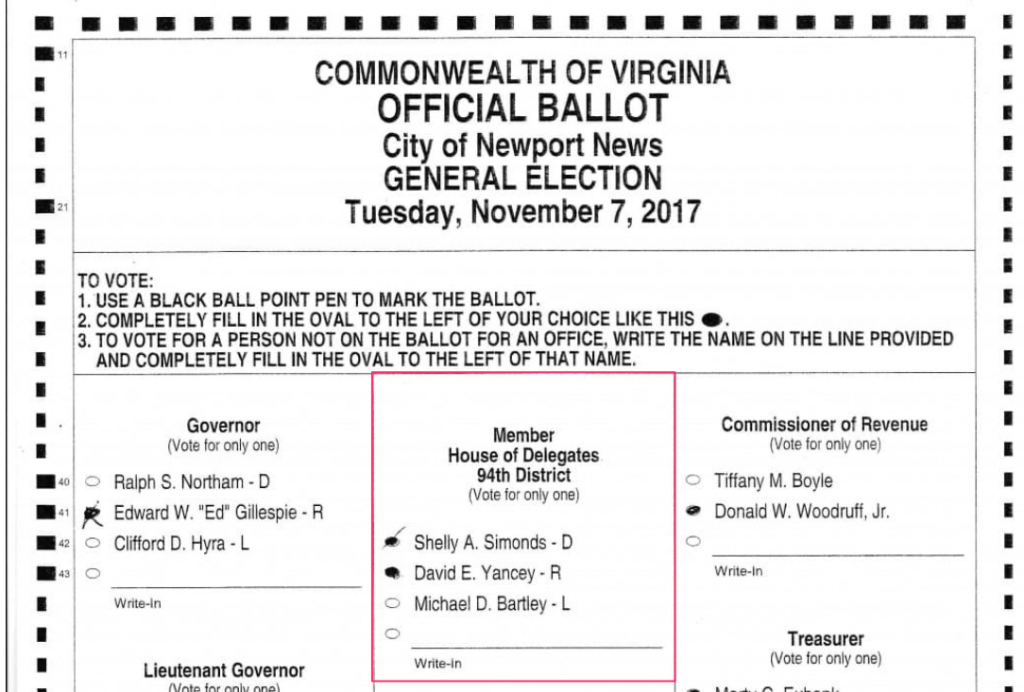 The voter made two marks on the oval beside Simonds' name. The mark is similar to that made in the governor's contest.
An over-vote occurs when a voter marks two or more candidates for one contest. When a voter fails to vote for a contest, that is an under-vote.
Each state's elections department issues guidance on how to count over-votes. Virginia issued guidance for the paper ballots used in the November election:
Any ballot which is marked for more than one candidate for the office shall be deemed an overvote and no vote shall be counted except as provided in this section.
When there are additional clarifying marks, the ballot may be counted. But the mark on this ballot does not match those in the voter intent guidance: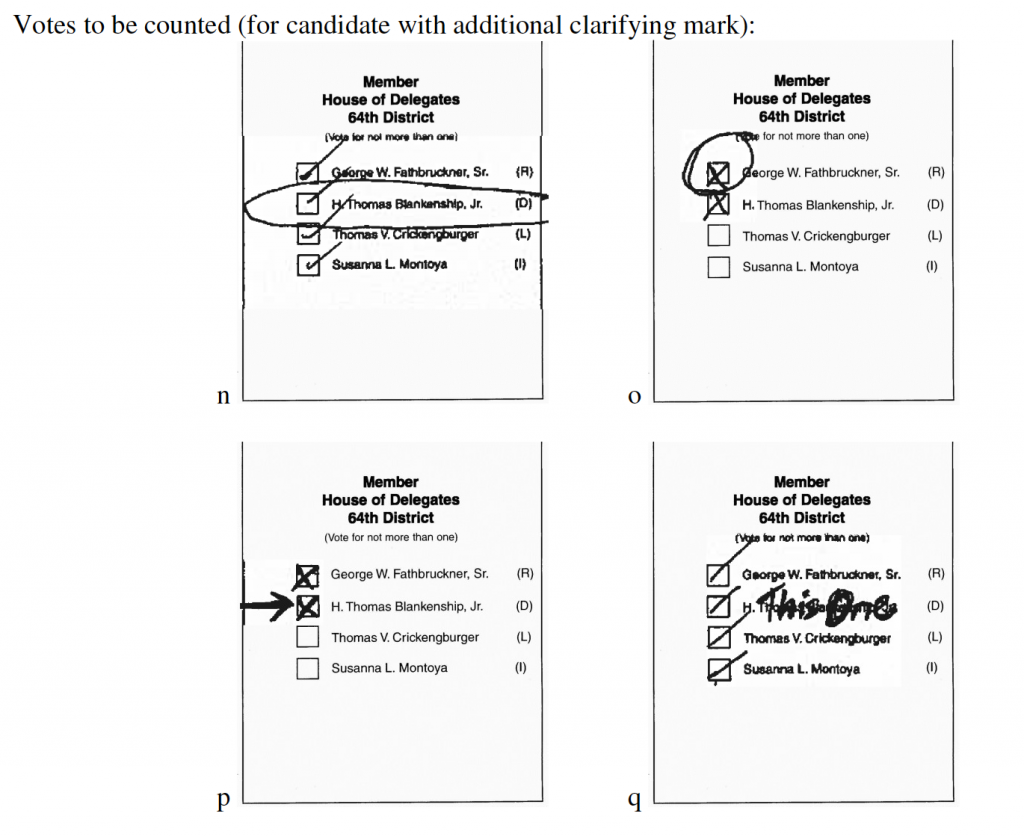 The judges reviewed this ballot upon request by Yancy's lawyer after the official recount. Simonds' lawyer "argued that the process for contested ballots wasn't being followed."
Virginia law states that "There shall be only one redetermination of the vote in each precinct."
Nevertheless, the court reviewed a ballot that GOP recount official Kenneth Mallory questioned after the recount: "He changed his mind later that night, after speaking with a Yancey attorney."
Before the hearing ended, Simonds' lawyer identified a different questionable ballot. The judges said it was too late to review the ballot that the Democratic candidate questioned.
In 2014, Rep. Yancey supported Sugg's accession to circuit court. The Virginia General Assembly appoints judges.
The winner of this contest will be determined by drawing names out of a hat on Dec. 27 at 11 a.m. in Richmond. If Simonds wins the toss, the House will be split 50-50 between Republicans and Democrats, ending 17 years of GOP rule.
There were other irregularities in the November election, but the state board certified results anyway.
Known for gnawing at complex questions like a terrier with a bone. Digital evangelist, writer, teacher. Transplanted Southerner; teach newbies to ride motorcycles! @kegill, wiredpen.com