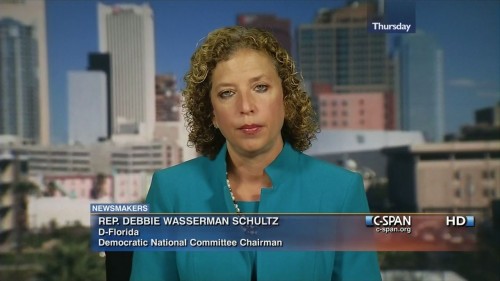 The Democratic National Committee's controversial chairwoman Debbie Wasserman Schultz has issued a statement saying that she will to resign at the end of this week's Democratic Convention. She has been under fire from Vermont Sen. Bernie Sanders and his supporters for months amid charges that she was biased in a favor of getting former Secretary of State Hillary Clinton nominated. Recently leaked emails confirmed that belief. And as Clinton's camp negotiated with the Sanders camp, it became clear in recent days that they wanted Schultz to go. Sanders today said "she should resign, period." DNC Vice Chair Donna Brazile, who has apologized to the Sanders campaign over what the leaked emails show, will reportedly be Interim Chair through the election.
Rep. Debbie Wasserman Schultz, the chairwoman of the Democratic National Convention (DNC), will resign when the convention closes at the end of the week.

"Going forward, the best way for me to accomplish those goals is to step down as Party Chair at the end of this convention," the Florida Democrat said in a statement. "As Party Chair, this week I will open and close the Convention and I will address our delegates about the stakes involved in this election not only for Democrats, but for all Americans."
Wasserman Schultz was under fire during the primaries due to the contrast in the way debates for each two parties were conducted. The Republican Party had a slew of debates slated for key viewership hours. The Democratic Party had far fewer debates, often slated at times that fed the argument that the DNC was trying to limit Sanders' chance to be seen by as large a number of Democratic voters as possible to maintain the front-runner status of Democratic establishment favorite Clinton.
But it was clear that she was going to either be asked to leave or be shown the DNC door. Earlier, a DNC official made it clear that there had to be consequences for some due to the revelations in the email leaks:
An officer at the Democratic National Committee (DNC) is calling for a staff shake-up in the wake of an email controversy that exploded over the weekend and threatens to derail the party's national convention as it gets underway Monday in Philadelphia.

Former Minneapolis Mayor R.T. Rybak, a vice chairman at the DNC, told The Hill on Sunday that those involved in scheming to undermine Bernie Sanders's presidential campaign should either resign immediately or be fired.

"The DNC needs to make a clear statement that this was wrong and that any member of the staff involved in criticizing another candidate, especially using DNC offices and equipment, should be fired," Rybak said. "If any officer played a role in helping another candidate when we're supposed to be neutral, they should resign. It's that simple. Make a clear statement. Clean up this mess so we can move on and work together."

A cache of emails released Friday by WikiLeaks revealed at least two instances of DNC officials openly discussing ways to undermine the Vermont senator's campaign.

Sanders and his top aides hit the Sunday talk show circuit to reiterate their demands that DNC Chairwoman Debbie Wasserman Schultz resign.

They have long claimed that Wasserman Schultz was in the tank for presumptive Democratic presidential nominee Hillary Clinton's campaign and working to undermine Sanders.

Rybak on Sunday stopped short of calling on Wasserman Schultz to resign — but he came close.

"I've been clear that I think she has not been effectively unifying the party, and this makes it harder," Rybak said. "She should examine her actions and ask whether she's been fair and if she hasn't been, or if she becomes an issue, she should get out of the way so that we're talking about Hillary Clinton and not Debbie Wasserman Schultz."
The chairwoman had already been effectively demoted in terms of the role she would have at the convention, versus the role she was supposed to have been. According to various reports, one reason why her role was diminished: her mere appearance could spark angry boos among Sanders delegates at the convention. In short, she was damaged political good if the convention was to unify the wounds of the primaries.
According to multiple reports, the chairwoman will see a greatly diminished role at the coming convention. Rep. Marcia Fudge of Ohio will instead preside in Philadelphia.

One email revealed by WikiLeaks showed DNC press secretary Mark Paustenbach writing to communications director Luis Miranda about planting a narrative to the media that Sanders's "campaign was a mess."

Another email, from DNC CFO Brad Marshall, outlines a plan to question Sanders's religion ahead of primaries where he had a lead over Clinton.
Sanders today had called for her to go:
Sen. Bernie Sanders said Sunday that in the wake of the leaked emails from the Democratic National Committee its chairwoman, Debbie Wasserman Schultz, should step down.

"I think she should resign, period," as chair of the DNC, Sanders said on ABC's "This Week."

"I told you long time ago that the DNC was not running a fair operation, that they were supporting Secretary Clinton," Sanders told ABC News' George Stephanopoulos Sunday on "This Week." "So what I suggested to be true six months ago turned out to be true."

Sanders says he is "disappointed" by what the leaked emails show but "not shocked."

"Our campaign was about revitalizing American democracy. I want to see that incorporated into the Democratic Party," Sanders said. "And I don't believe that Debbie Wasserman Schultz is the person to be able to do that."

WikiLeaks released about 20,000 emails on Friday, just days before Democratic National Convention is set to kick off in Philadelphia, that appear to show Democratic National Committee officials attempting to aid Hillary Clinton's campaign in the party's primary.

Several of the emails released indicate that the officials, including Chairwoman Debbie Wasserman Schultz, grew increasingly agitated with Sanders and his campaign as the primary season advanced.

One email exchange suggested bringing up Sanders' religious beliefs as a way to hurt his campaign in parts of the country.

"It might may [sic] no difference, but for KY and WA can we get someone to ask his belief," Brad Marshall, CFO of DNC, wrote in an email on May 5, 2016. "Does he believe in God. He had skated on saying he has a Jewish heritage. I read he is an atheist. This could make several points difference with my peeps. My southern baptist peeps would draw a big difference between a Jew and an atheist."

Amy Dacey, CEO of the DNC, subsequently responded "AMEN," according to the emails.

Brad Marshall did apologize to Sen. Sanders, and Clinton campaign manager Robby Mook told Stephanopoulos that apologizing is an "appropriate step."

He continued that "Obviously, nobody should — in politics — be attacked for their religion, ever. And I think the DNC needs to get to the bottom of the facts and then take appropriate action on any of these emails."
UPDATE: More perspective from Politico:
But Wasserman Schultz became fatally damaged goods in her own party after WikiLeaks released a trove of internal DNC emails, including correspondence in which Wasserman Schultz referred to Sanders campaign manager Jeff Weaver as a "damn liar" and an "ASS" and said the senator has "never been a member of the Democratic Party and has no understanding of what we do."
The emails fed the criticism from progressives and Sanders' supporters that Wasserman Schultz and her team were hostile to his campaign and had done their best to help Hillary Clinton win the Democratic nomination. Before the tussle with Sanders, Wasserman Schultz clashed with fellow Democrats in congress, the White House and even a top party donor in Florida, John Morgan.
"This is so humiliating," said Morgan, who became a Wasserman Schultz foe after she trashed his Florida ballot initiative to legalize medical-marijuana.
Before Wasserman Schultz resigned, Morgan predicted she was finished as party chair. He and others thought she wouldn't even speak at the convention because would be booed off stage.
Wasserman Schultz spent Sunday afternoon hiding from reporters and huddling with advisers and Democrats connected to Clinton who urged her to quit, sources said. The DNC chair was nowhere to be found at the Democratic convention (it was easier to find her at the Republican convention last week). She canceled a speech at a DNC credentialing committee.
This final blow to her reputation caps a long, slow-motion fall from grace for Wasserman Schultz, who now faces her first Democratic primary opponent in 24 years, Tim Canova.
Canova searched his name in the WikiLeaks database and saw that he was mentioned in about 70 emails. He said it appeared DNC staff was acting like an arm of Wasserman Schultz's reelection effort and might have violated campaign-finance laws.
"We think there might have been a violation of the law and we're checking with lawyers," Canova told POLITICO. "I might file an FEC."
There's lots of comments on Twitter, inluding a flood of Tweets from angry Sanders supporters:
Definitely the correct, honorable course of action for DWS https://t.co/xQw22jYz5s

— Matthew Yglesias (@mattyglesias) July 24, 2016
BTW, that's how you clean up a mess quickly. Tomorrow we're talking Convention not sideshows.

— Armando (@armandodkos) July 24, 2016
I always said that Debbie Wasserman Schultz was overrated. The Dems Convention is cracking up and Bernie is exhausted, no energy left!

— Donald J. Trump (@realDonaldTrump) July 24, 2016
It's a sad day when you have to play dirty to get your candidate into the lead role. Wasserman-Schultz is history… https://t.co/9lYQIYhU7m

— Doctrine Man (@Doctrine_Man) July 24, 2016
Debbie Wasserman Schultz learns what it means to be Hillary's "friend" the hard way, like so many others #TOOBAD #ByeDebbie

— #BERNIEFACTS (@Bernie_Facts) July 24, 2016
Good. Glad the DNC understood that it was important to hold someone accountable, deal with it quickly, and move on. https://t.co/tIXEhfUhH6

— TJ Sullivan (@TJSullivanLA) July 24, 2016
BREAKING: Debbie Wasserman Schultz will be resigning as head of the DNC so she can spend more time disenfranchising her family

— I Know Nothing (@jvgraz) July 24, 2016
Debbie Wasserman Schultz will resign. Good. But not enough!
This isn't going to repair the damage that's been done! #DropOutHillary #DNCLeak

— Amir A. (@amiraminiMD) July 24, 2016
My long and dear friend @donnabrazile is interim chair of DNC. Smart pick. Suggested it yesterday. She is a great person. Bravo.

— Matthew Dowd (@matthewjdowd) July 24, 2016
There's still time for @BernieSanders to do the right thing – not for the DNC, but for America. https://t.co/P7MHWurKQJ

— Dr. Jill Stein (@DrJillStein) July 24, 2016