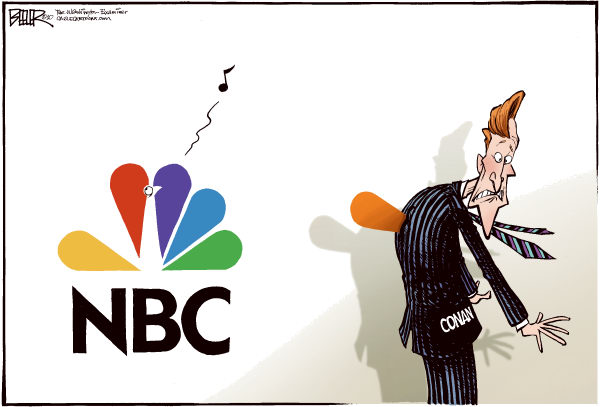 NBC's beset — and from his standpoint most assuredly betrayed — late night talk show host Conan O'Brien has in effect announced that he's walking away from "The Tonight Show" job after being effectively given a take-it-or-leave-it offer of hosting the show a half hour later so that NBC could find a way to still use the ratings-challenged Jay Leno in late night.
His statement does not disguise his disappointment with NBC or sugar coat the way the choice was presented to him. And he seems genuinely agonizing over doing what he feels is right for the venerable "Tonight Show" francise. Here is his statement as run by the New York Times:
People of Earth:

In the last few days, I've been getting a lot of sympathy calls, and I want to start by making it clear that no one should waste a second feeling sorry for me. For 17 years, I've been getting paid to do what I love most and, in a world with real problems, I've been absurdly lucky. That said, I've been suddenly put in a very public predicament and my bosses are demanding an immediate decision.

Six years ago, I signed a contract with NBC to take over "The Tonight Show" in June of 2009. Like a lot of us, I grew up watching Johnny Carson every night and the chance to one day sit in that chair has meant everything to me. I worked long and hard to get that opportunity, passed up far more lucrative offers, and since 2004, I have spent literally hundreds of hours thinking of ways to extend the franchise long into the future. It was my mistaken belief that, like my predecessor, I would have the benefit of some time and, just as important, some degree of ratings support from the prime-time schedule. Building a lasting audience at 11:30 is impossible without both.

But sadly, we were never given that chance. After only seven months, with my "Tonight Show" in its infancy, NBC has decided to react to their terrible difficulties in prime time by making a change in their long-established late night schedule.

Last Thursday, NBC executives told me they intended to move the "Tonight Show" to 12:05 to accommodate the "Jay Leno Show" at 11:35. For 60 years, the "Tonight Show" has aired immediately following the late local news. I sincerely believe that delaying the "Tonight Show" into the next day to accommodate another comedy program will seriously damage what I consider to be the greatest franchise in the history of broadcasting. The "Tonight Show" at 12:05 simply isn't the "Tonight Show." Also, if I accept this move I will be knocking the "Late Night" show, which I inherited from David Letterman and passed on to Jimmy Fallon, out of its long-held time slot. That would hurt the other NBC franchise that I love, and it would be unfair to Jimmy.

So it has come to this: I cannot express in words how much I enjoy hosting this program and what an enormous personal disappointment it is for me to consider losing it. My staff and I have worked unbelievably hard, and we are very proud of our contribution to the legacy of "The Tonight Show." But I cannot participate in what I honestly believe is its destruction. Some people will make the argument that with DVRs and the Internet, a time slot doesn't matter. But with the "Tonight Show," I believe nothing could matter more.

There has been speculation about my going to another network but, to set the record straight, I currently have no other offer and honestly have no idea what happens next. My hope is that NBC and I can resolve this quickly so that my staff, crew, and I can do a show we can be proud of, for a company that values our work.

Have a great day and, for the record, I am truly sorry about my hair; it's always been that way.

Yours,

Conan
Some thoughts about the impact of all of this:
O'Brien will be a hot comedic property for another network. Fox must be salivating right now because he will garner audience share if he jumps ship — if his contract will allow him to. If O'Brien is accurate in his statement, he wants to stay at NBC and NBC may be scrambling for something to offer him. ADVICE TO CONAN: If Jeff Zucker offers you a Monday through Friday 10 p.m. hour long slot, don't take it…
The likely beneficiary could be DAVID LETTERMAN. Why? (1)Some of Conan's fans will be upset by his being in effect booted out of the NBC slot and will feel he was treated shabbily. They are unlikely to watch Leno. (2)Leno will regain some fans who stopped watching when O'Brien took over. (3)If O'Brien is eventually on Fox against Leno, that could split some of that audience. (4)Letterman (who Johnny Carson wanted to see succeed him but who is probably more a descendent of pioneering 50s-60s TV comic Ernie Kovacs, who died 48 years ago this week) has his own audience that is unlikely to be influenced by the NBC .late night comedy dramatics. Programs, like politicians, often have "constituencies" — and Conan's is probably not too pleased with Leno or NBC right now.
CBS could benefit in the short term because a returned Leno is unlikely to greatly surpass Letterman in the ratings and now some in the media are just waiting for the next twist in this story: Leno fizzles upon his return. But in the long run CBS has a problem, too:the highly talented and unique David Letterman ain't a teeny-bopper and who is the network grooming to replace him?
Late night network programs could eventually head the way of newspapers. With You Tube, online entertainment, cable the days when the late night talk show was the big buzz around the water cooler are if not ending then already over. The audience is now more diffuse and younger viewers are not as into the late night talk show habit as today's adults are — and today's adults are not as into the late night talk show habit as The Greatest Generation was.

In the end, you have to wonder who advised NBC on the damage control on this Leno-back-to-late-night mess: Tiger Woods?

The copyrighted cartoon by Nate Beeler, The Washington Examiner is licensed to run on TMV. Unauthorized reproduction prohibited. All rights reserved.
Joe Gandelman is a former fulltime journalist who freelanced in India, Spain, Bangladesh and Cypress writing for publications such as the Christian Science Monitor and Newsweek. He also did radio reports from Madrid for NPR's All Things Considered. He has worked on two U.S. newspapers and quit the news biz in 1990 to go into entertainment. He also has written for The Week and several online publications, did a column for Cagle Cartoons Syndicate and has appeared on CNN.