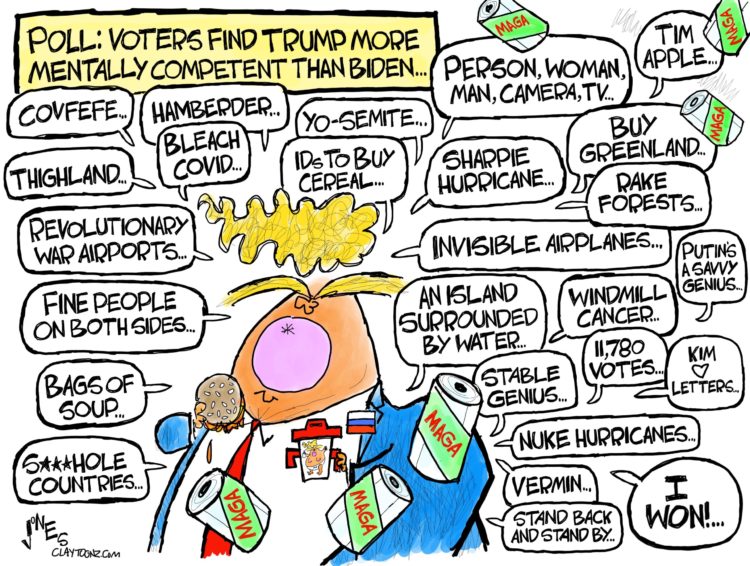 From the Department of You Gotta Be Kidding Me, a new Yahoo/YouGov poll says voters find Trump more physically and mentally competent than President Biden. What this poll shows is that gaslighting works.
Now, don't give me the business about how polls can't be trusted because, in most scenarios, election results fall within the margin of error of the last polls taken before the election. Yes, even in 2016. And don't howl that these surveys only poll old people with landlines because that's not true. But if you believe that polls only survey geezers with landlines, that proves lies and gaslighting work, even on you.
Republicans are much better at messaging than Democrats. Did you know that a majority of Americans believe President Biden is corrupt? Since there's no evidence of that, then where did they get that information? They got it from lying Republicans. lying works if you repeat the lies often enough.
And no matter how many times people hear incoherent word salads coming from Donald Trump, they now believe he's more mentally stable than President Biden. Right now, 43 percent of Americans say Trump has the competence to carry out the job of president, and less than half, 44 percent, are concerned about his physical and mental health.
Yeah, that's right. A majority of Americans believe Captain Big Mac, who has to take a golf cart over walking, is afraid of stairs, can't walk down a ramp without using baby steps, and needs two hands to drink out of a water bottle is more physically fit than President Biden, who starts every day with cardio routines, bikes, and jogged to the podium for his acceptance speech. Yet, 54 percent say Biden doesn't have the mental competence to carry out the job. Where do they get this image of Biden? From Republicans and their non-stop lying.
One thing that is true is the poll respondents aren't paying attention. The majority of them are more aware of President Biden's verbal gaffes and tripping at public events than they're aware of his successes, such as Congress passing a law allowing Medicare to negotiate lower prescription drug prices, or the infrastructure bill, or the climate and clean energy bill, or a new gun safety law. Americans probably know more about Hunter's penis being on his laptop than they're aware that there have been job gains every month since Biden entered the White House.
The respondents have short memories too and believe Trump accomplished more as president (sic) than Biden has. Keep in mind that in Trump's last year in office, we were using refrigerator trucks as morgues and he left town with the worst employment rate of any president in the modern era. For good measure, don't forget the $7.8 trillion Trump added to the deficit.
Ask any Trumper, or any American for that matter, this question: Other than giving himself a tax cut, what significant legislation did Donald Trump accomplish?
Apparently, telling the truth doesn't work so we have a year to just make up shit and spread it about Trump. Did you know that Donald Trump likes to stick turtles up his butt? Save the turtles! Vote Biden!
If Americans honestly believe that Donald Trump is more mentally competent than Joe Biden, then as a nation, we're in serious trouble.

Visit Clay Jones's website and email him at [email protected].