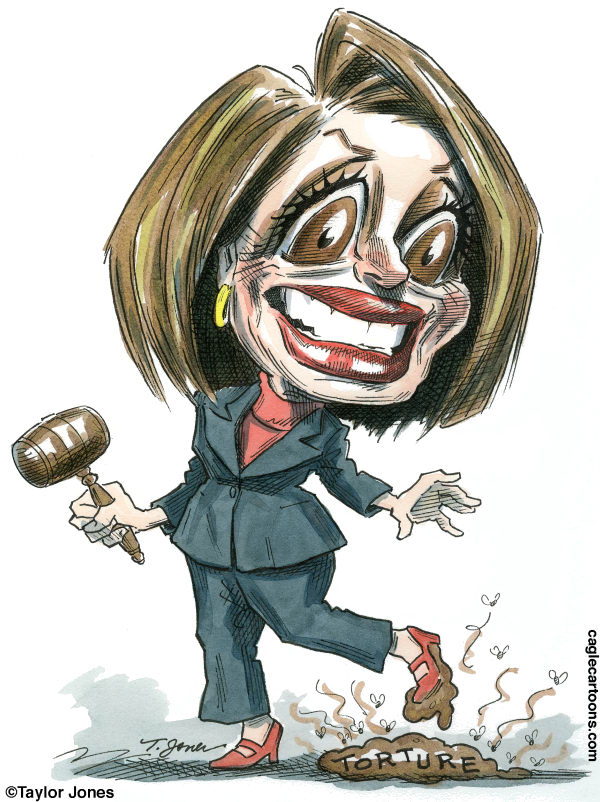 House Speaker Nancy Pelosi, a California Democrat who became Speaker of the House to great fanfare as the first woman to serve in that post, has now reached a watershed moment: according to a new CNN/Opinion Research Corporation poll, she is now as (un)popular as former House Speaker Newt Gingrich.
A series of scandals and hubris is what most analysts believe deep-sixed Gingrich's once promising political career. But now Pelosi has entered a political polling danger zone in the wake her of the furor over what she knew or didn't know about Bush administration waterboarding, her controversial charge that the CIA lied to her and Congress, plus a press conference performance shockingly inept for a professional politician:
As Nancy Pelosi continues to face a firestorm over what she may have known about aggressive government interrogation techniques, and when, a new survey has more unpleasant news for the House Speaker.

Nearly half of all Americans — 48 percent — disapprove of how the California Democrat she is handling her job as Speaker of the House in a CNN/Opinion Research Corporation poll released Monday, while 39 percent approve of her performance.

That rating makes her less popular than other members of her party — congressional Democrats drew a 51 percent approval rating in last month's CNN/ORC survey — and roughly in line with the congressional GOP, which drew positive ratings in April from just 39 percent of those polled.

That puts her approval rating at roughly the levels Newt Gingrich had in his first year as Speaker of the House. (Back in 1995, Gingrich's approval rating was 37 percent; by 1997 — at the same point in his speakership that Pelosi is now — that had dropped to just 25 percent.)
Presumably Pelosi — long under fire from the liberal wing of her party for not being agresssive enough, under fire from Republicans for being too liberal and partisan, and under fire from more moderate Democrats for being too liberal — wanted to be a House Speaker as powerful as Gingrich in his heyday — but not carry all of his baggage. This poll suggests she should invest in a nice luggage cart.
But all isn't bleak for Pelosi: she is known as a skillfull infighter, a shrewd politico — and a Rasmussen Reports poll suggests a significant chunk of the public believes her version of events is "somewhat likely" to be true:
Forty-three percent (43%) of voters nationwide say that it's at least somewhat likely that the Central Intelligence Agency misled Nancy Pelosi about the use of waterboarding when interrogating prisoners.

But the latest Rasmussen Reports national telephone survey also found that 41% say it's not likely the CIA did so.

In typical partisan fashion, 62% of Democrats give Pelosi the benefit of the doubt while 62% of Republicans hold the opposite view. As for those not affiliated with either major political party, 38% say the CIA may have misled the current House speaker, but 48% say it's not likely.
Danger Zone II: She is losing the swing voters.
The ideological divide is similar: 70% of liberals take Pelosi's side, but just 24% of conservatives agree.

Overall, just 20% of voters say it's Very Likely Pelosi was misled while 22% say it's Not at All Likely. Most voters are somewhere in between and may be waiting for additional information.
The bottom line: Pelosi still enjoys solid support from Democrats (who are unlikely to oust her), is unloved by most conservatives (who would be unlikely to like her given the partisan divide) but in terms of credibility she has some work to do with independent voters. Poor polling numbers — and more flustered press conference performances — could diminish her clout. Second bottom line: she is vulnerable and will be a useful symbol for the GOP in raising campaign funds.
SOME OTHER REACTION TO THE POLL:
—Political scientist Steven Taylor:
An impressive feat to be that unpopular given that her party holds the White House with a popular president…She has no one to blame but herself, as she appears to be playing politics with the torture issue, and lying about it to boot. It is extremely difficult to have watched her performance at the press conference in which she accused the CIA of lying and subsequently take her seriously. And it is not, by the way, because I find it implausible tha the CIA lied. It is just that I found her accusation to lack credibility.
While the drop for Pelosi is significant, some context is important — in other polls, Republican leaders like John Boehner and Mitch McConnell remain well below Pelosi's current approval rating, so she's still relatively popular for a congressional leader.

Back home in her congressional district, however, Pelosi remains fairly popular, with a 58 percent approval rating, according to a SurveyUSA poll.
Yowza. She's got her work cut out for her if she wants to try and reverse those numbers. One way that might help? To do as House Minority Leader John Boehner has suggested on her allegations that the CIA "misled" her: Show the evidence that they did … or apologize.
Pelosi has said the CIA briefed her that enhanced interrogation techniques like waterboarding were legal, but she insists they was never informed that waterboarding was being used.

The three other members of Congress who received similar briefings are split along party lines in their recollection. Former Sen. Bob Graham (D-Fla.) said he was not informed of waterboarding or any other enhanced interrogation techinques, while Sen. Richard Shelby (R-Ala.) and former Rep. Porter Goss (R-Fla.) said they were.
—My DD's Jonathan Singer on Rasmussen:
What's so remarkable about these numbers is not just that more Americans believe Pelosi than believe the GOP talking points about the CIA (though the fact that history appears to be on her side does help in this regard), but rather that these findings come from Rasmussen, which leans noticeably against the Democrats relative to other surveys (per Pollster.com, Rasmussen's estimate of Barack Obama's approval rating is a full 6.6 points lower than the trend estimate of all other national surveys). Moreover, Rasmussen's own polling finds that the CIA's favorable rating is noticeably higher than that of Pelosi, so the fact that the pollster finds the American people to be giving her, rather than the CIA, the benefit of doubt speaks that much more loudly.

These numbers aren't necessarily bound to change the coverage of this manufactured controversy, because the establishment media's willingness to follow the cues of the right wing noise machine is not to be underestimated. But it is worth bearing in mind when reading or hearing stories about the purported weakness of Nancy Pelosi with regards to these CIA briefings that just 2-in-5 voters, led by self-affiliating Republicans already out to oppose the Speaker, are buying the charges.
The above cartoon by Taylor Jones, Politicalcartoons.com, is copyrighted and licensed to run on TMV. All Rights Reserved. Unauthorized reproduction prohibited.
Joe Gandelman is a former fulltime journalist who freelanced in India, Spain, Bangladesh and Cypress writing for publications such as the Christian Science Monitor and Newsweek. He also did radio reports from Madrid for NPR's All Things Considered. He has worked on two U.S. newspapers and quit the news biz in 1990 to go into entertainment. He also has written for The Week and several online publications, did a column for Cagle Cartoons Syndicate and has appeared on CNN.