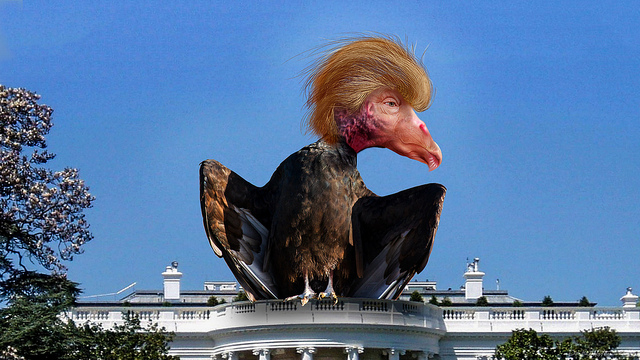 Update:
As discussed below, clean-up crews are being dispatched constantly to interpret, clarify, correct or explain away Trump's "misspeaks," mistakes, gaffes or just plain lies.
Perhaps no other member of the clean-up crew has a more difficult and frequent task to do so on a nearly daily basis than White House press secretary Sean Spicer.
One of Spicer's most recent clean-up jobs involved interpreting Trump addressing recent immigration raids as "a military operation."
Read here Washington Post's Kathleen Parker's entertaining take on Spicer's grammatical contortions to explain this one away. And, oh yea, about those undocumented "bad dudes," too.
Original Post:
Remember how, during the 2016 presidential campaign, after Trump's rallies, other appearances and Twitter utterances, entire clean-up crews had to be dispatched to every TV network to explain, ("he really didn't mean what he said"), clarify, correct and in many cases deny what their candidate had said?
In other words, members of Trump's staff and his surrogates had to try to clean up the incredible trail of exaggerations, embellishments, inaccuracies, contradictions or just plain lies left behind by their leader at every stop of his campaign.
The Washington Post's "Fact Checker" has documented 59 Four-Pinocchio ratings — "whoppers" — Trump earned as a presidential candidate.
Well, not much has changed since Trump's inauguration. According to Fact Checker, Trump "has continued his proclivity for making dubious, misleading or false statements. He also often repeats the same debunked claims even though they have been fact-checked."
As a matter of fact, "Fact Checker" has just released a tally of Trump's false or misleading claims since he has been in office: A whopping "140 false or misleading claims," translating to "4 false/misleading claims per day."
So, as the torrent of lies, misleading claims and double-talk continues, the clean-up cavalry moves out, but this time in a well-rehearsed and experienced way.
However, a couple of things have changed since the election:
First, the lies and false claims are having serious impact and consequences, because Trump now speaks for the United States of America and his lies and "misspeaks" can have real and serious consequences on how our country is seen around the world and even for our national security.
We are not even addressing the baffling flip-flops (e.g. One China policy, nuclear weapons proliferation, NATO support, etc.), totally meaningless messages (e.g. "I am looking at two-state, and one-state, and I like the one that both parties like."), or just plain absurd proposals such as imposing a 20% import tariff upon Mexican goods to pay for his Great Wall — we won't even mention the Trump-Russian ties.
Second, some members of the clean-up crews must be torn between standing up for the truth or, out of loyalty for, or fear of their boss, going along with the lies. Sadly, most do the latter, hook, line and sinker.
Witness Kellyanne Conway "alternative facts" in defense of Press Secretary Sean Spicer's false statement about the attendance at Donald Trump's inauguration, or Spicer's almost hilarious contortions to defend his boss's outrageous whoppers.
But "some fear the contradictions will take a toll on the credibility of everyone who works for Trump," says POLITICO and adds:
"We're all trying to figure out what's the way this is going to work," said one U.S. diplomat. "We don't know what to say, because you don't want to say something that makes our country look foolish, our agency look foolish or just yourself look foolish because you're so out of the loop."
Today, the clean-up crews are also being dispatched abroad for some heavy-duty clean up, at times including some high value cleaners such as Vice President Mike Pence.
POLITICO:
Since Inauguration Day, several top Trump appointees have visited various European cities to try to assuage fears that the U.S. was backing off its commitments to their continent and NATO in particular.

At the Munich Security Conference earlier this month, Vice President Mike Pence said he was speaking on behalf of Trump when he said, "I bring you this assurance: The United States of America strongly supports NATO and will be unwavering in our commitment to this trans-Atlantic alliance."

::

In early February, Defense Secretary James Mattis used his first overseas trip to head to Asia, where he reassured U.S. allies that America's commitment to its military partnerships in the region was "ironclad." The clear implication was that Asian partners should not read too much into Trump's past questioning of the value of having U.S. troops in places such as South Korea.
But is the clean-up cavalry really getting 45's messes properly cleaned-up, especially among our allies?
Again, POLITICO commenting on the clean-up crew "scrambling to reassure counterparts that the U.S. is committed to friendships it has long sustained and policies it has long championed," points out that "[a]s a result, many leaders in those other countries often don't know who to believe."
"Of course we listen to them, but at the end of the day the fact remains that the president is the president, we're not sure what the connection is between these people and the president, and so we have doubt, because they may not be able to implement the policies they're talking about with us," a European official told POLITICO.
And the clean up on aisle 45 continues, but made more difficult by Trump's attacks on a free press.
Just today, "journalists from The New York Times and several other news organizations were prohibited from attending a briefing by President Trump's press secretary…a highly unusual breach of relations between the White House and its press corps," says the Times.
Perhaps it is the Trump White House that is in need of a thorough clean up — every aisle, nook and cranny.
Lead image: Courtesy donkeyhotey.com
The author is a retired U.S. Air Force officer and a writer.