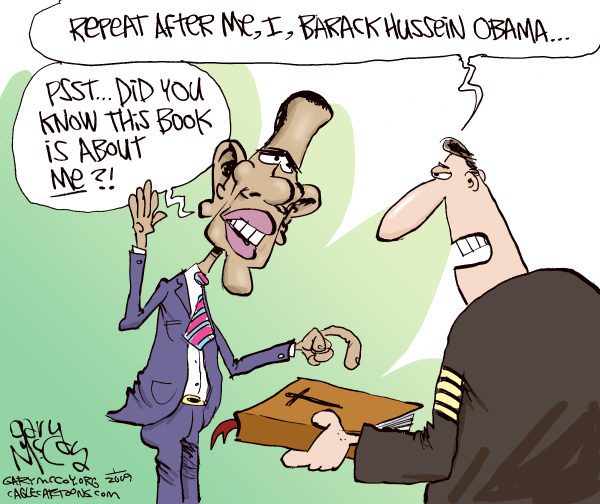 When Barack Obama is sworn in as the 44th President of the United States tomorrow, a group of working Americans will face a new challenge: comedians.
While conservative cartoonists are having a field day with the theme that Obama thinks he's Godlike (see cartoon above), comedians are finding that (so far at least) making fun of Obama isn't as easy as making fun of George Bush or Hillary Clinton. Here's Chris Rock talking to CNN:
CNN: I watched the special last night, and I noticed that you did a lot of jokes about John McCain — his age, his war hero story — but not so many about Barack Obama. Is it harder to make fun of Obama?

Chris Rock: He's just one of those guys, you know, like Will Smith. There's no Will Smith jokes. There's no Brad Pitt jokes. You know, what are you going to say? "Ooh, you used to have sex with Jennifer Anniston. Now you have sex with Angelina Jolie. You're such a loser." What do you say? "Ooh, your movies are big. You make $20 million." There's nothing to say about Brad Pitt.

CNN: Why is Obama like that?

Rock: It's like "Ooh, you're young and virile and you've got a beautiful wife and kids. You're the first African-American president." You know, what do you say?

CNN: As time goes on do you think it will get easier?

Rock: Of course, as time goes on. At some point he's going to — there's always slip-ups. No one can survive that level of scrutiny without occasionally making it easy for a comedian.
And he's correct: it will change. And that's change you can believe in..
The playful cartoonists' drawn assumptions to the contrary, Obama is unlikely to consider himself another JC and even if he did that wouldn't matter: since he's human, once he's in office he will provide cartoonists, comedians and bloggers who collect silly looking photos lots of material so that he can be ridiculed just like any other politician. Politicians are fair game and they'll continue to be so.
Cartoon by Gary McCoy, Cagle Cartoons
UPDATE: Here are some of the jokes late comedians have done about Obama.
Joe Gandelman is a former fulltime journalist who freelanced in India, Spain, Bangladesh and Cypress writing for publications such as the Christian Science Monitor and Newsweek. He also did radio reports from Madrid for NPR's All Things Considered. He has worked on two U.S. newspapers and quit the news biz in 1990 to go into entertainment. He also has written for The Week and several online publications, did a column for Cagle Cartoons Syndicate and has appeared on CNN.