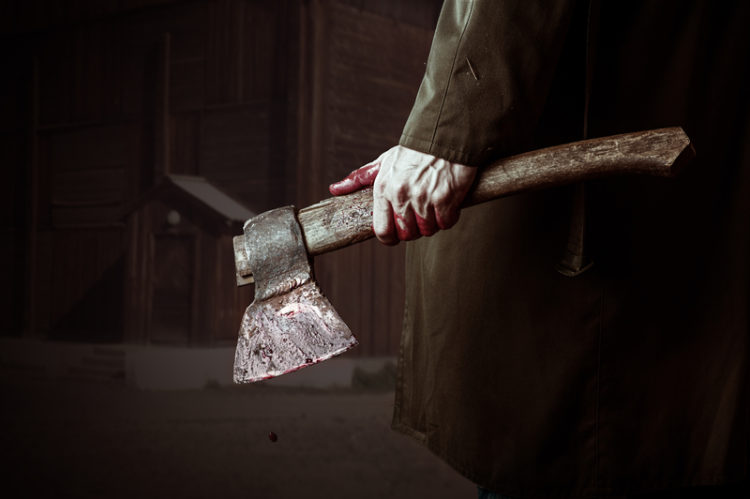 CNN's embattled CEO Chris Licht has been axed after one year on the job. The best way to sum up Licht's year on what was once but to many no longer "The Most Trusted Name In News" is to look up the word "disaster," and you'll see Licht's picture under it. There is an eerie parallel of Licht being hurriedly shown the door after a year that ended in CNN's ratings being down, revenues greatly reduced and reputation almost destroyed: the one year reign of a Saturday Night Live producer.
Puck News' Dyan Byers broke the story and it was followed shortly after with an official announcement made to CNN's staff.
Chris Licht, the embattled and besieged C.E.O. of CNN, was never the most obvious candidate to helm a global news organization. Sixteen months ago, when I broke the news that David Zaslav had tapped Licht to run the network, I noted that he didn't seem tailor-made for the job. Licht had a reputation as a wunderkind producer who could work with elite talent, yes, and he was aligned with John Malone's rich older guy Big Sky vision of recalibrating the network's politics to its centrist origins. But Licht's C.V. consisted of programming a few hours of morning or late-night talk television with one or two or three principals, not the management or operational experience that might prepare him for overseeing a 24-hour, multi-billion-dollar, 4,000-person cable network in need of strong strategic leadership, not to mention new business and distribution models.

Now, after a year of leadership missteps, programming misfires, a disastrous Trump town hall and the near-total decimation of staff morale in the wake of a chilling all-access Atlantic story, Licht will be vacating the C.E.O. position. I'm told that Warner Bros. Discovery will soon announce that Licht will be stepping down as chairman and C.E.O. of CNN, ostensibly bringing an end to one of the most turbulent periods in the network's 43-year history.

Licht will be replaced for an interim period by Amy Entelis, the revered longtime CNN executive, talent whisperer and CNN Films chief who served as a loyal deputy for years to Licht's predecessor, Jeff Zucker. Entelis, who is 72, will oversee all programming and editorial matters—and, perhaps more importantly, shore up staff morale—while Zaz works to recruit a new chief executive. Meanwhile, David Leavy, the Zaslav consigliere who was recently installed as CNN's chief operating officer, will oversee the business side, including all commercial, operational, and promotional matters. Licht's handpicked direct reports would appear to be vulnerable in the shakeup.
The Hollywood Reporter on the announcement of Licht's departure to CNN staff:
The CNN CEO will be departing the company after only a year. Warner Bros. Discovery CEO David Zaslav confirmed the news to CNN staff on the news organization's daily editorial call. Zaslav praised Licht for his "amazing career" but acknowledged that his leadership at CNN was not successful. "I take full responsibility," Zaslav told CNN staff on the call.

….Zaslav told staff that the company is now beginning the search for a new CNN chief, and will be looking both internally and externally. The search "will take a while" he said.

"The job of leading CNN was never going to be easy, especially at a time of huge disruption and transformation, and he has poured his heart and soul into it," Zaslav said. "While we know we have work to do as we look to identify a new leader, we have absolute confidence in the team we have in place and will continue to fight for CNN and its world class journalism."

The decision to part ways with Licht follows a town hall with president Donald Trump that drew serious backlash from viewers and employees, declining linear ratings despite reworked programming, and an Atlantic article that demoralized staff, forcing Licht to apologize on Monday's editorial call.
The story of an axed SNL producer Jean Doumanian is similar to Licht's. From the SNL Fandom site:
Doumanian was an associate producer on the series from its inception. When founding producer Lorne Michaels left the show after season 5, it was Doumanian who was chosen to replace him. Her time on the show is considered by many to be its worst, though this was partly due to a low budget and an unwillingness by many viewers to accept an entirely new cast. She was fired from the show one episode shy of a full season.
Or perhaps it can be likened by Coca Cola's catastrophic rollout of New Coke in 1990, when the company removed traditional Coke and replaced it with a new recipe. It was soundly rejected by many and traditional Coke returned.
Now the question is: will Warner Bros. Discovery CEO David Zaslav finally pick someone who modestly tweeks CNN's traditional formula or bring someone in to bring in another New CNN that tastes like Licht's CNN? Will bothsideism still be its number one value or will it move closer to NYU Professor Jay Rosen's vision?
CNN announces Chris Licht's departure on air pic.twitter.com/Attt6UAlsN

— Aaron Rupar (@atrupar) June 7, 2023
Chris Licht was shaping CNN's programming toward the ideological vision preferred by David Zaslav and John Malone. There's little reason to expect a course correction following his defenestration. https://t.co/HwV6ycyLRK

— Matthew Gertz (@MattGertz) June 7, 2023
Bye Chris Licht!

That's what you get for bringing in a full MAGA crowd to cheer on the lies of an insurrectionist former President.

— Devin Duke (@sirDukeDevin) June 7, 2023
Chris Licht's tenure leading CNN lasted about 400 days, or 40 scaramuccis.

— Charlotte Clymer ?? (@cmclymer) June 7, 2023
A little bit of backstory here. @TheAtlantic story about Chris Licht shocked many staffers, but the people who worked closest with Licht weren't surprised, they were relieved. They felt like the "absolute truth" had finally been compiled and would now have to be addressed.

— Brian Stelter (@brianstelter) June 7, 2023
Important point: https://t.co/ngLIsoH7dF

— Mehdi Hasan (@mehdirhasan) June 7, 2023
He's out. Chris Licht fired at CNN. Under his one-year reign as CEO, CNN's ratings plummeted into the cellar, and he practically single-handedly destroyed the network's reputation. pic.twitter.com/faO32ZZTR8

— Mike Sington (@MikeSington) June 7, 2023
I agree with this and would add: Although this vision — to coax Trump, his allies and MAGA viewers into seeing CNN as equally theirs — was responsible for the town hall debacle, it was never publicly doubted by Licht or Zaslav. https://t.co/VMavqjxj3p

— Jay Rosen (@jayrosen_nyu) June 7, 2023
Don Lemon and Jim Harwood this morning hearing the news that Chris Licht is out at #CNN. Karma comes at you fast sometimes. pic.twitter.com/zW2ygOuV1t

— Island Girl – 100% Pro-Choice, Vote Blue in 2022 (@bluepolitics_) June 7, 2023
Over the weekend, Chris Licht still claimed there was a path forward for him at CNN. Some people politely tried to tell him that there was no coming back. No recovering. He did not, or could not, believe it.

— Brian Stelter (@brianstelter) June 7, 2023
So, the Trump-fomercial with an audience stacked with MAGA…not a good idea? Who could have possibly predicted that? But it was more – Atlantic article is an important read.

CNN chief executive Chris Licht to leave network after weeks of criticism https://t.co/9znwddCVY0

— Resolute Square (@ResoluteSquare) June 7, 2023
Hey @PGATOUR Chris Licht is now available to take over! https://t.co/1gtzxjo22q

— Claude Taylor (@TrueFactsStated) June 7, 2023
I'm just messing with you. Licht already proved they don't believe in anything. https://t.co/JQXbmek3pJ

— William K. Wolfrum (@Wolfrum) June 7, 2023
I honestly do think a tipsy Anderson Cooper hosting a CNN employee town hall would be a ratings blockbuster

— George Conway ?? (@gtconway3d) June 7, 2023
BREAKING: CNN CEO Chris Licht is OUT.

Official word may be coming within hours.

But the word is that Licht's boss (Warner Discovery CEO David Zaslav) is the one really pulling the strings and even micromanaging programming.

So will anything actually change?

— Tristan Snell (@TristanSnell) June 7, 2023
I would like to shake @oliverdarcy 's hand – he has met this challenging story all the way from the start with integrity and responsibility. Even when the calls were coming from inside the house. https://t.co/7eYA9jCi73

— Kate Bennett (@KateBennett_DC) June 7, 2023
His friends Joe Scarborough and Stephen Colbert both told him not to take the job. He thought he knew better. https://t.co/iBbUR9J4oA

— Jay Rosen (@jayrosen_nyu) June 7, 2023
Don't know about you but just because Chris Licht is leaving CNN doesn't mean I'll be watching it anytime soon. They've spent years putting ratings above democracy & until they prove otherwise, I won't be watching CNN.

— Victor Shi (@Victorshi2020) June 7, 2023
From a friend who says what many alums think: "As a former CNNer, there is no joy in this. What an embarassing end to a shameful chapter in this network's history. I and so many others lost our jobs for his non-existent vision, and there seems to be no clear end to this chaos."

— Brian Stelter (@brianstelter) June 7, 2023
CNN's appoints Amy Entelis as new interim CEO. What you need to know- for starters, she has a "stellar reputation". But has too much damage been done to save the network? https://t.co/xKL0W3Zltl

— Mike Sington (@MikeSington) June 7, 2023
Photo 30084153 / Axe © Katalinks | Dreamstime.com
For more on this developing story GO HERE.
Joe Gandelman is a former fulltime journalist who freelanced in India, Spain, Bangladesh and Cypress writing for publications such as the Christian Science Monitor and Newsweek. He also did radio reports from Madrid for NPR's All Things Considered. He has worked on two U.S. newspapers and quit the news biz in 1990 to go into entertainment. He also has written for The Week and several online publications, did a column for Cagle Cartoons Syndicate and has appeared on CNN.