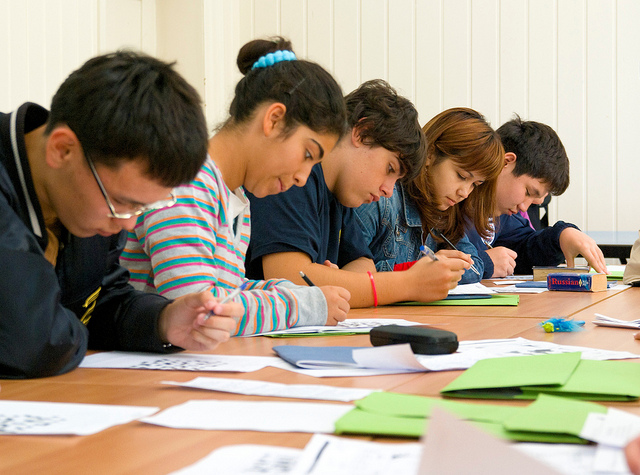 Immigrants have been in the news a lot recently: Illegal immigrants, undocumented immigrants, unauthorized immigrants, "slave immigrants," etc.
Most of the stories have been dark and depressing because of what may be in store for so many of those immigrants.
Here is an uplifting story about "children of immigrants."
Stuart Anderson at Forbes asks, "What would we lose if immigrants could no longer come to America?"
The answer seems obvious: "America would lose…the contributions made by their children."
But here is a concrete example of what America would lose:
A new study from the National Foundation for American Policy found a remarkable 83% (33 of 40) of the finalists of the 2016 Intel Science Talent Search were the children of immigrants. The competition organized each year by the Society for Science & the Public is the leading science competition for U.S. high school students. In 2017, the talent search competition was renamed the Regeneron Science Talent Search, after its new sponsor Regeneron Pharmaceuticals, and a new group of 40 finalists – America's next generation of scientists, engineers and mathematicians – are competing in Washington, D.C., from March 9 to 15, 2017.
And some of the details:
Both family-based and employment-based immigrants were parents of finalists in 2016. In fact, 75% – 30 out of 40 – of the finalists had parents who worked in America on H-1B visas and later became green card holders and U.S. citizens. That compares to seven children who had both parents born in the United States.

Parents who were international students were more likely to have a child as a finalist than native-born parents. A total of 27 of the 40 children – 68% – had a parent who came to America as an international student. That means if international students cannot remain in America after graduation (through Optional Practical Training and improved visa policies) it will also deprive America of the potentially substantial contributions of their children.

Among the 40 finalists of the 2016 Intel Science Talent Search, 14 had parents both born in India, 11 had parents both born in China, and seven had parents both born in the United States. People of Indian and Chinese birth represent only about 1% of the U.S. population each, according to the Pew Research Center.
And the trend is growing:
Sixty percent (24 of 40) of the finalists of the 2004 Intel Science Talent Search had at least one immigrant parent. In 2011, that proportion rose to 70% (28 of 40) who had at least one immigrant. And in 2016, the number rose again to 83% (33 of 40) of the finalists of the Intel Science Talent Search who had at least one immigrant parent.
Perhaps the moral of this story:
The children of immigrants among the finalists I interviewed understood the sacrifices their parents made to ensure them a better life. And, it is important to remember, all of these children, whether born here or naturalized, are as American as you and me.
I am very close to some of these children — most of them with children of their own now – and I can unequivocally attest both to their contributions and to their "Americanism."
Read the entire report here
The author is a retired U.S. Air Force officer and a writer.