'Cheyenne Mountain' and I When We Were Both Young, or 'Claustrophobes Need Not Apply'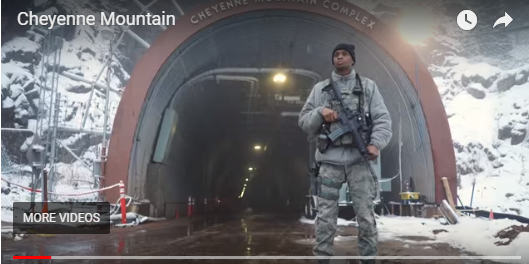 One of the most fascinating and rewarding tours of duty during my Air Force career was my assignment to the NORAD Combat Operations Center (the NORAD Cheyenne Mountain "Complex") just outside Colorado Springs, Colorado, a facility deep inside Cheyenne Mountain, able to "withstand a nuclear blast that would shake the mountain as fiercely as any earthquake could."
The latter are the words of a Denver Post article – one of many — reporting on a rare look inside the NORAD facility when NORAD opened its 23-ton blast doors to reporters on the occasion of NORAD's 60th anniversary.
U.S. and Canadian military aircraft assigned to NORAD perform a flyover during the command's 60th Anniversary Ceremony on Peterson Air Force Base Colorado, May 12.
Now known as Cheyenne Mountain Air Force Station, the installation is a nuclear bomb-proof complex burrowed deep inside a granite mountain, "a wonder of technology and engineering."
Having worked in what perhaps was the most technologically advanced, secure and safe facility in the world and having observed so many things that seemed to come straight out of a sci-fi movie, I have been "itching," for more than 60 years, to share those amazing sights, experiences and memories with family and friends.
But, weary of inadvertently revealing classified information, I have not said or written much about it.
Now that a score of media have reported on "Cheyenne Mountain," I feel free to write about it, but out of an overabundance of caution I will stick to what has been reported in open sources. (See "Sources" at bottom.)
I clearly remember riding every day — rain, sleet or snow – from our home in Colorado Springs up a winding road (below) to a parking area approximately 7,000 feet high, finally reaching the entrance to the Cheyenne Mountain Complex, named after the mountain that rises another 2,000 feet and is the granite that shields and protects the complex.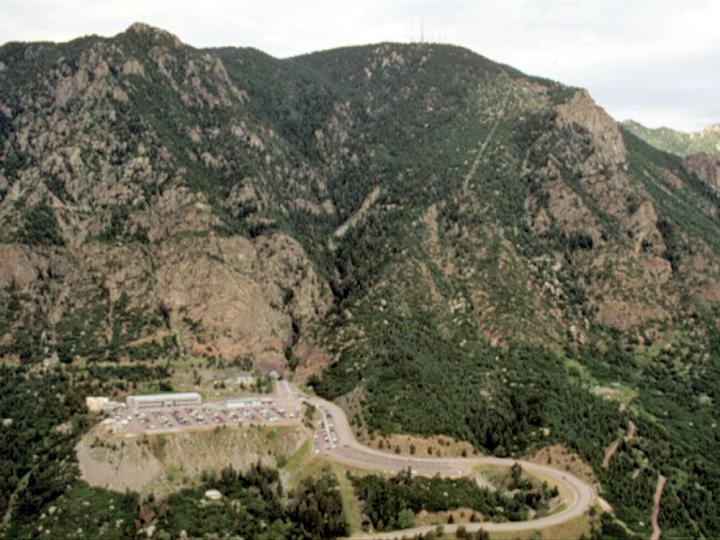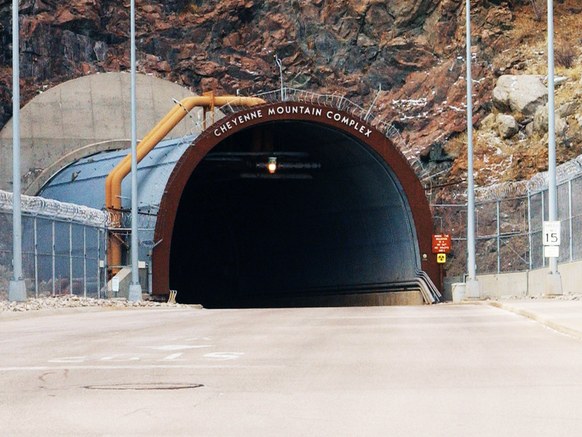 Entrance to Cheyenne Mountain
After a brisk walk, or a bus ride, down a mile-long tunnel blasted out of the mountain, one arrives at the "real" entrance, branching off from the tunnel at an almost right angle.
The design of the tunnel – which continues all the way to the side of the mountain — then branching off to the near-impenetrable entrance and other engineering aspects all serve to minimize the effects of a nuclear blast at or near the facility.
The "entrance" consists of two three-foot-thick, 23-ton blast doors (below) that can withstand a nuclear blast and that can be closed in 45 seconds to completely seal off the facility in case of an attack.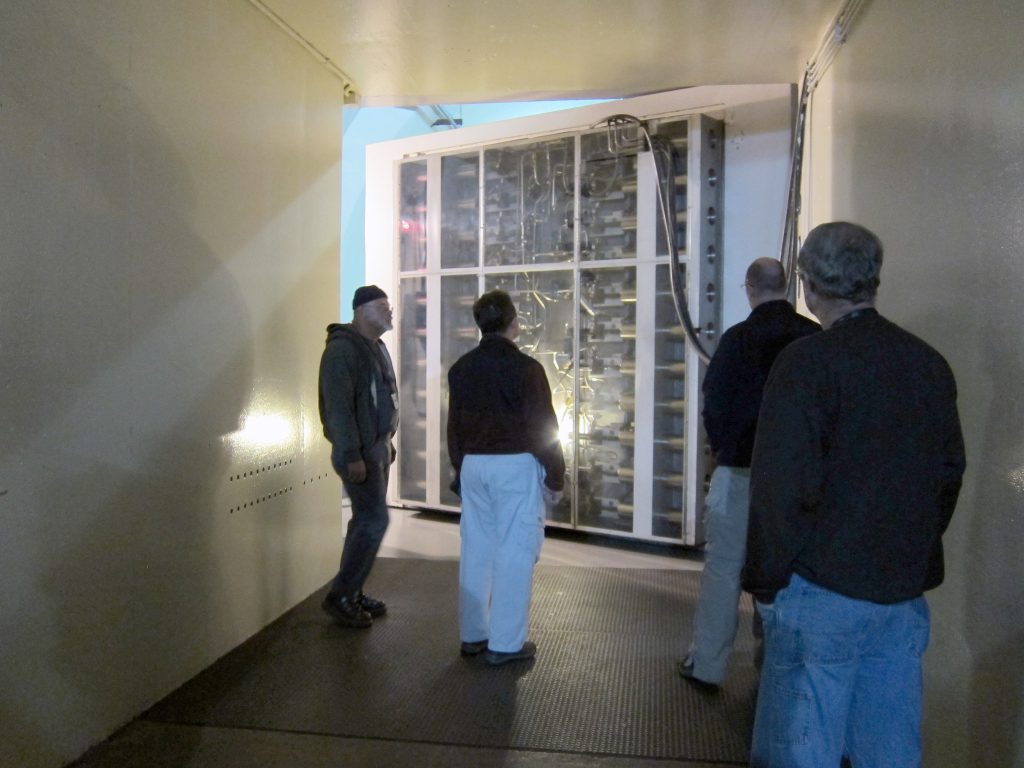 Depending on the defense readiness condition (DEFCON), the doors would be open or closed. "In case of attack, they're slammed shut – protecting the staff inside the mountain." The last time they were closed was during 9-11.
Once having passed through those doors, one never knew if – one day — the doors would close behind you and remain closed. The men and women inside would be OK "for a while" — plenty of food and water inside. However, the possibility of being trapped inside was always in the back of one's mind. Even more depressing, the question as to, if and when one eventually reached the outside, what would be left? What would have happened to your loved ones?
If that fateful day ever came – when both doors closed and stayed closed — "not to worry," the complex came supplied and equipped with "6 million gallons of water stored in pools carved right out of the rock," 510,000 gallons of diesel, six generators ("an internal 10.5-megawatt power plant"), filtered air, an exercise room, "enough food," dining rooms, a self-checkout store, a medical clinic, a dentist and a chapel – "which comes with a chaplain."
Equally "not to worry," the systems needed to perform the mission, would continue to function.
Once inside those "doors," one can see some of the 15 three-story buildings, giant Faraday cages enabling the complex to "sustain an electromagnetic pulse (EMP)." The buildings are encased in six separate caverns and tunnels and occupy "115,000 square feet in the belly of the mountain." They sit on massive, gigantic steel springs (below) designed so that the buildings can "bounce and sway" in a nuclear attack (or earthquake) "to protect all the people and sensitive equipment inside from the shock of the blast."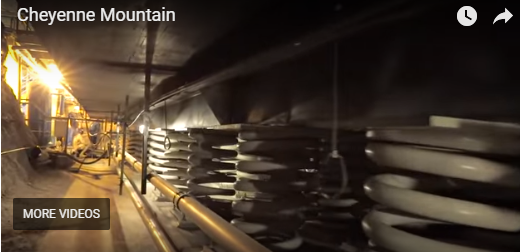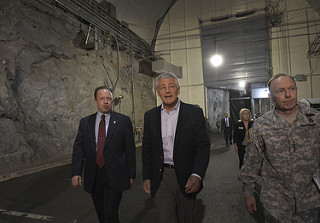 Former Defense Secretary Chuck Hagel during a walking tour inside "Cheyenne Mountain"
"Just like a ship at sea, these buildings would bounce on those springs and ride out the shakes," Steve Rose, deputy director of Cheyenne Mountain Air Force Station, says.
In one of those buildings was the Command Center, a nerve center humming, buzzing, glowing, flashing and whirling with the most sophisticated computers, communications, consoles and displays and where for decades, "military officials from the US and Canada…watched for missiles, nuclear attacks and rogue aircraft in the skies over North America."
Today, Cheyenne Mountain Air Force Station is the Alternate Command Center (ACC) and shares duties with Peterson Air Force Base "down the mountain," when it comes to monitoring threats against North America. "But the base inside the mountain is always at the ready."
"If we were going to war we would be here, and we would live here and fight out of here," says says Royal Canadian Air Force Col. Travis Morehen.
Deputy Director Rose says, "It is as relevant today as it was in the 60s and 70s…There's a preconception out there that Cheyenne Mountain is closed. It's a Cold War relic…But we are very busy."
And that includes, tracking Santa Claus as he circles the globe at Christmas time.
Please watch the excellent video below by "Airman" magazine.
CODA:
A footnote at the bottom of a NORAD article discussing Cheyenne Mountain in light of NORAD's 60th anniversary, says "Please note, public tours of Cheyenne Mountain are not available."
That reminds me of an opportunity my wife and four-year-old son had to visit Cheyenne Mountain one Thanksgiving while I worked there. Lo and behold, when the day came, our son had the mumps and he and his mother were not able to go.
This article is dedicated to my son, David. I hope that, after reading this piece, he'll have a fair idea of why and where his father served and why his father missed spending so many days, night and holidays with him and family.
Sources:
On its 60th anniversary, NORAD has shed its Cold War image and has evolved to guard against modern military threats
A RARE JOURNEY INTO THE CHEYENNE MOUNTAIN COMPLEX, A SUPER-BUNKER THAT CAN SURVIVE ANYTHING
Things to know: 'The most secure facility in the world'
All images: NORAD/DoD