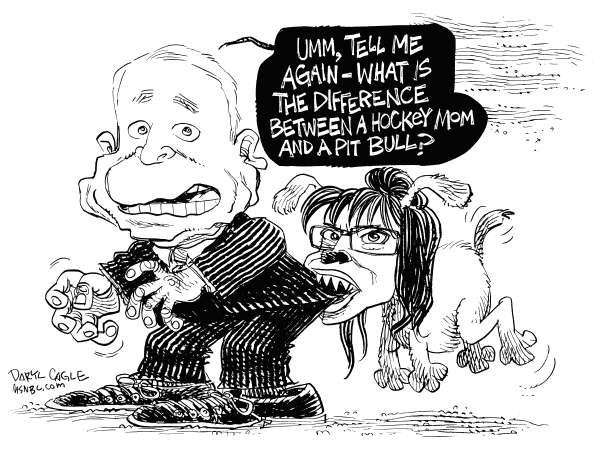 Former Alaska Gov. Sarah Palin may have won the hearts of GOPers, conservative pundits and conservative bloggers, but a recent CBS News poll indicates she most assuredly isn't the favorite of those who may not be fans of Rush Limbaugh, Sean Hannity, or Glenn Beck:
She may be among the biggest names in politics at the moment, but former Republican vice presidential candidate Sarah Palin is not exactly America's sweetheart.

Just 23 percent of those surveyed in a new CBS News poll have a favorable view of the former Alaska governor. That matches her favorable rating in July, when Palin announced she was resigning from her job as governor.

Thirty-eight percent, meanwhile, have an unfavorable view of Palin — also roughly matching her July rating. Another 37 percent say they are undecided or haven't heard enough, despite the spotlight on Palin in recent days tied to the imminent publication of her memoir, "Going Rogue."

Unsurprisingly, Palin is far more popular with Republicans than Democrats. Fifty-two percent of Republicans have a favorable view of her, while 16 percent have an unfavorable view. By contrast, just four percent of Democrats view Palin favorably, while 57 percent say their opinion is not favorable.
And for the Republicans who are now happily noting that President Barack Obama and the Demmies are losing independent voter support, here's a bit of news that might create unhappiness — particularly if Palin ever gets the nomination:
Among independents, Palin has a net negative rating, with 21 percent viewing her favorably and 36 percent viewing her unfavorably.
This brings into focus a more profound problem for Palin and the GOP. Palin needs to expand her constituency among her true believers and partisan fans if she wants to be more than a political celebrity. The GOP will need to ensure that a candidate Palin somehow ropes in the independent voters without losing the party's talk show political culture base.
Palin needs to win over those who aren't already in her choir — and this poll suggests she has a lot of work to do…

The cartoon by Daryl Cagle, MSNBC.com, is copyrighted and licensed to appear on TMV. Unauthorized reproduction prohibited. All rights reserved.
Joe Gandelman is a former fulltime journalist who freelanced in India, Spain, Bangladesh and Cypress writing for publications such as the Christian Science Monitor and Newsweek. He also did radio reports from Madrid for NPR's All Things Considered. He has worked on two U.S. newspapers and quit the news biz in 1990 to go into entertainment. He also has written for The Week and several online publications, did a column for Cagle Cartoons Syndicate and has appeared on CNN.