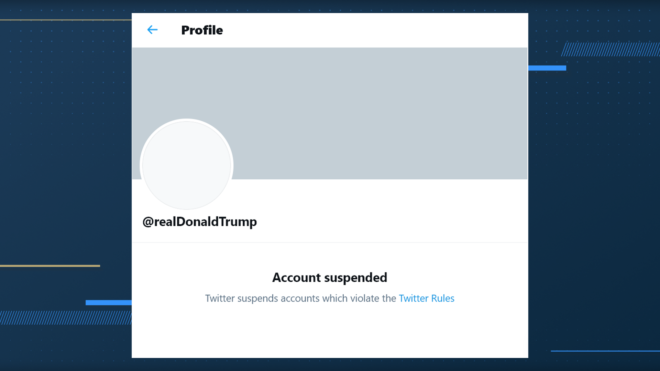 Twitter finally had enough. After letting Donald Trump back on after a 12 hour suspension, they have permanently ended his account. Here's the full Twitter announcement.
Permanent suspension of @realDonaldTrump

After close review of recent Tweets from the @realDonaldTrump account and the context around them — specifically how they are being received and interpreted on and off Twitter — we have permanently suspended the account due to the risk of further incitement of violence.

In the context of horrific events this week, we made it clear on Wednesday that additional violations of the Twitter Rules would potentially result in this very course of action. Our public interest framework exists to enable the public to hear from elected officials and world leaders directly. It is built on a principle that the people have a right to hold power to account in the open.

However, we made it clear going back years that these accounts are not above our rules entirely and cannot use Twitter to incite violence, among other things. We will continue to be transparent around our policies and their enforcement.

The below is a comprehensive analysis of our policy enforcement approach in this case.

Overview

On January 8, 2021, President Donald J. Trump tweeted:

"The 75,000,000 great American Patriots who voted for me, AMERICA FIRST, and MAKE AMERICA GREAT AGAIN, will have a GIANT VOICE long into the future. They will not be disrespected or treated unfairly in any way, shape or form!!!"

Shortly thereafter, the President tweeted:

"To all of those who have asked, I will not be going to the Inauguration on January 20th."

Due to the ongoing tensions in the United States, and an uptick in the global conversation in regards to the people who violently stormed the Capitol on January 6, 2021, these two Tweets must be read in the context of broader events in the country and the ways in which the President's statements can be mobilized by different audiences, including to incite violence, as well as in the context of the pattern of behavior from this account in recent weeks. After assessing the language in these Tweets against our Glorification of Violence policy, we have determined that these Tweets are in violation of the Glorification of Violence Policy and the user @realDonaldTrump should be immediately permanently suspended from the service.

Assessment

We assessed the two Tweets referenced above under our Glorification of Violence policy, which aims to prevent the glorification of violence that could inspire others to replicate violent acts and determined that they were highly likely to encourage and inspire people to replicate the criminal acts that took place at the U.S. Capitol on January 6, 2021.

This determination is based on a number of factors, including:

President Trump's statement that he will not be attending the Inauguration is being received by a number of his supporters as further confirmation that the election was not legitimate and is seen as him disavowing his previous claim made via two Tweets (1, 2) by his Deputy Chief of Staff, Dan Scavino, that there would be an "orderly transition" on January 20th.

The second Tweet may also serve as encouragement to those potentially considering violent acts that the Inauguration would be a "safe" target, as he will not be attending.

The use of the words "American Patriots" to describe some of his supporters is also being interpreted as support for those committing violent acts at the US Capitol.

The mention of his supporters having a "GIANT VOICE long into the future" and that "They will not be disrespected or treated unfairly in any way, shape or form!!!" is being interpreted as further indication that President Trump does not plan to facilitate an "orderly transition" and instead that he plans to continue to support, empower, and shield those who believe he won the election.

Plans for future armed protests have already begun proliferating on and off-Twitter, including a proposed secondary attack on the US Capitol and state capitol buildings on January 17, 2021.

As such, our determination is that the two Tweets above are likely to inspire others to replicate the violent acts that took place on January 6, 2021, and that there are multiple indicators that they are being received and understood as encouragement to do so.

@Twitter
Twitter Inc.
Twitter had resisted taking action against Trump for years, even as critics called on the company to suspend him, out of a belief that a world leader should be able to speak to his or her citizens. But Trump's tweets casting doubt on the 2020 election — and the riot at the U.S. Capitol they helped inspire — led the company to reverse course.

The move comes amid a wave of criticism from Democratic lawmakers and Twitter's own employees, who demanded in a letter written this week that the company's leaders permanently suspend Trump's account.

In an internal letter addressed to chief executive Jack Dorsey and his top executives viewed by The Washington Post, roughly 350 Twitter employees asked for a clear account of the company's decision-making process regarding the President's tweets the day that a pro-Trump mob breached the U.S. Capitol. Employees also requested an investigation into the past several years of corporate actions that led to Twitter's role in the insurrection.

"Despite our efforts to serve the public conversation, as Trump's megaphone, we helped fuel the deadly events of January 6th," the employees wrote. "We request an investigation into how our public policy decisions led to the amplification of serious anti-democratic threats. We must learn from our mistakes in order to avoid causing future harm."

"We play an unprecedented role in civil society and the world's eyes are upon us. Our decisions this week will cement our place in history, for better or worse," the added.
Trump permanently banned from Twitter? Sweet.

— Tony Schwartz (@tonyschwartz) January 8, 2021
Reuters: TWITTER SAYS IT HAS PERMANENTLY SUSPENDED TRUMP'S ACCOUNT DUE TO THE RISK OF FURTHER INCITEMENT OF VIOLENCE

— Kyle Griffin (@kylegriffin1) January 8, 2021
Twitter's permanent suspension of Pres. Trump's account comes as there are questions about whether the president is in legal jeopardy

In the aftermath of the attack on the Capitol, dozens of administration officials have resigned@weijia has the latestpic.twitter.com/dRpwdx8WKV

— Norah O'Donnell ?? (@NorahODonnell) January 8, 2021
Twitter, Facebook, Instagram, SnapChat, & Shopify have all banned Trump.

Apple has given Parlor 24 hours to develop a moderation policy or they'll ban Parlor too.

NONE of this should detract from the fact that monopolies like Facebook need regulation & need to be broken up.

— Qasim Rashid, Esq. (@QasimRashid) January 8, 2021
Just to be clear, @jack, I want Twitter to hold onto the archive to Trump as evidence of his crimes.

— Jeff Jarvis (@jeffjarvis) January 8, 2021
In permanently suspending Trump's account (and his 88.7 Million followers) Twitter has deprived Trump of a major avenue for monetizing the presidency after he leaves office. Those howls of rage you hear coming from the White House are about $$$, not free speech.

— Susan Hennessey (@Susan_Hennessey) January 8, 2021
it took 4 years for Donald Trump's Twitter to get banned, it's about damn time pic.twitter.com/smTdXosJKd

— Moo loves Kez & Daan & Rain & Connie (@Trickyhours) January 8, 2021
Fun fact: Joe Biden now has more Twitter followers than Donald Trump.

— Palmer Report (@PalmerReport) January 8, 2021
Awfully cruel of Twitter to sever Donald Trump Jr's only connection to his father

— Ari Cohn (@AriCohn) January 8, 2021
I now have more Twitter followers than Donald Trump.

— Travis Akers (@travisakers) January 8, 2021
.@Twitter banning Trump could have a significant impact on Trump's pathway to 2024 and his ability to control the party. Without Twitter and Facebook he's lost his most powerful tools.

— Laura Jolly (@laurajollyfl) January 8, 2021