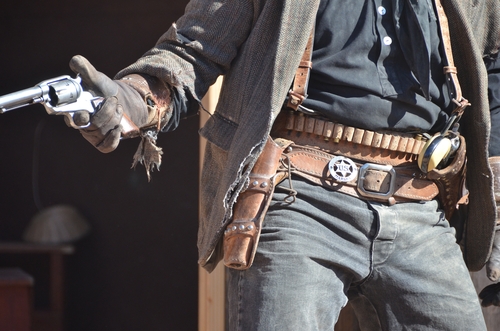 Before the commonsense open carry law went into effect in Texas, it had been the crackbrained idea that guns should not be brought into facilities where mental patients are being treated.
The Austin American Statesman recalls the bygone, crazy era:
No one — visitors, deliverymen and the like — could bring firearms anywhere on campus. Even local law enforcement officers, who were already allowed to bring their weapons into the facilities, regularly lock up their guns before entering Austin State Hospital out of an abundance of caution.
Thanks to clear thinking Texas lawmakers, visitors can now bring guns into the buildings where patients live as long as the firearms are carried visibly in a belt or holster and, of course, easily accessible.
Of course, there will always be those who are stuck in the past and who can't see how the new laws will enhance public safety, especially on schools campuses and in psychiatric hospitals.
One person who works for the Department of State Health and, ergo, is ignorant about such matters, even opined that bringing guns into hospitals where patients are being treated for psychiatric conditions "is generally not a good idea."
Those who are still needlessly concerned can relax. Hospitals are pulling down the "no guns allowed" signs and replacing them with ones asking people to please hold on to their guns while inside and not to bring in dangerous toys, evolution theory and climate change literature or chewing gum.
In related news, famous satirist Andy Borowitz reports that a new poll taken a day after President Obama held a nationally televised town hall about guns in America shows that "a majority of Republicans would rather actually be shot by a firearm than agree with him."
When asked to name a specific gun they would like to be shot by rather than seeing eye to eye with Obama, forty-three per cent stated "handgun," twenty-seven per cent replied "shotgun," twenty-one per cent responded "assault rifle," while only two per cent named "agreeing with Obama," according to Borowitz.
Borowitz observes that the poll results are "reminiscent of a poll taken last month about climate change, in which a majority of Republicans said they would rather see their habitat destroyed by rising sea levels than agree with President Obama."
Read more here.
This post contains political satire.
Lead image: www.shutterstock.com
The author is a retired U.S. Air Force officer and a writer.