Special Counsel Robert Mueller has finished his investigation of Russian meddling in the 2016 Presidential election and Attorney General William Barr has sent a letter to Congress informing them that the report has been received.
Special counsel Robert S. Mueller III has submitted a confidential report to Attorney General William P. Barr, marking the end of his investigation into Russian interference in the 2016 election and possible obstruction of justice by President Trump, a Justice Department spokeswoman said.

The Justice Department notified Congress late Friday that it had received Mueller's report but did not describe its contents. Barr is expected to summarize the findings for lawmakers in coming days.

In less than two years, Mueller's investigation has led to criminal charges against more than 30 individuals. A senior Justice Department official said the special counsel has not recommended any further indictments.

In a letter to the leaders of the House and Senate Judiciary committees, Barr wrote that Mueller "has concluded his investigation of Russian interference in the 2016 election and related matters."

The submission of Mueller's report marks the culmination of his closely held inquiry, a case that has engulfed the Trump administration since its inception and led to multiple guilty pleas from former advisers to the president. With the closing of his investigation, Congress and the newly empowered Democratic House majority will soon assess his findings — and determine what steps to take next.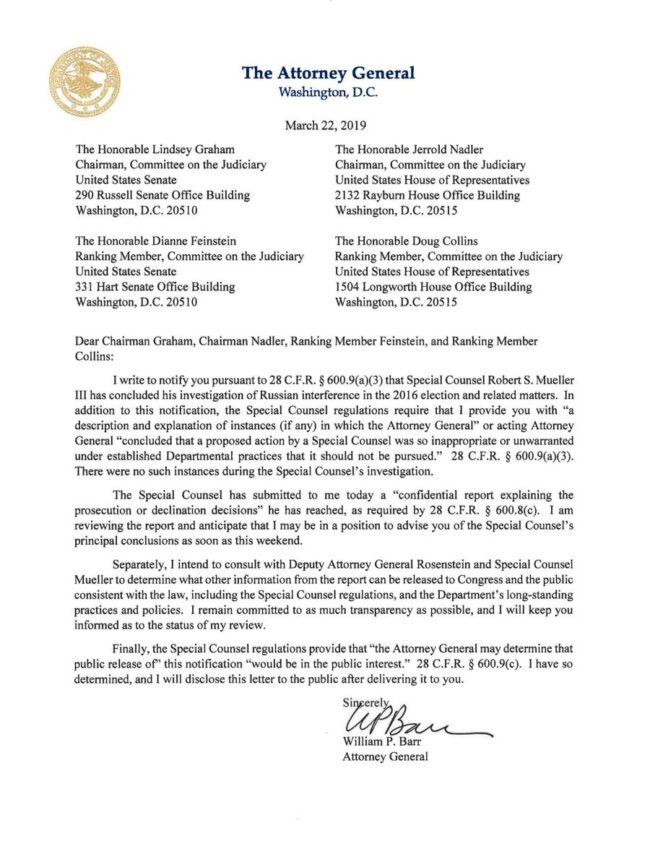 The long-awaited end to the probe comes almost two years after Mueller was appointed by Deputy Attorney General Rod Rosenstein to investigate "any links and/or coordination between the Russian government and individuals associated with the campaign of President Donald Trump" and "any matters that arose or may arise directly from the investigation."

To date, almost three dozen people and three companies have been criminally charged in the sprawling probe, including Trump's former national security adviser Michael Flynn; former campaign chairman Paul Manafort; former political adviser Roger Stone; former personal lawyer Michael Cohen; and numerous Russian nationals. There have been a number of guilty pleas and convictions — but none of the charges have directly accused anyone in Trump's orbit of conspiring with the Russian intelligence operation to help Trump get elected in 2016.

There will be no more indictments now that the probe is concluded, NBC News has learned.

It's unclear how detailed Mueller's report is, or when his conclusions may become public. According to Justice Department guidelines, his confidential report to the attorney general is supposed to explain "the prosecution or declination decisions reached by the special counsel."
Congress and the American people deserve to judge the facts of the Mueller report for themselves. It must be provided to Congress immediately, and the AG should swiftly prepare a declassified version for the public. Nothing short of that will suffice.

— Mark Warner (@MarkWarner) March 22, 2019
Show us the report. Now. The American people spoke loudly, and clearly last November: we choose a balance of power over abuse of power. #MuellerReport

— Rep. Eric Swalwell (@RepSwalwell) March 22, 2019
This is going to be a miserable weekend. Speculation for everyone!

One side was *always* going to be disappointed with the report. https://t.co/Lj3I31poB6

— Angry Staffer (@AngrierWHStaff) March 22, 2019
Schiff to @MSNBC on 'no further indictments': "It doesn't mean, of course, that Main Justice, or the Southern District of New York U.S. Attorney's office or the Eastern District or others may not bring indictments … It's entirely possible … there will be other indictments."

— Kyle Griffin (@kylegriffin1) March 22, 2019
Justice dept official says no more indictments from Mueller and no sealed indictments. Other divisions of DOJ can pursue cases but Specisl Counsel is done

— Andrea Mitchell (@mitchellreports) March 22, 2019