When legendary reggae band Black Uhuru began playing the hypnotically addictive, haunting, head-bobbing, foot-stomping beat of their world-famous song, Guess Who's Coming to Dinner, at the Belly Up Tavern in San Diego (on the night of September 1st), a jovial, overly-sauced patron screamed out: "Black Uhuru is the best reggae band alive!" And, more than anything else, it was this proclamation that best summed up the feel good, get-on-your-feet-and-dance vibes then pulsing through the Belly Up's joyful, equally exuberant, filled to capacity crowd – who chanted in unison, at the top of their lungs – the song's famous refrain and its opening lyric: "Guess who's coming to dinner, Natty Dreadlocks."
For over ninety minutes, Black Uhuru's two frontmen – Derrick "Duckie" Simpson, a historic figure in reggae music, who founded Black Uhuru over 50 years ago (in Kingston, Jamaica's "Waterhouse" District), and Andrew Bees, born Oneil Norman Beckford (a charismatic, velvet-voiced virtuoso, also from Waterhouse, whose infectious on-stage energy keeps him alternatively skanking and dancing around the stage throughout the entirety of the show) – thrilled the adoring crowd with a litany of the band's hit songs and mainstays, including: Party Next Door, Shine Eye Girl, What is Life?, I Love King Selassie, General Penitentiary, Emotional Slaughter, Plastic Smile, Whole World is Africa, Solidarity, and of course, the aforementioned masterpiece, the classic reggae anthem, Guess Who's Coming to Dinner.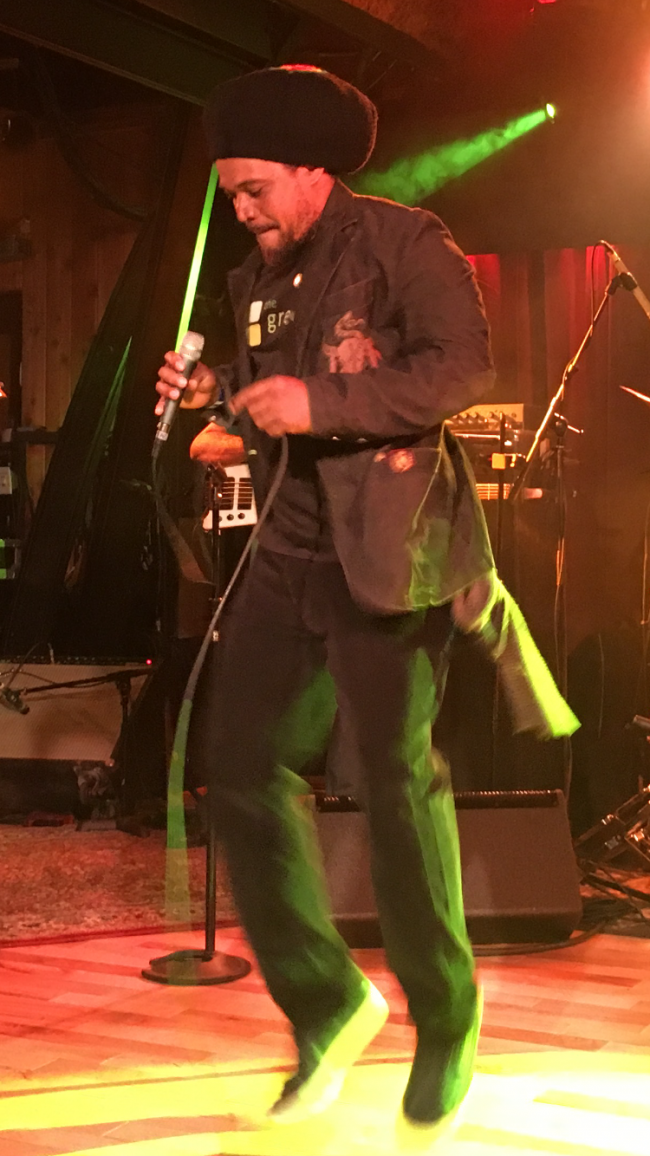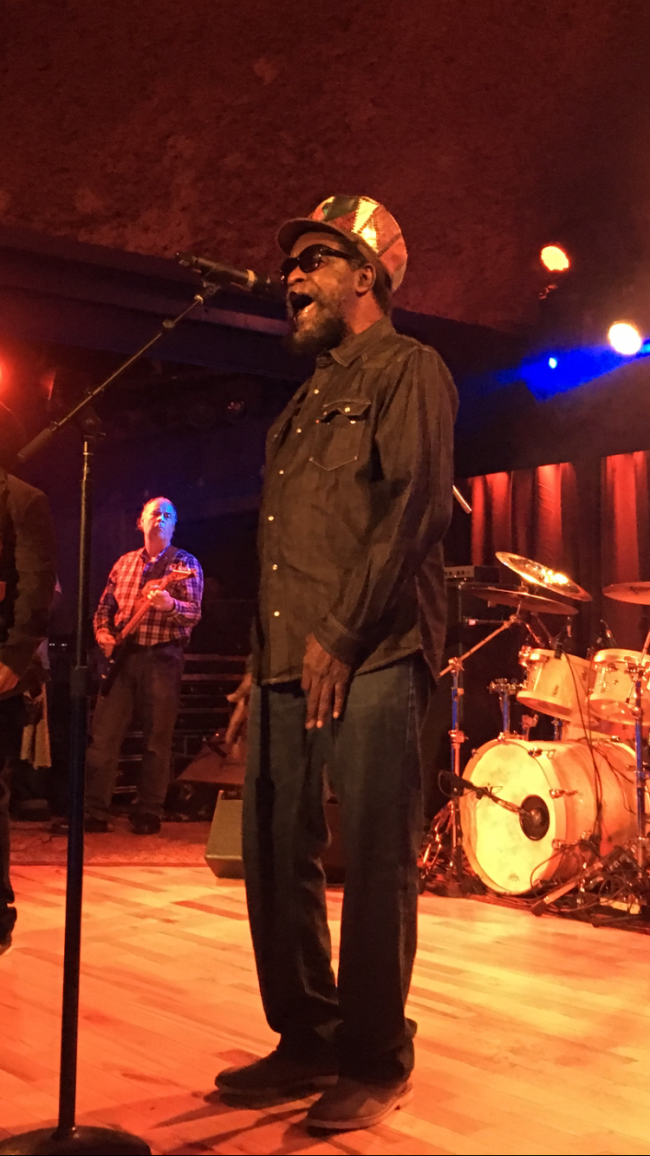 When Bees and Duckie weren't busy doing their thing, or stepped away briefly for a drink of water, or for a few whispered words with fellow musicians or stage hands, Frank Stepanek, a Black Uhuru band member for over thirty years, and his high-flying electric guitar took center stage, wowing the frenzied, sweaty, and jubilant crowd with his otherworldly dexterity – banging out finger-defying chords like they were child's play.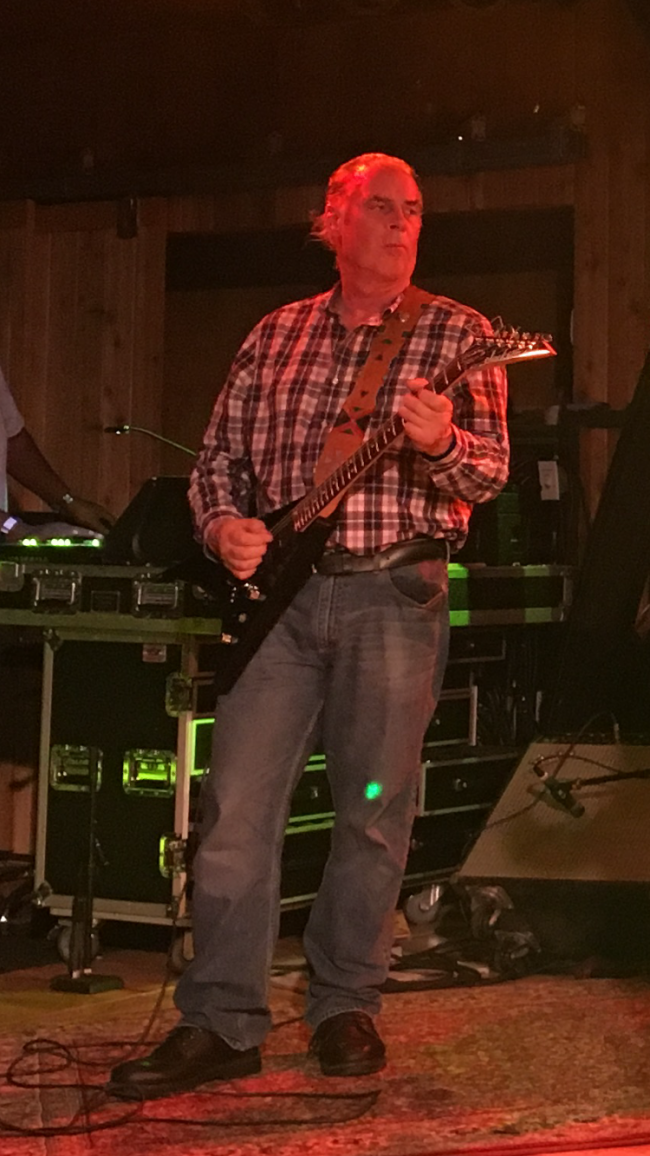 Interspersed throughout Black Uhuru's dynamic set were six new songs slated for release on the band's forthcoming 2017 album: As the World Turns (which will also be the name of the new album), Born Alone, Spectrum, System, Here Comes Black Uhuru, and Give Jah Thanks and Praise. The first three new songs feature Duckie Simpson's deep and sometimes intentionally gravelly – but still, after all these years, melodious voice – on lead vocals, while the latter three tracks feature Bees' smooth crooning, but otherwise, all six of the band's new offerings share the common ingredients that Black Uhuru's loyal fan base has come to know and love: timeless roots reggae that is as militant as it is deeply spiritual (rooted in the teachings of and adoration for His Imperial Majesty (H.I.M.), Haile Selassie I, the Emperor of Ethiopia from 1930-1974); music that infuses raw, daring, bewitching instrumentals, with edgy messages of social consciousness, peaceful living, protest, and world unity, all wrapped in a rich overlay of harmony; and finally, music that informs and counsels, but at the same time stimulates that gotta-get-up-and-boogie in your bones. It is this trademark formula that has made Black Uhuru an undeniable success by any estimation, including financial; as other than Bob Marley and the Wailers, Black Uhuru ("Uhuru" is the Swahili word for "freedom") has sold more records – back in the days when people bought records – than any other individual reggae performer or group, ever. The band's new album had been initially scheduled for release in 2016 but, in an interview after the show, Mr. Simpson indicated that production would be delayed until next year because the album is expected to feature several collaborations, and more time is needed in the recording studio with the particular musical performers in question.
In recent years, some uninformed and unimaginative music critics have taken to complaining that, due to the changeover in lead singers over the course of Black Uhuru's five-decades-long history, the band has lost some of the steam that propelled it to winning the first ever Grammy for Best Reggae Album in 1985 (with it's top-rated, still-peerless, Anthem). But, based on the band's continued genius, as evidenced by their fresh new songs and their overall performance that was more than extremely well-received at the Belly Up (including one woman's simply-put ecstatic observation to seemingly everyone as she cheerfully waited outside the tavern for her Uber: "Wasn't that just the best?! Simply the best!"), this criticism seems, in the eyes and ears of this observer and hardcore reggae fan, completely fictitious.
Rather, let there be no doubt in the hearts and souls of the band's millions of fans worldwide: Reports of Black Uhuru's demise (or diminishment in any way) have been greatly exaggerated – indeed, they've been invented by dyspeptic haters out of whole cloth.
Because, in fact, my reggae-loving brethren, as witnessed and experienced by lucky concert-goers at the Belly Up: The state of Black Uhuru is strong. Very strong.
Armed with Duckie Simpson's perennial leadership and tireless work ethic, his unique vision, and his constant ability to add fresh talent to Black Uhuru's roster when necessary from his Waterhouse roots (like he did with singer Andrew Bees and, before that, with Michael Rose, as well as other current and former band members), Black Uhuru remains, as one very inebriated, albeit very wise, concert-goer decreed: One of the best reggae bands alive. And, I would even go one step further: Black Uhuru is one of the best reggae bands ever. Go and see them whenever and wherever you can!

Stephen Cooper is a former D.C. public defender who worked as an assistant federal public defender in Alabama between 2012 and 2015. He has contributed to numerous magazines and newspapers in the United States and overseas. He writes full-time and lives in Woodland Hills, California.