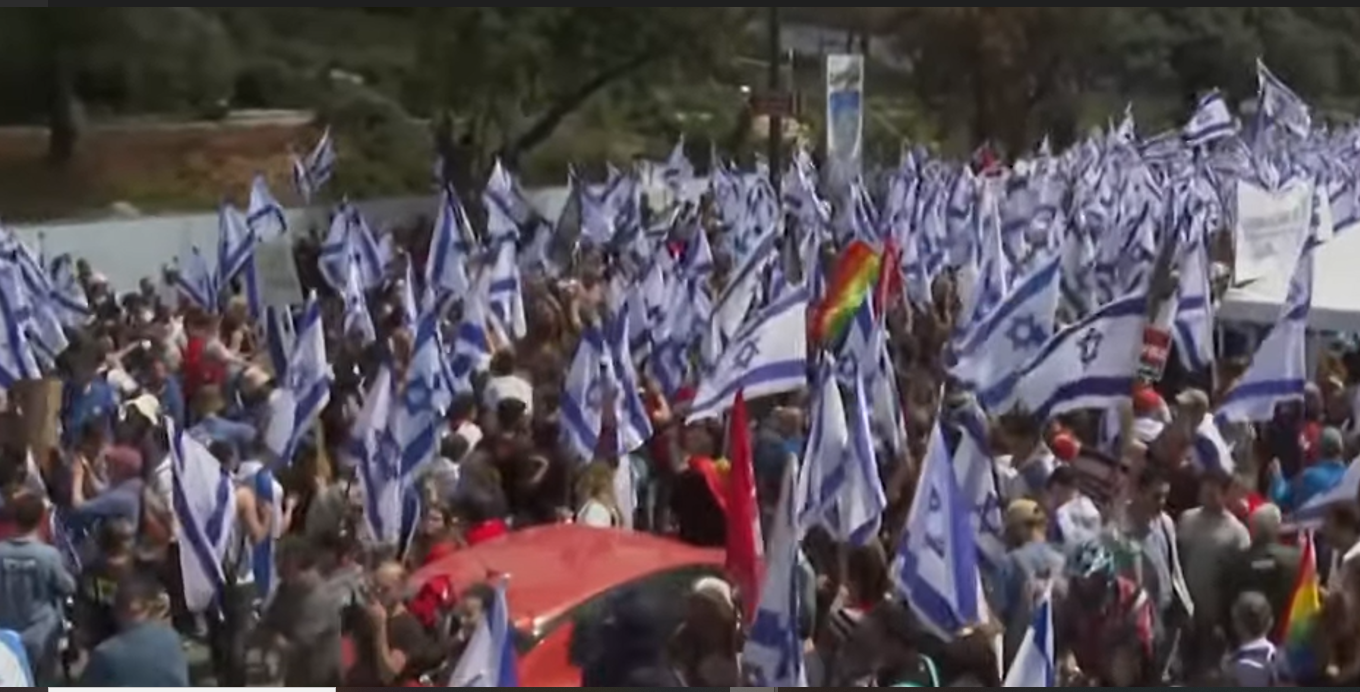 It is being called "an unprecedented event in Israeli history;" "one of the gravest [domestic crises] in Israeli history;" "One of Israel's gravest crises ever: A perfect storm encompassing politics, economics and the military.
Pleading, "We have to save the State of Israel, nothing less…" former prime minister Naftali Bennett warns: "Israel is in greater danger than at any time since the Yom Kippur war [in 1973] — security danger, diplomatic danger, economic danger, in danger of falling apart."
Indeed, the sole democracy in the Middle East is facing an existential threat – this time from within — in the wake of Prime Minister Benjamin Netanyahu's recent "march of tyranny": His ambition to enact "dictatorship laws" under the guise of "judicial reform."
Such laws, if passed, would severely limit the authority of the Israeli Supreme Court to overrule laws passed by Israel's Knesset, making it –among other — more difficult to remove a prime minister, even one who is standing trial on corruption, such as Netanyahu himself.
The so-called reform would also change how judges are appointed, giving the governing coalition increased control over the selection of Supreme Court Justices, changing the present balance of power between the branches of government and altering Israel's democratic principles.
It should be pointed out that, in the U.S., Supreme Court Justices are nominated by the President and confirmed by the Senate, without a Supreme Court role in the process. However, the U.S. has a Constitution that is "above" all branches of government, safeguarding our democratic foundations and principles. On the other hand, Israel has no such Constitution, only "basic laws" created by its one-chamber Knesset. If Netanyahu has his way, the Supreme Court would have little authority to overrule such laws.
I have deep admiration and affection for the Israelis, their history, their religion and the State of Israel. Several articles I have penned have expressed such, especially regarding family members who have survived or died in the Holocaust. In other stories I have lauded the brave men and women of the Israeli Defense Forces (many of whom are reeling against what is happening to their beloved country) and I may even have written some complimentary words about Bibi Netanyahu.
Today, I only feel sadness and disappointment over the undemocratic excesses of Netanyahu and of his compact of far-right extremists, provocateurs and zealots.
Yet, an observation by Aaron Heller in a very recent New York Times opinion piece somewhat tempers my reaction.
Referring to how recent American political events have influenced Israeli politics ("Before Mr. Netanyahu attempted this power grab, Donald Trump tried it"), Heller writes, "There is a distinct taste of Americanism to this fresh conservative Israeli persona. Mr. Netanyahu, the country's biggest panderer to identity politics, is Israel's most American-style politician."
Which brings to mind the old proverb, "Those who live in glass houses shouldn't throw stones."
However, I will quote a young Dutch Jewish relative, who has always been –and still is — very supportive of (a democratic) Israel.
Femmetje de Wind is an accomplished author, journalist, publisher and columnist in the Netherlands. One of her books, Rivka, is partly based on her father's experiences during the Holocaust, when he narrowly escapes what would have been near-certain death at a Nazi death camp, by jumping out of a moving train that was taking him to the "transit camp" of Westerbork. Jacob de Wind would spend the rest of the war evading the Nazis.
In a heartfelt column, "Bibi, look at Golda," in the Dutch Jewish on-line platform JONET.NL, de Wind reminisces about Israel's first and only female prime minister, Golda Meir — one of her heroes — and laments how Israel has taken a turn under the new Netanyahu government, a turn "that makes many a Jew in the diaspora cringe in shame and impotence, as the parents of a grown son who commits a crime that you can no longer condone."
De Wind is referring to the recent events in Israel discussed earlier and how the new Netanyahu government is altering the existing Israeli political, democratic and security landscape. "The narrative of a country that, based on traumatic and tragic background of its people, fights for its right to exist in an environment surrounded by non-democratic countries, is under threat," she writes and notes that, even though those in the diaspora cannot vote for members of the Knesset and have no influence on Israel's policy, she prefers not to stay quiet as "silence makes complicity."
Returning to "Golda," she concludes with the hope that "there is still a lot of 'Golda' in Israeli society":
While on the one hand Bibi is trying to turn Israel into an autocracy, on the other hand hundreds of thousands of people take to the streets to demonstrate against it. That shows how vibrant Israel's democracy is. Let's hope that democracy will show its best side. Because, in Golda's words, "Pessimism is a luxury that a Jew cannot afford."
On Tuesday, President Biden, "in a strong private message," urged Netanyahu to halt his government's judicial overhaul.
The author is a retired U.S. Air Force officer and a writer.