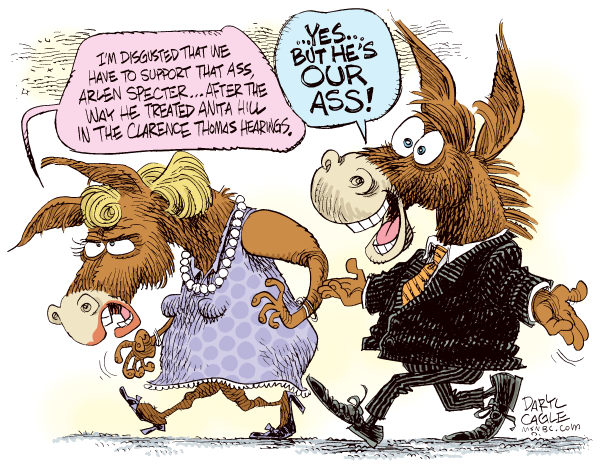 Hold onto your hats…If you have a weak heart get ready….If you're a journalist prepare to screech "STOP THE PRESSES!!!" if your newspaper hasn't already folded…If you're a blogger of the right or left get ready to write a breathless post expressing degrees of outrage or it-suits-them-right (depending on which party you belong to). Here is a bit of news that is going to bust this town wide open…rock your political world…shake the White House and Congress to its very foundations:
1. Pennsylvania Senator Arlen Specter, who this week truly shocked the political world by dramatically switching from the GOP to the Democrats, admitting he couldn't win as a moderate in the present Republican party and saying his party has left him, has stressed that he is independent. (We hope we didn't casue too many heart attacks.)
2. This is apparently a surprise to some — even though Specter stressed in no uncertain terms when he made the switch that he wouldn't be a rubber stamp for the White House, President Barack Obama made it clear he doesn't expect him to be one, and Vice President Joe Biden — in between warning Americans to stay off the subways and out of enclosed areas (presumably such as the doghouse he is now in) — also said he doesn't expect to have Specter's vote on every issue.
Is the apparent surprise (on the Democratic side) and the gloating (on the Republican side) because (a) people assumed when Specter switched parties he would suddenly become more of a Democrat than James Carville? (b) People thought Specter was lying and that he'd suddenly become Keith Olbermann's MSNBC's fill-in host and jettison his entire personality — when he's close to 80 years old? (c) It's a slow news day? Or (d) Republicans want a chance to say "See what a pain he is!" and liberal Democrats are gearing up to show America that a moderate Democrat who doesn't vote exactly as liberal Democrats prefer is as unwelcome in the Democratic party as a Republican moderate who doesn't vote exactly as conservative Republicans prefer in the Republican party?
Here are some excerpts so you can draw your own conclusions at this shocking development (you MAY feel it is huge news — and inquiring minds do differ):
*The New York Times (linked above):
Despite his defection to the Democratic Party last week, Senator Arlen Specter said on Sunday that he would not simply rubber-stamp White House policies and would instead vote against his new party on "matters of conscience" like health-care reform.

I represent the state of Pennsylvania and not any political party," he said on NBC's Meet the Press."

With Mr. Specter, who had been considered a moderate Republican, the Democrats are close to controlling the 60 votes needed in the Senate to override a filibuster. The determining factor will be whether Al Franken wins a court battle over last November's contested senate seat in Minnesota.

But in appearances on NBC and CBS's "Face the Nation, Mr. Specter emphasized his independence.

"If I see that there are other issues where I feel as a matter of conscience, I will continue a filibuster against legislation," he said.
*Kansas City Star columnist Yael T. Abouhalkah:
Arlen Specter staked out his independent positions once again on the Sunday TV talk shows. But what difference does it really make?

Specter has never been trusted by the Republicans he bolted just last week.

And on Sunday, Specter seemed to go out of his way to say the Democrats he joined shouldn't expect him to be a reliable supporter for their party.

He said he'd speak up if and when he disagrees with President Barack Obama, too.

In one of the more ridiculous statements he's made recently, Specter said, "I represent the state of Pennsylvania and not any political party."

This is the same politician who left the GOP tent simply so he could have an easier time seeking re-election in 2010. So much for representing the Republicans from Pennsylvania who thought he represented them when they voted for him in 2004.

On Sunday, Specter said he would vote "as a matter of conscience" against any legislation he considered bad for the country, even if it's pushed by Obama and fellow Democrats.
*The Christian Science Monitor puts this into a larger context:
He accused the group [Club For Growth, which was out to defeat him in the Republican primary], a financially influential voice for conservative ideology, of playing a significant role in an effort to purify the party's ranks. The club has funded primary-election challengers to moderate officeholders within the party, he said, even though the new candidates will not be able to win the general-election vote.

While that's not the only factor behind the decline of moderates, Republicans of all stripes are now looking at a worrisome trend: The party no longer holds any House seats from New England.

Specter said he faced the prospect of a primary challenge that he would not be able to win after he helped pass President Obama's large economic stimulus measure.

He rejected the view that his switch represented political opportunism for his own career. "There's more than being reelected here," he said. "There's a factor of principle."

He said his stimulus vote was the right thing for the country – helping to avert a possible economic depression – but that he knew it was "perhaps disastrous" politically.

"My approval rating dropped 30 points with Republicans," he said.

He cast himself as someone who has always been independent in his voting patterns, and the party as having "gone far to the right since I joined it under [President] Reagan's big tent."

As for colleagues in his new party, he warned them that he will not be a "loyal Democrat."
But didn't Specter, Obama and Biden stress JUST THAT earlier in the week?
SOME WEBLOG REACTION:
Shortly after news leaked that Sen. Arlen Specter would be switching from the Republican to the Democratic Party, media reports quoted Specter telling President Obama he would be a "loyal Democrat" who would support his agenda….Specter immediately exhibited his loyalty by restating his opposition to Dawn Johnsen, Obama's nominee to head the Office of Legal Counsel, and by joining every Republican in Congress in voting against the president's budget.
I've thought for quite some time that the buzz about sixty votes was overblown. Having sixty Democrats in the Senate does NOT mean there are sixty VOTES to enact their agenda. And apparently Arlen isn't going to be any more cooperative to the Dems than he was to the GOP….This gets more entertaining by the day.
Now this is a guy we should definitely be supporting as a Democratic Senator! I know that Arlen had some affection built among Democrats. But much of that was because he was a Republican that was not totally insane. But this kind of crap, in a Democratic primary? Not only will he lose, he will get smoked.
Specter heatedly denied a Wall Street Journal report that he had told the White House that he would be "a loyal Democrat."

""I have shown, repeatedly, my independence — willing to cross party lines — when I thought the interests of the American people and Pennsylvania required it," Specter said. "If I see that there are other issues where I feel as a matter of conscience, I will continue a filibuster against legislation."

Specter repeated the news, previously reported, that Senate Majority Leader Harry Reid (D-Nev.) had agreed to allow him to keep his seniority.

"That's an entitlement. I've earned the seniority," he said. "I will be treated by the Democrats as if I'd been elected as a Democrat."

Asked if Democratic leaders had seen to it that he would not face a primary challenge, Specter said: "They have not — flatly, not."

Asked about his core principles, the first two Specter listed were "freedom, a woman's right to choose."
Ben Armbruster observes that Specter went on to join Ben Nelson (D-Nebraska) is expressing opposition to a public health care plan.

Progressives are often unhappy with Nelson. But at the same time, I think it's widely understood that Nebraska is a very conservative state so if you can have a Senator from Nebraska who backs progressive positions even once in a blue moon you'd consider yourself lucky. Pennsylvania, by contrast, last voted for a Republican president when Michael Dukakis was on the ballot and there's every reason to believe that an orthodox Democrat would beat Pat Toomey in a general election.
The Ransom of Red Chief is a short story written by O. Henry in the early 1900's about a child kidnapped for ransom in a small town by two criminals. But the criminals did not know what they were getting into, as the exuberantly mischievous child (nicknamed "Red Chief") drove the criminals so crazy that they keep lowering the ransom price. But Red Chief's parents would have nothing of it; they demanded money from the kidnappers to take their child back.

I loved reading the story as a child, and learned many lessons from it (for example, don't wish too hard for something, you might get it). Apparently not many Democrats read the Ransom of Red Chief, or they would not have hooted and hollered so loudly when Arlen Specter announced that he was joining the Democratic caucus.

Those of us on the right side of the isle were familiar with the mercurial Specter, and while we didn't like the fact that the Democrats might (I repeat, might) have obtained a filibuster-proof majority, we can't say we were sorry to see him go. He drove us crazy.

Now the Democrats are sounding like the kidnappers of Red Chief. Senior Democratic Senators were upset to learn that Harry Reid had cut a deal allowing Specter (who has been in the Senate since the Ice Age) to keep his seniority. In a deliberative body in which seniority spells power, there must have been plenty of slamming doors upon learning that Specter instantaneously leaped towards the top of the Democratic caucus…If the stakes weren't so high, watching Specter torment his fellow Democrats would be fun. Now, there remains just one more question: How much will the Democrats pay us to take Specter back?
—-Todd Beaton of the lively My DD blog:
Today on Meet The Press, Arlen Specter made an even stronger case for a contested primary than any Democrat yet has. After an appearance like this, any Dem who tries to clear the field or talk about Specter running unopposed (ahem, Gov. Rendell…) should be a laughing stock. Also, any Democratic committee that supports Specter before the primary plays out would lose all contributions from me not to mention any credibility as a fierce supporter of the Democratic agenda. Which is why the President can not and must not campaign for Specter in this primary.

In my unscientific poll on Friday, 100% of you said Joe Sestak should run for Senate against Specter. After today's MTP, my guess is that he's more likely to do so rather than less. Bring it on, Joe.
You can follow the incoming weblog reaction on this (non) story HERE.
FOOTNOTE: I worked with an agent in Texas once who said he would not handle acts that had "a high PIA factor." PIA stood for Pain In The (you know). Specter is highly independent, not a spring chicken, and set in his ways. He had a high PIA factor for the GOP and will likely have one for the Democrats — but he acknowledged as much and Obama and Biden almost affectionately noted that he'll likely to continue to have one with them as well.

The above cartoon by Daryl Cagle is copyrighted and licensed to run on TMV. All Rights Reserved. Unauthorized reproduction prohibited.

Joe Gandelman is a former fulltime journalist who freelanced in India, Spain, Bangladesh and Cypress writing for publications such as the Christian Science Monitor and Newsweek. He also did radio reports from Madrid for NPR's All Things Considered. He has worked on two U.S. newspapers and quit the news biz in 1990 to go into entertainment. He also has written for The Week and several online publications, did a column for Cagle Cartoons Syndicate and has appeared on CNN.