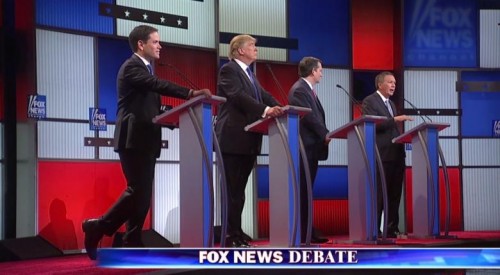 So who won the latest Republican wrestling match Presidential debate?
The ghost of Morton Downey, Jr.
Some pundits are already saying the real winners were a)the Democratic Party or b)Ohio Gov. John Kaisch, who avoided the Donald Trump/Marco Rubio middle-school-like verbal warefare c) Texas. Sen. Ted Cruz, who seemed to try to stay on message. But if past debates are any indication, Trump will continue to zoom in the polls because his followers like his attitude, unvarnished viewpoints –and most likely will (correctly) notice how Fox News seemed to want to nail Trump with not just questions but screen graphics prepared in advance and only used in the case of Trump. Trump won the Drudge Report Poll by 64% at this writing.
But the debate was a low point in American political discourse with Trump calling Rubio "Little Marco," and Rubio responding in kind calling Trump "Big Donald" — and Trump alluding the size of his penis.
Who would have ever thought that American politics could be driven down to a level where the size of someone's manhood was raised in a nationally televised political debate?
And so a new precedent is set. Another step in the vulgarization and dumbing down of American politics. Don't look for Democrats Hillary Clinton and Bernie Sanders to discuss their private parts at the debate on Sunday on CNN. (P.S. I firmly believe talk radio has played a good part in this trend over the years).
Still, Trump had to go into a debate on a day when he was under fierce attack by some prominent Republicans. The party's unsuccessful 2012 Presidential nominee, former Massachusetts Gov. Mitt Romney, denounced Trump as a phony in a blistering speech (full transcript here). And a large number of prominent GOP security experts in an open letter warned that Trump was a danger to U.S. national security.
This debate did not exactly bring back memories of the Nixon-Kennedy debates, but did sound like some of the interaction at alcohol-plentiful college parties.
The larger takeaways here: 1. This is the evolving style of our political "debate" in the 21st century 2. Nuance and serious policy discussion is oh, so 20th century and it's now all attitude and zingers.
Were viewers watching the GOP splinter in front of their eyes? Well, not really: because at the end (for all their warnings about their opponents) all of them pledged to support whoever won and got the nomination. If Trump, as now expected, gets the nomination, look for many strands of the GOP that now seem to be breaking loose come together for a common cause (PARTISAN POWER) with the full aid of powerful talk show radio hosts and Fox News (Fox News owner newspaper media mogul Rupert Murdoch has already indicated this will happen if Trump is nominated).
Here's a roundup of some new and old media reaction to the debate (GO HERE for a transcript of the debate).
The calamity brought upon the Republican Party by Donald Trump was laid bare Thursday by its two most recent presidential nominees, who delivered unprecedented denunciations of the candidate that set the stage for a raucous evening debate.

Mitt Romney awoke from his political hibernation to deliver a sweeping, point-by-point indictment of Trump — of his policy proposals, his business dealings, his erratic judgments, his moral character, and his insults to women, Latinos and the disabled. The former GOP nominee, who sought and accepted Trump's ­endorse­ment in 2012, implored Republicans to now reject the billionaire he labeled "a phony" and "a fraud."

Trump's three rivals took up similar attacks later Thursday night at a Fox News Channel debate in Detroit in which the ferocious sparring and name-calling revolved almost entirely around the front-runner.

What started with Trump asserting that he was well endowed in a rejoinder to Rubio's campaign-trail joke about his manhood devolved into an ugly affair, with the candidates yelling over each other, at times unintelligibly, as they sought to discredit one another.

Taken as a whole, the day only served to harden the divisions tearing the GOP apart and raise dire doubts about whether its factions could unite in the general election.
AND:
The clash comes at a crucial point in this unpredictable GOP primary season. Trump has won 10 of the first primaries and caucuses, including dominating this week's Super Tuesday contests, and has a significant lead in the race for Republican convention delegates.

But in a divided field, Trump still has fewer than half the delegates awarded so far. That leaves his opponents with a viable, if risky and destructive, strategy. The only way to stop Trump from winning the nomination may be to stop anyone from winning it — dividing up the delegates so that no one has a majority.

Then, the theory goes, the party would head into a chaotic convention — the first true "floor fight" for any party in decades — and hope that a candidate other than Trump emerges.
Senators Marco Rubio and Ted Cruz, fighting for their political lives, relentlessly demeaned and baited Donald J. Trump at Thursday's debate, all but pleading with Republicans to abandon a candidate with a long history of business failures, deep ties to the Democratic Party and a taste for personal insults.

Warning that Mr. Trump would lead the party to a historic defeat in November, Mr. Rubio and Mr. Cruz delivered their attacks with urgency, as if trying to awaken voters who had fallen under Mr. Trump's spell. Mr. Rubio derided Mr. Trump as untrustworthy and uncivil, while Mr. Cruz bashed him for donating money to Hillary Clinton's 2008 presidential campaign and to other Democrats. Mr. Trump looked on with disgust, but as in their 10 previous debates, he seemed impervious and perhaps unstoppable.

At times, the face-off in Detroit also deteriorated into the kind of junior high school taunts that have startled many Republican elders but have done little to dent Mr. Trump's broad appeal. As Mr. Trump and Mr. Rubio traded insults over their manhood, Mr. Trump recalled Mr. Rubio's innuendo that Mr. Trump's "small hands" correlated with another part of his anatomy.

…At another point, in a rare concession from Mr. Trump, he acknowledged that he was "changing" one of his positions in the highly charged immigration debate and was now open to offering visas for highly skilled foreign workers. He also lamented that foreign citizens "go to the best colleges" in America and "as soon as they are finished, they get shoved out," and said he was "softening the position because we have to have talented people in this country."

While his shift could appeal to some business leaders and moderate voters he would need in a general election, his campaign also issued a statement after the debate saying he would "institute an absolute requirement to hire American workers first for every visa and immigration program. No exception."

Mr. Trump's shifting positions have been a target for months, but during this debate, his rivals received help from the Fox News debate moderators. They played a compilation of video clips in which he was depicted changing his mind on issues like the war in Iraq. Mr. Trump was then asked directly if he had "a core."

"I have a very strong core, but I have never seen a successful person who wasn't flexible," Mr. Trump said.
It was a debate that highlighted the GOP's descent into the Twilight Zone, where facts don't matter and displays of bravado substitute for policy. Within minutes of the start of the debate in Detroit, Trump was assuring supporters that his, um, hands were adequate—and it only escalated—or spun into the sewer—from there.

It was a spectacle unlike any other in modern debate history, with facts playing a minor role, records cast aside and personalities taking primacy over political purity.
There was every reason for Donald Trump to pull back. He's close to winning the nomination. His core supporters love him. Now is the time when every political manual would advise the candidate to pull his punches, soften his image, start looking ahead to the general election.

Not Trump. Donald Trump doesn't read those political tomes about campaigns past, he reads The Art of the Deal, which advises acolytes to break all the rules and encourages dramatic overpromising in the form of "truthful hyperbole." And on Thursday, he showed that Citizen Trump will not stop being himself just because he's on the cusp of becoming Nominee Trump. If anything, he's going to be even more Trumpian.

He doubled-down on that persona, including his rough words for rivals "Lyin' Ted" and "Little Marco." If Barack Obama's campaigns were a therapy session for the nation's aspirations, Trump is offering a master class on ad hominem attacks.
The Daily Beast's Tim Mak wrote a post that must be read IN FULL. Here are just a few excerpts:
Thursday's Republican presidential debate made us all dumber.

It was a disgrace. As people wake up in capitals around the world Friday morning, in London and Addis Ababa and Riyadh and Beijing and Seoul, newscasters will be forced to find a way to discuss, in their local euphemisms, Donald Trump's dick size.
The exchanges on the stage at the Fox Theater in Motown centered around erstwhile reality television star Donald Trump, who found, as usual, a way to be even more outrageous than he has been in previous debates.Sen. Marco Rubio—a 44 year old U.S. senator! A grown man! With children!—had made fun of Trump's hand size, implying that his manhood was not so large.
"I have to say this. He hit my hands. Nobody has ever hit my hands. I have never heard of this. Look at those hands. Are they small hands?" Trump responded, on a nationally televised debate to become leader of the free world.
"And he referred to my hands, if they are small, something else must be small," Trump deadpanned. "I guarantee you there's no problem, I guarantee you,"
There was shouting inside the debate hall and out.
…. You could practically hear your brain cells crying out in pain as they died out, answer after answer.
There were insults…
…It was beyond satire…
….It was like a kindergarten brawl: a lot of cheap insults, a lot of whining, culminating with the need for everyone to have a time out….
…On a day that former governor Romney gave a speech in Utah decrying Trump's excesses, the dumbest presidential debate of all time took place. It must have made much of the American public yearn for a less stupid time—when the biggest controversy of the day was Romney's car elevator and awkward word choices. How quaint that all was.
Note: He backs up each assertion above. This has been edited — so GO TO THE LINK TO READ IT ALL.
Politico gave the 11 most interesting moments of the debate. This is just the list, so go to the original to read it in full.
1. Rubio latches onto Trump's new squishiness.
2. Thanks but no thanks, Mitt.
Asked to respond to Mitt Romney's strategy to prevent Donald Trump from getting the nomination — in part by urging Republicans to back Rubio in Florida and Kasich in Ohio — Kasich shrugged off the former GOP nominee.
"Mitt Romney's a great guy but he doesn't determine my strategy," Kasich said…..
3. Trump's clothing line
Trump and Rubio wasted little time reengaging their nasty personal digs at each other, and at one point Rubio ripped Trump for manufacturing his clothing line overseas — and criticized Trump for accepting a loan from his father.
4. "Nice to be with you, Megyn"
5. Trump gets phallic
6. "Lyin' Ted"
7. Trump defends flip flops
8. Kelly takes on Trump
9. Rubio pans Trump on foreign policy
10. All candidates vow to back the GOP nominee
11. Kasich touts his Reagan days
Two of the many points in the take by the conservative blog Red State's Moe Lane:
Ted Cruz: won this debate. He was given plenty of opportunities to gut Donald Trump, often after a set-up by Marco Rubio, and Ted Cruz took all of them. He didn't go after Marco Rubio at all, and Marco Rubio returned the favor. I particularly enjoyed watching Ted Cruz keep treating Trump like a petulant child who needed to use his words. Substantively, good foreign policy answers. Him or Rubio would be fine. Him and Rubio would be fine, too.

Donald Trump: He got the most time tonight. He wishes that he didn't. Also, Donald Trump is predictable. Last debate, he thought that reports that Marco Rubio wouldn't attack him were true, and Marco Rubio proceeded to knock Trump down from ten states to seven. This debate? Trump thought that reports that Fox would go easy on him were true, and guess what happened? Full-length slides prepared ahead of time are what happened. Also, and I cannot believe that I need to say this: the Presidential debate stage is not a fit place to discuss the size of one's genitalia, Donald Trump. Also: we don't believe in fascism in this country. Also… there's a lot of "also's" with this guy.
It was not immediately clear which of the four remaining candidates won Thursday's Republican presidential debate here. But there was no shortage of losers. Marco Rubio, needing a strong performance to reassure donors and persuade voters ahead of Florida's do-or-die primary on March 15, spoke with a hoarse voice that rendered him incapable of topping Donald Trump in their frequent shouting contests. He looked and sounded fatigued, and was outshone by Ted Cruz in the race to ridicule Trump.

Trump, who in the debate's opening minutes assured the American people of his sufficient genitalia, was on the defensive from start to finish. Cruz, Rubio, and Fox News's moderators skewered him relentlessly on his shifting positions, his allegedly shady business dealings, and his fitness for the presidency. At one point Megyn Kelly, reunited with Trump for the first time since they feuded at the first debate in August, quoted an appeals-court ruling that said Trump had acted like a "con artist" in administering Trump University and compared his victims to those who fell for Bernie Madoff's infamous Ponzi scheme. Cruz and John Kasich were the evening's finest performers, delivering sharp arguments to their respective target audiences. Cruz prosecuted Trump as a phony conservative, openly asking that the front-runner's supporters consider defecting to his campaign. And Kasich repeatedly gave the audience a breath of fresh air — and appealed to centrists in the Midwest and nationwide — by breaking up extended tit-for-tats with affirmative, detail-oriented soliloquies. But both men were squeezed for speaking time as Trump dominated the stage and found himself in the middle of practically every exchange.

..The event quickly took on a familiar pattern. Cruz or Rubio would launch an attack on Trump, eliciting ad hominem putdowns and emasculating nicknames. (Trump called them "Lying Ted" and "Little Marco." Rubio once responded by sarcastically calling him "Big Donald," which in lieu of the front-runner's earlier claim seemed subconsciously promotional.) Cruz or Rubio would retort that Trump wasn't addressing the issues, and press the questions themselves. Trump would talk over them. The crowd would whip itself into a frenzy, making the cross-talk all the trickier to comprehend. The moderators would try shouting over the warring candidates. And Kasich, when given the floor, would assert himself as the self-described "adult on the stage." The action left Republicans on social media openly mourning the mess they found themselves in. "My party is committing suicide on national television," Jamie Johnson, a longtime Iowa GOP official and activist, tweeted.

…The spectacle had Democrats salivating over the circular firing squad that has effectively concealed their own candidates' warts. "Tonight's Motor City debate was a demolition derby," Brad Woodhouse, president of the pro-Clinton group Correct The Record, said in a statement. "These Republicans revved up their hate-fueled speech and slammed each other with insults from every direction."
Cruz's path is more challenging still. But tonight's strong performance can only help Cruz—both with voters and with the party regulars who would play a big role in deciding the nominee should there be a brokered convention.

What Cruz did at the debate was make three parallel cases:

1.) Trump is a fraud who can't be trusted to keep his word.

2.) Trump is not either conservative or Republican in any meaningful way.

3.) Trump actually is the corruption that he decries.

He advanced these arguments not one at a time, but by interweaving them with specific attacks:
Hunter of the liberal blog Daily Kos:
Some closing thoughts on the debate: It was a fiasco. And a car wreck, and a train wreck, and a dead bird on the Republican front porch and a few other things besides.

I don't expect that any of the candidates will see any movement based on this. Rubio's new more-aggressive debate persona is primarily based on juvenile retorts, which leaves him totally without gravitas and is frankly just embarrassing to watch. He doesn't look "presidential", he looks like a child playing politician in a school play. Ted Cruz continues to be Ted Cruz. Kasich is a nonentity. Donald Trump was a raving lunatic who said he wouldn't have any problems forcing our military to torture the families of terrorists, and was a blowhard, and an ass, and at one point all but openly declared himself to have a big penis.

And none of that will matter even a little bit, because the sort of people who support Trump will eat it up. Yes, he changed his positions. Yes, it was demonstrated fairly clearly that he doesn't know or care what he's talking about and lies about much of the rest. None of his supporters care about those things.

If there's any other news to be had tonight, it's the behavior of Fox News, which had pre-prepared a series of slides and clips bashing Donald Trump specifically. They had a slide about Trump University. They had clips of him contradicting himself. At one point they paused the debate to show a John Kasich ad attacking Trump, under the thin guise of asking Kasich his opinion on it.

In short, Fox News came prepared to butcher Donald Trump like a pig. It looks like it's going to be all-out war between Trump and Fox.

Oh, and the audience was vile.
The New York Times' Frank Bruni gives us five points to ponder about the debate. All are worth reading. Excerpts:
Does the size of Donald Trump's penis matter?

I'm not being cheeky. I'm not being shocking. I'm noting something that we cannot lose track of, should not shrug our shoulders about and must not gloss over: Trump has succeeded at nothing as fully as he has at infusing the presidential race with a vulgarity that's absolutely breathtaking.

He has done so well at dragging his rivals so far down into the sewer with him that portions of what we watched on Thursday night were a fetid farce. We actually witnessed an interchange — in the first 10 minutes, no less — about how well endowed (or not) he is.

It's worth stopping for a second, letting that sink in and wondering what it says about our country and political process right now….

…yes, the size of Trump's penis matters — or, rather, what matters is that it was an actual subject of discussion; that it reflected and set the tone of the encounter; and that this tone favors Trump, because it's where he lives, it's his kingdom, and if rivals join him there, they merely become his subjects.

Can Fox News be the host of every G.O.P. debate from now on?

Remember the first debate of this election cycle, when there were more than double this number of candidates and the night opened with Fox's moderators confronting all of them, one by one, with what were seen as their greatest vulnerabilities and flaws?

The moderators were similarly merciless on Thursday night, at least when it came to Trump, and Trump was the rightful focus — the whole show. They hounded him about his inconsistencies, his lies, his lack of specificity — all of it.

If substance can pull Trump's voters away from him, the moderators set that up to happen. If substance can prevent undecided voters from lining up behind Trump, the moderators gave them a firm nudge in the opposite direction.
…Do Trump's voters really care how closely he hews to Republican and conservative orthodoxy?

Cruz and Rubio keep making this assumption. They made it anew on Thursday night.Is it now officially three against one?

One of the most fascinating dynamics of the debate was the degree to which Cruz, Rubio and Kasich declined to go after one another, no longer angling to emerge as the single Trump alternative but working harder instead to erode Trump's support, no matter where that support went…

Could some good yet come of Trump's place in the race?

I'm going to play Pollyanna, minus the long blond hair and the bow, and remark on a refreshing development over the last few weeks and especially days. More emphatically and unequivocally than at any recent juncture that I can recall, Republican leaders and standard bearers are saying that their party has no tolerance for any racism, no room for any sexism, no forgiveness for bigotry.
Rubio could have answered question: I no longer can pledge to support Trump. Would have been dramatic, dominated coverage, and what cost?

— Bill Kristol (@BillKristol) March 4, 2016
Excellent, tough questions. Vigorous–if too negative–exchanges. Audience was a bit less rude than last 2. Effect: Didn't change a thing.

— Larry Sabato (@LarrySabato) March 4, 2016
The Republican Party appears on the edge of collapse, and the Detroit debate didn't help https://t.co/SEnxtGRRCx pic.twitter.com/3uUCV9Xg9a

— The Atlantic (@TheAtlantic) March 4, 2016
Joe Gandelman is a former fulltime journalist who freelanced in India, Spain, Bangladesh and Cypress writing for publications such as the Christian Science Monitor and Newsweek. He also did radio reports from Madrid for NPR's All Things Considered. He has worked on two U.S. newspapers and quit the news biz in 1990 to go into entertainment. He also has written for The Week and several online publications, did a column for Cagle Cartoons Syndicate and has appeared on CNN.