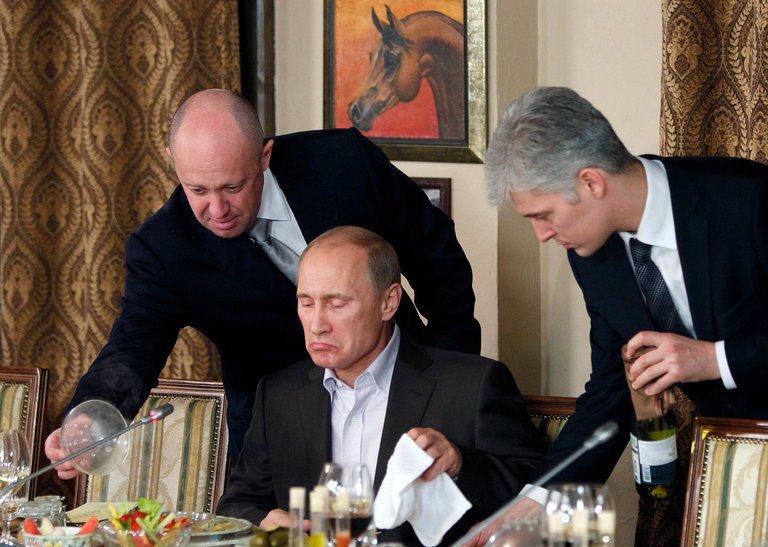 Prigozhin (left), one of those indicted, serving dinner to Putin
In the first charges directly related to election meddling, Special Counsel Robert Mueller on Friday indicted 13 Russian nationals and three Russian organizations for illegally using social media to sow political discord in the 2016 presidential election, including actions that supported Donald Trump's candidacy and disparaged his opponent, Hillary Clinton.
The special counsel, in a 37-page indictment filed in U.S. District Court in Washington, said the 13 individuals and three organizations had conspired since April 2014 to violate laws that prohibit foreigners from spending money to influence federal elections by using stolen identities and other methods to falsely pose as American citizens.
It is unlikely that the Russians would be immediately arrested, but because they are now wanted by the U.S. government, it will make it difficult for them to travel outside of Russia or do business internationally.
One of the three organizations, the St. Petersburg-based International Research Agency, is a notorious troll farm that was a hub for a sophisticated operation designed to reach millions of Americans to disrupt the political process, according to the indictment.
Facebook has acknowledged that the agency bought 3,000 ads that reached 11.4 million users, as well as organized 129 events that drew the attention of nearly 340,000 Facebook users.
With a budget in the millions of dollars, the stated goal of an effort nicknamed the Translator Project was to "spread distrust toward candidates and the political system in general" using Facebook, Twitter, Instagram and Google to divide voters across a range of polarizing issues, including race, religion, gun rights and immigration.
The individuals traveled around the U.S., visiting at least eight so-called battleground states, which they called "purple states." These included Colorado, Florida and Virginia. They created hundreds of email, bank and PayPal accounts and used fraudulent drivers' licenses issued to fictitious Americans, as well as the identities of real Americans from stolen Social Security numbers.
At the height of the campaign, more than 80 people were employed using secure private network connections to computer servers leased in the U.S. to hide the fact they were in Russia posing as American activists who emailed, advised and made payments to reach Americans who were tricked into believing they were part of the same cause.
Much of the effort was concentrated in Florida where the operatives mobilized efforts for "Florida Goes Trump" rallies on August 20, 2016 and, using false identities, contacted the Trump state campaign staff to offer their services.
Significantly perhaps — and perhaps only for the time being — the indictment charges that some of the suspects interacted with Americans associated with the Trump campaign, but those associates did not realize they were being manipulated. Still, the indictment does land a fatal blow to the president's continued insistence that Russian interference in the election is a "hoax," which PolitiFact deservedly called its 2017 "Lie of the Year."
In a statement following announcement of the indictments, Trump stressed that no members of his campaign were implicated.
"Russia started their anti-US campaign in 2014, long before I announced that I would run for President," he tweeted. "The results of the election were not impacted. The Trump campaign did nothing wrong — no collusion!"
Prosecutors said that by February 2016, the suspects had decided whom they were supporting and were instructed by the Internet Research Agency to "use any opportunity to criticize Hillary and the rest (except Sanders and Trump — we support them.)"
Not coincidentally, Paul Manafort was running the Trump campaign during the period in the spring and summer of 2016 when the Translator Project hit its stride, and it is likely that ties between the suspects and Americans, possibly involved in the Trump campaign, who knew exactly what they were up to will emerge.
The Internet Research Agency kept a list of legitimate American citizens whom its employees contacted using false personas and had asked to assist in their propaganda efforts, which included buying ads with messages like "Hillary is a Satan" and "Ohio Wants Hillary 4 Prison." The list numbered over 100 people by August 2016 and included contact information, a summary of each individual's political views and the activities the Russians asked them to undertake.
In September 2016, some of the Internet Research Agency trolls were chastised when they had a "low number of posts dedicated to criticizing Hillary Clinton," according to the indictment. They were told it was "imperative to intensify criticizing" the Democratic nominee, who was well ahead of Trump in most polls.
All 13 suspects were charged with conspiracy to defraud the U.S. Three defendants also were charged with conspiracy to commit wire fraud and bank fraud, and five defendants with aggravated identity theft.
Most of the 13 suspects are unknown, but Yevgeniy Viktorovich Prigozhin is notorious.
Prigozhin overcame his humble roots to become one of Russia's richest and most corrupt men. Although he is not a chef himself, the oligarch is known in the Russian media as "Putin's chef" because his close ties to the Russian president and the lavish feasts he has put on for him. Prigozhin's Concord Catering, along with his Concord Consulting, are named in the indictment, he is a financial backer of the Internet Research Institute and is widely known as a go-to guy for Putin on a variety of secret missions, including the recruitment of contract soldiers to fight in Ukraine and Syria.
The last round of Obama administration sanctions against Russia in December 2016 included Prigozhin, who was cited for his extensive support of the Putin regime, including construction of a military base near Ukraine that was used to deploy Russian troops.
"The Americans are very impressionable people and they see what they want to see," Prigozhin told Russia's Novosti state news agency in response to the indictment. "I respect them very much.
"I am not at all disappointed that I appear in this list. If they want to see the devil — let them."
The indictment was impressive in its detail and appears to have been based on extensive surveillance and record gathering.
Mueller has issued indictments for four individuals, two directly involved in the Trump campaign, but the indictment charging the Russian nationals and organizations are the first for meddling in the election — the fundamental crime that the special counsel was tasked with investigating.
Deputy Attorney General Rosenstein, who had hired Mueller after Trump fired FBI Director James Comey, called the charges "a reminder that people are not always who they appear on the Internet. The indictment alleges that the Russian conspirators want to promote social discord in the United States and undermine public confidence in democracy. We must not allow them to succeed."
Click HERE for a comprehensive timeline of the Russia scandal.