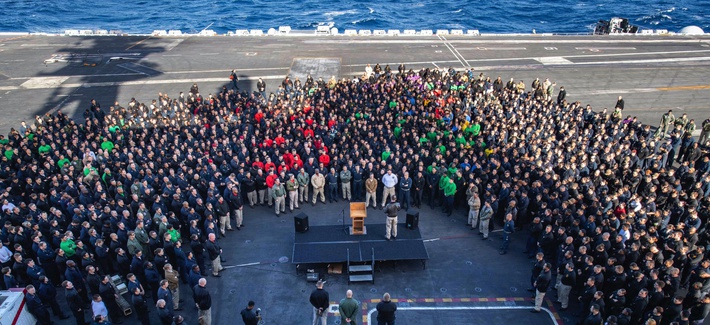 Final, final update:
So I "fibbed" when I said the update, below, would be the "final" update. But, hey I have more than 16,000 fibs to go to match or beat the current record.
Anyway, thought you might like to know:
According to the Washington Post, the flight the former Navy Secretary Thomas Modly took to Guam to demean and insult the captain of the Theodore Roosevelt aircraft carrier over the ship's PA system to his crew, cost the American taxpayer at least $243,000 — and this is the cost of the flight alone, using the military version of the Gulfstream G550
On the other hand, when forced to apologize to Captain Brett Crozier, the Secretary did so on the cheap and without having to face the crew of the carrier that loved its Captain: Modley used email
FINAL UPDATE:
Closing out this sad chapter where "in three weeks, the COVID-stricken aircraft carrier, its captain, and its crew have sailed out of their regular deployment and into international headlines," Defense One has a detailed timeline of that fateful cruise here.
It starts on January 17, when the USS Theodore Roosevelt with its strike group departs Naval Base San Diego with 4,865 sailors aboard (no known cases of the coronavirus) and with Capt. Brett Crozier in command on a deployment to the western Pacific region.
The timeline ends on Tuesday, April 7, with 230 sailors having tested positive for the coronavirus, including their commanding officer, and the Secretary of Defense accepting Modly's resignation.
One entry in the timeline is particularly disturbing:
February 26: Defense Secretary Mark Esper directs combatant commanders to tell him before they make decisions about protecting their troops from COVID-19, the New York Times reports. His aim is to keep the military from contradicting President Trump, who that day declared that the 15 U.S. cases "within a couple of days is going to be down to close to zero."
Breaking News:
Acting Navy Secretary Thomas Modly offered to resign on Tuesday following an uproar over a profanity-laced address to the crew of the coronavirus-stricken aircraft carrier USS Theodore Roosevelt on Sunday, according to a senior defense official with knowledge of the matter.

Modly submitted his resignation letter to Defense Secretary Mark Esper on Tuesday after meeting with his boss one-on-one, that official said. Neither Esper nor the White House pressured Modly to resign, the official said, and it is unclear whether Esper will accept it.
This would be the end of the story, were it not for more than 150 the sailors aboard the Theodore Roosevelt, including their Captain, testing positive for the coronavirus.
Added: There are reports that the Secretary of Defense has accepted the resignation
Update II:
Modly flew 8,000 miles to Guam to hurl insults at a Navy aircraft carrier commander who felt the health and welfare of his crew were important.
Then, when forced by his superiors, this man emailed his apologies "for any confusion" his irresponsible words may have caused..
The Acting Secretary of the Navy Thomas Modly in remarks piped over the Theodore Roosevelt's PA system blasted the now ousted commander of the aircraft carrier – now reported to have tested positive for the coronavirus — as "too naive or too stupid," of committing "a betrayal"
When asked if Modly's personal attack on Crozier was appropriate, a senior defense official said Monday, "I don't know what to say."

Modly's use of the word "betrayal" is a loaded because saying an officer has betrayed the Navy is a court martial offense
Reaction on Twitter. There are many calls on Twitter and elsewhere for Modly's resignation.
Modly Must Resign. https://t.co/neEPVIRqBc

— Joe Scarborough (@JoeNBC) April 6, 2020
Modly, by contrast, seems to be neither naive nor stupid. He's quite cynical and savvy in sucking up to Trump. He's merely a disgrace. https://t.co/5nBRKVGPq8

— Bill Kristol (@BillKristol) April 6, 2020
Listen to how pissed the sailors are. https://t.co/v8LfhCRmjh

— Angry Staffer (@AngrierWHStaff) April 6, 2020
I have no idea what I say to people and haven't checked the words that came out of my mouth even as recordings of them circulate. I meant what I said even though I can't say for sure what I said. Anyway, here's some umbrage & self-pity & nothing about all these sailors with COVID https://t.co/1d7GBmfOY6

— Spencer Ackerman (@attackerman) April 6, 2020
"A defense official familiar with Modly's remarks offered his opinion of Modly's address, saying the acting secretary 'should be fired. I don't know how he survives this day'."https://t.co/bnT7WhkgJ7

— Rachel Maddow MSNBC (@maddow) April 6, 2020
It was inevitable. The Trump administration's pay-to-play politics has openly defecated on the armed forces they so routinely use as a tool to further their agenda of shoring up power by any means, and damning the consequences. https://t.co/DwbzY355Gc

— Jess Phoenix ? (@jessphoenix2018) April 6, 2020
Too many 'unknowns' between CAPT Crozier & ASecNav Modly (content of letter, who was or was addressed in the email, why SecNav relieved the CO before conducting a thorough investigation, etc) for comment.

But the unprofessional comments today dug a much deeper hole for ASecNav.

— Mark Hertling (@MarkHertling) April 6, 2020
Dear @SECNAV Modly: You called Capt Crozier "too naive or too stupid" for not knowing his private letter would be leaked. Now we learn your private speech was leaked.

You should apply the same standard and resign. Or you should reinstate Capt Crozier. Stop being a hypocrite. https://t.co/C0zKv3ab8M

— Ted Lieu (@tedlieu) April 6, 2020
I once ran @DeptofDefense public affairs. The acting Secretary of the Navy, @SECNAV Thomas Modley, should resign today for his failure to lead–and for his shocking treatment of U.S. Sailors in the midst of a global pandemic.

— George Little (@georgelittledc) April 6, 2020
It's already been a tough few days for the Navy.

This is brutal, and embarrassing for an administration that already seemed beyond embarrassment when it comes to how they treat the military. https://t.co/VBBWjcBpxT

— Pete Buttigieg (@PeteButtigieg) April 6, 2020
The "WTF" in the background though…. wow. https://t.co/hvMaRExKKL

— Joy Reid (@JoyAnnReid) April 6, 2020
They will teach Modley's speech at Annapolis for the next 100 years as a perfect textbook example of how not to lead and inspire. Every time you think it can't get worse, it gets worse. "It's not about me," he says, after complaining about all the negative publicity he's getting.

— David Frum (@davidfrum) April 6, 2020
SECNAV is a disgrace and should resign.
https://t.co/pwmE6gn7fF

— Dan McFadden (@Dan_McF) April 6, 2020
The acting Navy secretary is unfit for office. He should resign or be removed immediately. https://t.co/6hfiIkFQfa

— Justin Amash (@justinamash) April 6, 2020
Rep. Elaine Luria: "TR Sailors are on the frontlines of this pandemic and of our nation's defense … Acting Secretary of the Navy Modly's remarks to the crew show that he is in no way fit to lead our Navy through this trying time. Secretary Esper should immediately fire him."

— Kyle Griffin (@kylegriffin1) April 6, 2020
I just listened to the recording of the "acting" @SECNAV speech to the Roosevelt sailors. It will be out soon. He is most angry that the media learned what we all knew but forgot to mention Trump told him to do it. He is angry Capt Crozier was loved. Called him a "martyr" Captain https://t.co/zmxTh2XNAg

— Malcolm Nance (@MalcolmNance) April 6, 2020
The loud "What the fuck?!" can be heard right after Acting SecNav Modly calling Capt. Crozier "too naive or too stupid" if he did not think the info would come out. (minute 1:57)

Also overheard: "He was just trying to help us." (minute 3:18)

Listen. ? https://t.co/R88BxYJ3Wc

— Adam Klasfeld (@KlasfeldReports) April 6, 2020
Here is @SECNAV allegedly saying #CaptainCrozier is"too naïve or too stupid to command a ship," and a sailors response upon hearing the SecNav. pic.twitter.com/DN1mExrXAc

— Naveed Jamali (@NaveedAJamali) April 6, 2020
Dear @SECNAV Modly: Capt. Crozier warned the Navy that #Covid_19 was spreading through the ship. He was protecting his personnel. The fact that you got embarrassed is not a valid reason to relieve him of command. And calling him naive or stupid shows you are not fit to be SECNAV. https://t.co/SQAEWe8TW5

— Ted Lieu (@tedlieu) April 6, 2020
The sailor who said "What the fuck" in response to @SECNAV speaks for every American. https://t.co/Q9153QB1th

— John Weaver (@jwgop) April 6, 2020
Again perfect justice come Jan 21: Biden makes Crozier Secretary of the Navy. https://t.co/pjXEyzsd5u

— Robert Shrum (@BobShrum) April 6, 2020
Previous update:
The New York Times reports that Capt. Brett E. Crozier has tested positive for Covid-19.
A Navy spokesman declined to comment on Crozier's Covid status.
The commander began exhibiting symptoms before he was removed from the warship on Thursday, according to two Naval Academy classmates of Crozier's who are close to him and his family.
UPDATE:
A cheering and applauding crowd of sailors aboard the aircraft carrier USS Theodore Roosevelt wished farewell to their captain, whom the Navy relieved of command after he raised concerns about the spreading coronavirus on his ship in a letter that was leaked to the media. (below)
Farwell Sir it's been a pleasure #WEARETRSTRONG #MYCO #TR

Posted by Michael Washington on Friday, April 3, 2020
BREAKING NEWS:
Several news sources are reporting that the Navy is expected to announce that Capt. Brett Crozier (below) has been relieved from command of the aircraft carrier USS Theodore Roosevelt.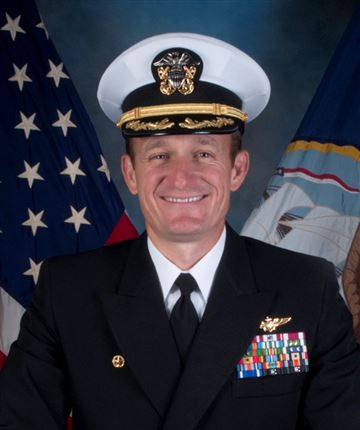 Captain Crozier asked the Navy to help address the coronavirus outbreak aboard his ship — Read here and below.
His comments have sparked a slew of calls for him to resign. (SEE TWITTER UPDATED BELOW):
UPDATE:
The Associated Press (AP) reports that nearly 3,000 sailors aboard the USS Theodore Roosevelt, docked in Guam, will be taken off the ship by Friday.
About 1,000 have gone ashore, and that number will grow to at least 2,700 in a couple of days, says Acting Navy Secretary Thomas Modly . However, Modly made it clear that a number of other sailors will remain on board in order to continue to protect the ship and run critical systems.
According to the AP, Navy leaders say that nearly 1,300 sailors have been tested and, as of Wednesday, nearly 600 of those tests have come back negative.
Original Post:
Like all other segments of society, the U.S. military has been hit hard by the coronavirus pandemic.
Although the Pentagon has ordered commanders to stop announcing publicly new coronavirus cases among their personnel, "to protect operational security at the Defense Department's global installations," it will continue to release updates of totals among troops, DOD civilian workers, military dependents and defense contractors. Those "totals" have grown steadily during recent weeks.
On Tuesday, the Pentagon released data showing "military-linked coronavirus cases have continued to rise steadily…to a total of 1,259 cases among service members, their dependents, DOD civilian workers and defense contractors."
Among the troops, cases jumped by 82 since Monday morning to a total of 716.
Also, as of Tuesday, four U.S. military-affiliated individuals worldwide had died of complications related to the coronavirus.
The Navy has been hit especially hard, in particular on its ships where, because of cramped quarters, "sailors sleep and work together in confined quarters [and] the virus is spreading like wildfire" and for other reasons.
As of Sunday, 144 sailors Navy-wide had tested positive for the coronavirus, with 7 requiring hospitalization.
On Thursday, the aircraft carrier Theodore Roosevelt halted its mission after 25 sailors on board tested positive for the virus.
According to a report by the San Francisco Chronicle, that number has now risen to "between 150 and 200."
On Friday, the aircraft carrier Ronald Reagan reported two cases of Coronavirus, "raising the possibility that COVID-19 could sideline both U.S. aircraft carriers in the Asia Pacific at a time of heightened tensions with China."
On Monday, the captain of the USS Theodore Roosevelt (now docked in Guam), Capt. Brett Crozier, wrote a letter requesting permission to remove most of the aircraft carrier's crew from the ship and isolate roughly 4,000 sailors to help curtail a coronavirus outbreak aboard the vessel.
"We are not at war. Sailors do not need to die. If we do not act now, we are failing to properly take care of our most trusted asset — our Sailors," Capt. Brett Crozier wrote in a memo to the Navy's Pacific Fleet, three US defense officials have confirmed to CNN.

"The spread of the disease is ongoing and accelerating," he added.

"Decisive action is required. Removing the majority of personnel from a deployed US nuclear aircraft carrier and isolating them for two weeks may seem like an extraordinary measure," he wrote in the memo. "This is a necessary risk. It will enable the carrier and air wing to get back underway as quickly as possible while ensuring the health and safety of our Sailors. Keeping over 4,000 young men and women on board the TR is an unnecessary risk and breaks faith with those Sailors entrusted to our care."
Capt. Brett Crozier wrote that the ship's environment is "most conducive to spread of the disease" with open shared sleeping areas, shared restrooms and workspaces, and confined passageways to move through on the ship. He wrote the Roosevelt's crew is unable to follow Centers for Disease Control and Prevention or Navy procedures to protect the health of sailors through individual isolation on the ship for 14 or more days.

"Due to a warship's inherent limitations of space, we are not doing this. The spread of the disease is ongoing and accelerating," Crozier wrote.
Crozier has requested the Navy use all available resources to find quarantine rooms for the entire crew as soon as possible.
Acting Navy Secretary Thomas Modly said the Navy is working hard to get the sailors off the ship and to get them into accommodations in Guam.
Pacific Fleet commander Adm. John Aquilino seconded that but also acknowledged that part of the crew would remain aboard.
"I need to be able to run the [nuclear] reactors, fight fires, do damage control, feed the crew that's aboard. All of those things are a requirement and the team is working through how to do that while at the same time executing our approach to generating fully healthy and COVID-free sailors," he said.
In a conference call with reporters early on Tuesday evening, Pacific Fleet commander Adm. John Aquilino said, "We understand the [CO's] request. We've been working it in advance, continue to work it and I'm optimistic that the additional quarantine and isolation capacity that's being discussed will be delivered shortly."
When asked by CNN earlier how the Navy balances keeping sailors safe while keeping America safe, Modly said, "It is a balancing act, and we're working to make that balance acceptable."
Sources:
The Stars and Stripes, also here and here.
The author is a retired U.S. Air Force officer and a writer.