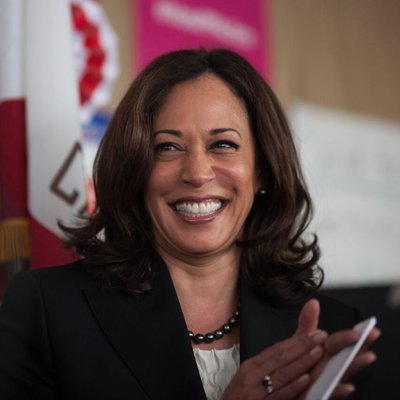 It is still very early in the 2020 presidential elections, a lot of things can and will happen and I may change my mind more than once, but, as of this moment, I am in for California senator Kamala Harris.
I believe, as Joe Scarborough writes in a Washington Post Op-ed today, "Kamala Harris has what it takes."
Scarborough penned the piece following Harris' Sunday's announcement of her 2020 presidential candidacy in her native Oakland, California.
In his piece, while admitting that the content of her Oakland speech "did little to differentiate her worldview from those of the dozens of other progressive politicians eyeing a nomination," Scarborough says,
Still, while Harris's speech may have been boilerplate, her presence was inspiring. Like Barack Obama's contagious laugh and Ronald Reagan's winning smile, Harris's electrifying announcement was powered by under-the-radar years of experience and shrewd political calculation. It could all be enough to move the former California attorney general to the cusp of a history-bending breakthrough.
This was before Harris' appearance at a CNN town hall at Drake University on Monday night where she was passionate, yet warm and witty, showed both empathy and authority and, most important, demonstrated knowledge and command of issues and policies.
Continuing on her theme, "America, we are better than this," she unmistakably criticized Trump's lack of integrity, his dishonesty, his failure to lead, especially on immigration, racial justice, heath care, gun control and related issues, without ever mentioning Trump by name:
It's very important that anyone who presents themselves as a leader, and wants to be a leader, will speak like a leader, and that means speaking with integrity — speaking the truth…And speaking in a way that expresses and indicates some level of interest and concern in people other than one's self…
She added the country deserves a leader who doesn't speak to "the lowest common denominators and base instincts and speak in a way that is about inciting fear as a distraction from the fact that you're getting nothing done, helping the richest people and the biggest corporations."
During her candidacy announcement speech, she said, "When we have children in cages crying for their mothers and fathers, don't you dare call it border security…That's a human-rights abuse and that's not our America."
Kamala Harris is the daughter of a Tamil Indian mother and a Jamaican father.
When asked about the historical significance of perhaps becoming the first black woman elected president, Harris often deflects the question by quoting her mother, who told her, "You may be the first to do many things, but make sure you're not the last," says CNN
Senator Kamala Harris is not new to government or to public life. She has a long "resume."
Knowing that I would write this piece about Harris, my wife suggested that I read her "bio" on Wikipedia first.
I did. It is a long and interesting one.
It has all the "good, the bad and the ugly." The good will be highlighted by her supporters, the bad will be emphasized by her opponents and, for sure, the "ugly" will be made to appear even more ugly by the master of the ugly game himself, "our president."
Rep. Ted Lieu (D-Calif.), the first member of Congress to endorse Sen. Kamala Harris for president said this on Twitter on Monday:
I endorse @KamalaHarris for President.

Known Kamala for many years & worked together on various issues. She embraces the future, not the past, and is the person we need to move America forward.
Of course, the Trump team will try to dig up dirt on the senator's past, some is already floating around in the Trump swamp.
But the more they do, the more it will indicate that they believe she will be a formidable candidate, that she "has what it takes," that she represents the future — that indeed America is better than this.
The author is a retired U.S. Air Force officer and a writer.