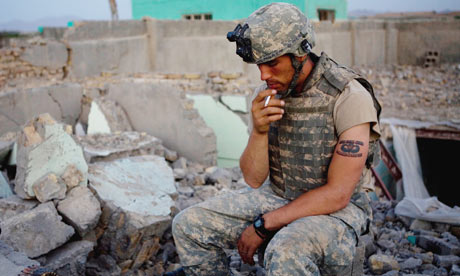 The world media is in a spin. The Guardian, the New York Times and Der Spiegel have published a huge cache of secret military files from the whistleblowing website Wikileaks, detailing the war in Afghanistan. Readers can folllow the latest reactions to the Afghanistan war logs here at this Guardian blog.
The huge cache of classified papers – posted by Wikileaks as the Afghan War Diary – is one of the biggest leaks in US history, reports the BBC. "The BBC's David Loyn, in Kabul, says these revelations will be "hugely embarrassing" for the White House, who are "infuriated" by the leak.
"These documents show aid that has not worked; political policy that was naïve at the beginning; and it shows quite how difficult a foe the Taliban have been. The Americans have misunderstood that until today," he says." More here…
Founded by secretive Australian Julian Assange, Wikileaks was originally based in Sweden and garnered 1.2 million leaked documents in time for its launch in January 2007, reports The Telegraph. It taps into the world's web users' desire either for justice or revenge on former employers or acquaintances, but its most significant stories have been held up as largely in the public interest. More here…
A stream of US military intelligence reports accuse Pakistan's Inter-Services Intelligence (ISI) spy agency of arming, training and financing the Taliban insurgency since 2004, the war logs reveal, bringing fresh scrutiny on one of the war's most contentious issues, reports The Guardian. "But for all their eye-popping details, the intelligence files, which are mostly collated by junior officers relying on informants and Afghan officials, fail to provide a convincing smoking gun for ISI complicity.
"The shaky intelligence does not mean the US does not believe the ISI is supporting the Taliban. The spy agency nurtured the Taliban in the 1990s and, although it purported to sever its ties after 9/11, is believed to maintain the relationship." More here…
These leaks are the latest in a long list of "leaks" published by WikiLeaks, which has established a reputation for publishing sensitive material from governments and other high-profile organisations, says the BBC.
"In April 2010, for example, it posted a video on its website a that shows a US Apache helicopter killing at least 12 people – including two Reuters journalists – during an attack in Baghdad in 2007. In October 2009, it posted a list of names and addresses of people it claimed belonged to the British National Party (BNP). The BNP said the list was a 'malicious forgery'. And during the 2008 US elections, it published screenshots of the e-mail inbox, pictures and address book of vice-presidential candidate Sarah Palin."
Here is a post in the Huffington Post: "Some of the reports describe Pakistani intelligence working alongside Al Qaeda to plan attacks. Experts cautioned that although Pakistan's militant groups and Al Qaeda work together, directly linking the Pakistani spy agency, the Directorate for Inter-Services Intelligence, or ISI, with Al Qaeda is difficult." More here…
UPDATE: Here's a list of the what appear to be the top 9 revelations.
Swaraaj Chauhan describes his two-decade-long stint as a full-time journalist as eventful, purposeful, and full of joy and excitement. In 1993 he could foresee a different work culture appearing on the horizon, and decided to devote full time to teaching journalism (also, partly, with a desire to give back to the community from where he had enriched himself so much.)
Alongside, he worked for about a year in 1993 for the US State Department's SPAN magazine, a nearly five-decade-old art and culture monthly magazine promoting US-India relations. It gave him an excellent opportunity to learn about things American, plus the pleasure of playing tennis in the lavish American embassy compound in the heart of New Delhi.
In !995 he joined WWF-India as a full-time media and environment education consultant and worked there for five years travelling a great deal, including to Husum in Germany as a part of the international team to formulate WWF's Eco-tourism policy.
He taught journalism to honors students in a college affiliated to the University of Delhi, as also at the prestigious Indian Institute of Mass Communication where he lectured on "Development Journalism" to mid-career journalists/Information officers from the SAARC, African, East European and Latin American countries, for eight years.
In 2004 the BBC World Service Trust (BBC WST) selected him as a Trainer/Mentor for India under a European Union project. In 2008/09 He completed another European Union-funded project for the BBC WST related to Disaster Management and media coverage in two eastern States in India — West Bengal and Orissa.
Last year, he spent a couple of months in Australia and enjoyed trekking, and also taught for a while at the University of South Australia.
Recently, he was appointed as a Member of the Board of Studies at Chitkara University in Chandigarh, a beautiful city in North India designed by the famous Swiss/French architect Le Corbusier. He also teaches undergraduate and postgraduate students there.
He loves trekking, especially in the hills, and never misses an opportunity to play a game of tennis. The Western and Indian classical music are always within his reach for instant relaxation.
And last, but not least, is his firm belief in the power of the positive thought to heal oneself and others.