A Texas Legend and a National Treasure Dies at Age 112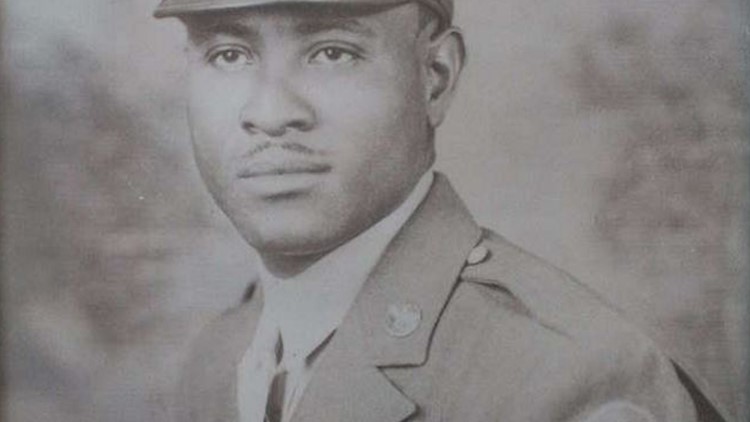 One of the most beloved residents of my hometown, Austin, Texas, the nation's oldest World War II veteran and America's oldest living man passed away on Thursday. He was 112 years old and would have turned 113 in May 2019.
He was so beloved by his community that when he turned 111, Austin gave the street where he lived on for more than 70 years an honorary name, Richard Overton Avenue.
Richard Overton who joined the Army in 1942 and served with the all-black 188th Aviation Engineer Battalion on various islands in the Pacific during World War II, had been hospitalized with pneumonia and died in a rehab facility in Austin.
Overton was born in Bastrop, near Austin, in 1906 — when the average life expectancy was only 47 years — and, after his three-year war service in the Army, returned to Texas where he built his home in East Austin where he spent the rest of his life and could often be seen on the porch of his house, sometimes with a cigar in one hand and a glass of whiskey in another.
Several local and national news sources are eulogizing the World War II veteran, recalling some of the human aspects of Overton's life and personality (his propensity to enjoy his supercentenarian status) — part of what Texas Governor Greg Abbott called the "quick wit and kind spirit" of "an American icon and a Texas legend":
• "He once said that one secret to his long life was smoking cigars and drinking whiskey, which he often was found doing on the porch of his Austin home."
• "He gave credit to God for his longevity, but he always said cigars and whiskey helped…'I been smoking cigars from when I was 18 years old, I'm still a smoking 'em. 12 a day,' he said."
• "He told CNN in 2013 that he credited God for living so long but said he didn't take any medicine and enjoyed his vices. 'I drink whiskey in my coffee. Sometimes I drink it straight,' he said when he was 107. 'I smoke my cigars, blow the smoke out; I don't swallow it.'"
But Overton also loved to eat soup, corn and fish, and drink milk. In a 2015 documentary, (scroll to bottom) Overton added, "And ice cream. I eat ice cream every night. It makes me happy…especially butter pecan." In the same documentary, before "hopping into his F100 custom pickup truck" Overton said, "I still walk, I still talk, and I still drive"
And Overton loved going to church, enjoyed singing and loved caring for his cats.
Finally, as for being the nation's oldest veteran, the American "supercentenarian" was grateful…"I ain't gettin rich but I feel glad," he said.
Overton has been highly honored by many for his World War II service, including by governors and presidents.
In 2013, a young, 107-year-old Overton was honored by President Barack Obama at the White House and at a Veterans Day ceremony at Arlington National Cemetery.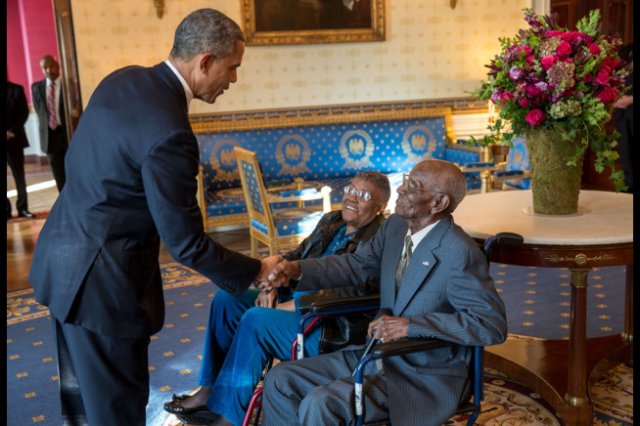 President Barack Obama greets Richard Overton, with Earlene Love-Karo, at the White House, Nov. 11, 2013. Overton and his guest attended the Veteran's Day Breakfast at the White House. (Photo Credit: Lawrence Jackson, White House)
In front of those gathered at Arlington National Cemetery, Obama said, "He was there at Pearl Harbor, when the battleships were still smoldering. He was there at Okinawa. He was there at Iwo Jima, where he said, 'I only got out of there by the grace of God,'"
Obama added, "His service on the battlefield was not always matched by the respect that he deserved at home. But this veteran held his head high… He carried on and lived his life with honor and dignity. He built his wife a house with his own two hands.."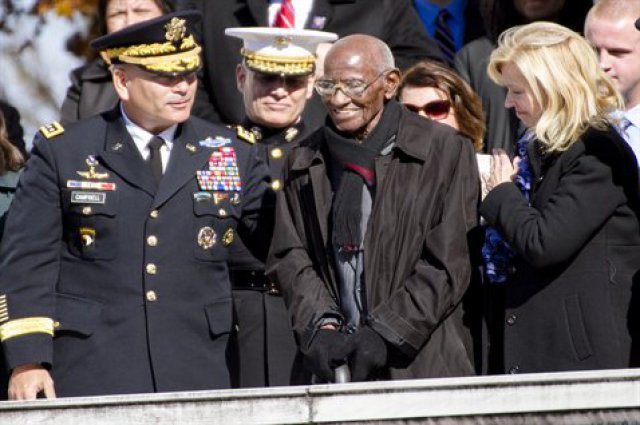 Richard Overton stands as President Barack Obama acknowledges him as America's oldest living World War II veteran, during the Veterans Day ceremony at Arlington National Cemetery, Va., Nov. 11, 2013. Army Vice Chief of Staff Gen. John F. Campbell joins Overton at the event. (Photo Credit: Staff Sgt. Sean K. Harp)
In a salute to Richard Overton, Kirby Killough at kiiitv.com perhaps says it best:
Richard Arvin Overton watched the world change during his 112 years on this Earth. He survived a war in which more than 80 million people lost their lives. He lived through segregation and saw 21 presidents in the White House during his lifetime.

Overton led a life well-lived, filled with love, laughter, bravery and courage. He loved his family, his country and hoped that we could all learn to love each other.

He was a beloved member of not only the Austin community, but the nation.
Please watch below the "quiet, self-told story highlighting Overton's many years…as told by Richard and mixed with footage from family parties, visits, and trips around the USA."
Credits for the video:
Producer + Cinematographer- Rocky Conly // https://www.rockyconly.com
Director- Matt Cooper
Producer – John Halecky