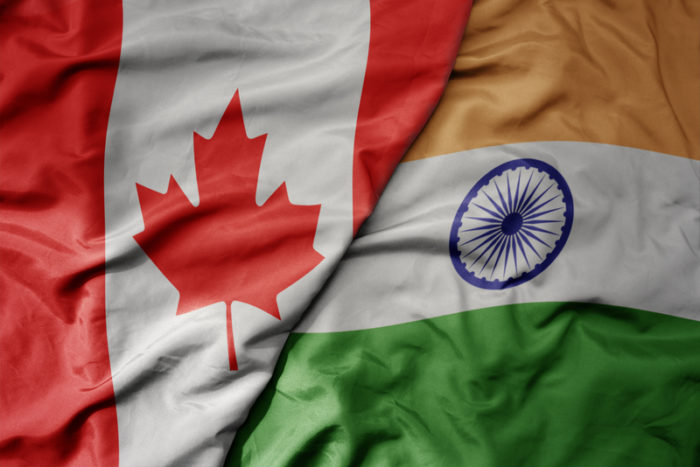 The sudden worsening of a sharp quarrel between Canada's Justin Trudeau and India's Narendra Modi could derail President Joe Biden's Asia plans because he needs Modi on his side to defang China.
Modi is a new US strategic ally with whom Biden is building stronger friendship. He is the only Asian leader bold enough to help Biden block China's Xi Jinping from dismantling US primacy in the Indo-Pacific and the current rules-based world order.
The unexpected crisis exploded on September 18. Trudeau told an emergency parliament session that Canadian intelligence had "credible allegations" about links between "agents of the government of India" and assassination of an Indian origin Canadian citizen. He has not provided evidence or details so far.
He was referring to Hardeep Singh Nijjar, who was gunned down on June 18, 2023, by two masked men in front of a temple of the Sikh religion in Surrey, British Columbia. The killers have not yet been found.
Delhi quickly rejected the charge as "absurd". It said Ottawa was sheltering Sikhs who are "promoting secessionism and inciting violence" against India, its diplomats and diplomatic premises, and places of worship of Canada's non-Sikh Indians.
Nijjar and his numerous Canadian Sikh followers are hardcore religious advocates who want an independent country inside India called Khalistan reserved for Sikhs, to separate them from Hindus, Muslims, Christians and others. That is why Delhi calls them secessionists.
Many fled Punjab to settle in Canada after a bloody battle inside the Sikh religion's most revered shrine called the Golden Temple, after it was occupied by heavily armed rebels fighting to establish Khalistan.
On June 1, 1984, then Prime Minister Indira Gandhi sent the army into the temple. The military and police commanders, who were also Sikh, crushed the rebellion. As vengeance, two of her favorite Sikh bodyguards assassinated her in the garden of her home on October 31, 1984.
Since then, all Indian governments and main political parties have taken a severe view of Khalistan proponents in India and elsewhere. For their part, the US and others did not condemn India although they have called for cooperation to bring Nijjar's killers to justice.
Trudeau may not realize it but across the length and breadth of India, people's anger is rising at the sight of intensely religious Canadian Sikhs brandishing huge Khalistan banners and making speeches about shattering the country's constitutional unity.
There is a growing belief in India that Trudeau is trying to hold on to power in a shaky ruling coalition by yielding to Jagmeet Singh, the Sikh head of the New Democrat Party who reportedly favors Khalistan. If so, it certainly isn't worth losing Delhi's long-term friendship over temporary political arrangements.
Modi is a popular politician with approval ratings of over 60 percent. Like him, many Indians see Trudeau as sheltering a separatist Sikh group that wishes their country's violent disintegration.
The risk now is that a lot of Indians may turn against the West if Trudeau does not control the activities of the Sikh separatists. That would ruin Biden's attempts to build a reliably resolute friend in Modi's India for America's long contest with authoritarian China's aggressive rivalry.
Trudeau says he is respecting the right of Canada's Sikh citizens to free speech but they directly counsel armed rebellion inside India. Ironically, hardly any Sikh in Punjab cares about Khalistan but clandestine funds and weapons sent from Canada and elsewhere can tempt greed and fuel new armed terrorism. No Indian government will countenance that regardless of whether Modi is prime minister.
In any case, Khalistan would be a tiny land-locked isolated country with a huge hostile neighbor and no backers except Islamist Pakistan, India's mortal enemy, and perhaps some cheerleaders in Canada, America, Britain and Australia.
The vociferous Khalistan minority among Canada's 770,000 Sikhs does not in any way speak for the 22 million Sikhs in India's 1.4 billion population.
Delhi has for decades been asking Ottawa to keep a vigilant eye out for Khalistan secessionists among its naturalized Sikh citizens and control the risks they pose to other Indians in Canada.
Ironically, the obsession with Khalistan to separate Sikhs from Hindus is an oddity since the Sikh religion was founded around 1500 by Guru Nanak whose sacred poems and prayers exalt divine incarnations worshipped for centuries by Punjab's Hindus.
Practice of the Sikh religion is distinct from Hinduism but both share almost identical core beliefs since Guru Nanak's teachings center on salvation through meditation on the divine sound "Om", which Hindus have used for millennia.

Photo 285752825 © Ruletkka | Dreamstime.com