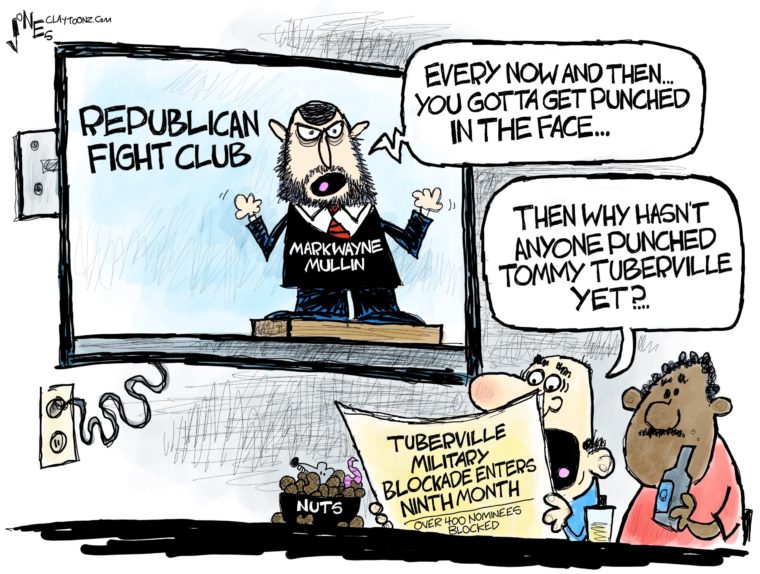 My first thought when I saw Oklahoma Republican Senator Markwayne Mullins challenging a witness to a physical fight was, "This guy's a United States senator?" Even from Oklahoma, a senator should act like a senator.
What's going on with Republicans in Congress anyway? Over on the House side where Republicans are in control, former Speaker Kevin McCarthy was accused by fellow Republican Tim Burchett ( one of the eight far-right lunatics who voted to remove him from the speakership) of elbowing him in the back.
The Republicans were walking out of a conference meeting Tuesday when Burchett stopped to talk to reporters in a Capitol hallway when Kevin bumped into him. Burchett chased after McCarthy and asked, "Why did you do that?". Burchett said it was deliberate (in case you're a Republican, "deliberate" means on purpose).
Advertisement
McCarthy denied the elbowing and told CNN, "If I would hit somebody, they would I know hit them." Uh, he does know that you hit him. It's why he asked why did you hit him.
C'mon, Kevin. If you're going to act out your rage on the members of the Goon Caucus who removed you from the speakership, they why didn't you start with the guy responsible for it all, Matt Gaetz? Look at his forehead. You can't miss it. Go get slap happy on that.
On the other side of the Capitol in the Senate chamber, Mullin challenged Teamsters President Sean O'Brien to a physical fight. Republicans are morons and Mullin is proving it by challenging an Irish Teamster president to a physical fight. I don't care that Mullin is a former mixed-martial artist (only three fights), but you don't pick a fight with teamsters. If you don't believe me, ask Jimmy Hoffa…if you can find him.
O'Brien and Mullin had been trading insults on Twitter before the committee hearing where the drama unfolded.
During the hearing, Mullin got away from the purpose of the hearing and read some of O'Brien's tweets directed at him. Mullin then challenged O'Brien, saying, "you want to run your mouth? We can be two consenting adults, we can finish it here," and demanded that O'Brien "stand his butt up." Who swooped in to save the day? Bernie Sanders.
Sanders, the adult in the room, said to Mullin, "No, no, sit down! Sit down! You're a United States senator," which made a lot of people cry after being reminded that Mullin is indeed a United States Senator.
Mullin later defended himself and said reacting to insults and threats with physical violence is what he's teaching his children. He said, "Every now and then, you need to get punched in the face." He was playing tough guy and crybaby at the same time, talking about kicking O'Brien's ass while saying, "He started it."
It doesn't matter that O'Brien was being juvenile and started it. Yes, he should act like an adult but Mullin is a United States senator. He should act like it. He should be more like Bernie.
Mullin said fighting in the senate chamber would be OK since senators used to be able to "cane" each in the chamber, making it sound like it happened all the time and not just once, which was in 1856 when a racist pro-slavery senator attacked an abolotionist senator with his cane. This was Mullin's example of two consenting adults "duking it out," though I don't think the abolitionist senator consented to being caned. Mullin also referenced President Andrew Jackson's duels with pistols and history of randomly punching people during meals to justify his wanting to beat up O'Brien.
This has been a busy week for Republicans to emulate vile human beings with Trump copying Hitler's "vermin" talk and Mullin idolizing racist murdering Andrew Jackson. What's next? Is Ted Cruz going to fancy himself as today's Pol Pot? Will Josh Hawley emulate Vlad the Empaler? Will we see Matt Gaetz compare himself to whoever it was that wrote the Kars-4-Kids jingle? Will we see Marjorie Taylor Greene emulate Marjorie Taylor Greene?
Senate Republicans are also fighting each other over Tommy Tuberville's blockage of military promotions, which has been going on for nine months. There are plenty of Republican candidates who are ideal for a face punching, like Josh Hawley, Rick Scott, Mike Lee, Tom Cotton, Marco Rubio, Rand Paul, Mitch McConnell, Bill Cassidy, J.D. Vance, Ron Johnson, Mullin of course, and the most-punchable face of them all, Ted Cruz, but the first in line should definitely be Tommy Tuberville.
Notice that I left out all the vile Republican female senators, like Cindy Hyde-Smith, Marsha Blackburn and Lindsey Graham. You don't punch women and there is slight evidence that Republican females are humans too.
I mean, slapping the taste out of Tuberville's mouth can't make the guy who believes the three branches of government are the House, Senate, and White House any dumber.
Watch me draw:
Visit ">Clay Jones' website and email him at [email protected].