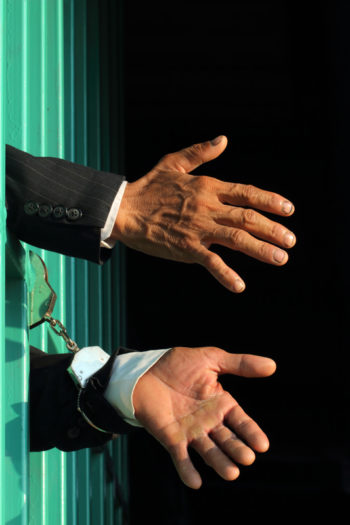 by Don Hermann
Columnist
He's a very troubled guy. He's has a history of doing a lot of trouble to himself and others.
HE'S DELUSIONAL.
He should be put away, but not in jail. He belongs in a mental institution where he can get help.
Before you throw rotten eggs at me, let's look at his past behavior. You won't have to be a trained therapist to see the pattern.
For starters, this pattern is not related to his intelligence. He has a history of being someone he's not. When he fails he tends to go to extremes to either take on the role or blame other people.
He has presented himself as a charmer with the ladies. He has admitted kissing women who don't know him. Even touching them in unwanted areas.
About 25 women have accused him of sexual molestation. Is that all made up? He just lost a major case. Delusional?
He's already paid out several hundred thousand dollars to women he's had relations with. And of course denied the Stormy Daniels situation. Delusional?
When he was eligible to be drafted, Classified 1A, for service during Vietnam. His father arranged to have him Re-Classified 4F, unfit to serve due to bone spurs. Was Mr. Macho otherwise prepared to defend our country? Maybe not Delusional, but questionable for honesty.
Presidential candidates tradionally provide transcripts of high school and college records. He made claims of significant achievement, threatening schools to not divulge information about him. He painted a picture of someone he wasn't. Delusional?
Medical records are also part of the disclosure process when becoming a candidate for President. According to Trump he was one of the healthiest people on the face of the earth.
Here he played Doctor. He wrote his own medical report and forced the Internist to sign it. To insure secrecy, he had three goons raid the Doctor's office and take all his records.
The doctor's quote: "I felt raped." Delusional?
The pattern of being someone else has taken hold. Promises made, Promises not kept are the pattern.
Many of his supporters are impressed with his background as a businessman. You can't argue with his experience in a wide variety of fields.
Here is a partial list:
Trump Airlines
Trump Vodka
Trump Mortgage
Trump Steak
Trump Plaza
Trump Taj Mahal
Trump Castle
Plaza Hotel
Trump University
Trump Network
Trump Ice
NJ Generals
Each one of these businesses under his control went belly-up.
That speaks volumes about his role in these ventures. Delusional?
Now skip ahead to his becoming President. According to the Washington Post during his tenure he lied to the American people over 30,000 times. Someone he wasn't? Delusional?
As a businessman, his claim of financial acuity was going to be demonstrated. Obama left him with a deficit of
$500 billion plus. A reduction of over $500 billion. Experts' predictions had Trump leaving office with a $One Trillion plus deficit. They were only off by over $Two Trillion. His deficit exceeded $Three Trillion. Was he playing President?
Delusional?
His personal image was such a distraction. The time he spent with his hair and make-up was legendary. Hours a week. His questionable financial dealings personally were a major distraction. He gave hints that if he lost the election, he could be in major trouble. Jail was something that seemed to raise its ugly head every now and then.
His envy of how Putin and other Dictators ran their countries was uppermost in his mind. If only… He then would have to account to no one.
According to CNN, Daniel Dale January 16, 2021, here are some of TRUMPS MOST NOTABLE LIES:
. IT DIDN't RAIN ON HIS INAUGURATION
. THE CORONAVIRUS WAS UNDER CONTROL
There was more of a family of lies. The situation was
was totally under control. The virus was "disappearing"
A year into the crisis, more than 386,000 Americans died
from the virus.
. REP. IIHAN OMAR SUPPORTS AL QAEDA
Trump grossly distorted a 2013 quote from her. An attempt
to get his supporters to believe she backed the terrorist
group. She had already been getting death threats.
. THE TRADDE DEFICIT WITH CHINA USED TO BE
$500 BILLION
He made that claim over 100 times. The actual pre-Trump
deficit never reached $400 billion.
. WINDMILL NOISE CAUSES CANCER
An unnamed source. Twitter took down his account.
. TRUMP WAS ONCE NAMED MICHIGAN'S MAN OF THE YEAR
He never lived in Michigan. Why would he been named Man
of the Year before his presidency? He repeated that claim
rally after rally.
. TRUMP WON THE ELECTION
Those examples are only scratching the surface. He order the killing of the Iranian Terrorist Leader. Many military leaders were concerned of retaliation. He rejected it. Sesveral days after the attack, Iran made a rocket attack on our military base. Around 110 military people suffered brain injuries, as a result.
Being a military leader turns him on. He ordered a parade on Veterans Day 2018. Only $92 million dollars. If that's not Delusional, what is?
Solution. Let's just put him away. Get him toy soldiers. Toy female dolls and whatever other fantasies that would occupy him.
Give him a title: FIELD MARSHALL TRUMP.

Photo 92529091 © bunyarit hangkaeo | Dreamstime.com