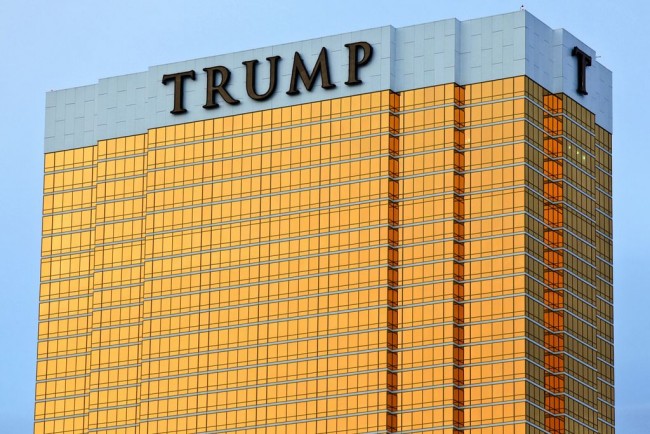 Once upon a time "used cars" had such negative image that they became "pre-owned cars." "Gambling" was replaced by "gaming." When it comes to Republican Presidential candidate Donald Trump, damage to his brand was inevitable. As would be an attempt to gloss over the damage. And now we have the first signs — amid many reports that Trump company earnings are down — that the company has to regroup: new hotels won't have his name.
Amidst reports that occupancy rates at Trump Hotels have slipped this election season, the company has announced that new brand hotels will no longer bear the Trump name.

The newest line of luxury hotels, geared towards millennials, will be called Scion, the company said.

"We wanted a name that would be a nod to the Trump family and to the tremendous success it has had with its businesses, including Trump Hotels, while allowing for a clear distinction between our luxury and lifestyle brands," Trump Hotels CEO Eric Danziger said in a statement.

Although Trump Hotels has said the new name has nothing to do with the eponymous businessman's presidential campaign, empty rooms at the hotels have caused officials "to reduce rates during the peak season," according to New York Magazine.
Of course the company would deny it. We've seen the same pattern with Trump during the campaign when negative news comes out. BUT:
Nightly rates at the newly-opened Trump International Hotel in D.C. plummeted below $500 while practically every other five-star property was sold out for the International Monetary Fund conference two weeks ago. And after his remarks about Mexican immigrants, two celebrity chefs backed out of their contracts to open a restaurant in the hotel.
Even so, this won't surprise you:

According to Hipmunk, bookings at Trump Hotels plummeted 59 percent during the first half of 2016 and data from Foursquare shows a 17 percent drop in foot traffic at Trump properties since June 2015, when the reality TV star announced his presidential bid.
To be sure, the company disputes this and offers a counter argument but, really, does anyone doubt that earnings would have dropped this much if Trump had not jettisoned his brand?
Gone was the colorful, bombastic, billionaire and (starting with him becoming the country's leading birther) in his place appeared someone with the assertive dominant Trump personality who seemed to seek to be a combination of Huey Long, George Wallace, Joe McCarthy and who various analysts could point to as seeming to be using a playbook successfully used by Adolf you-know-who.
Even among billionaires, it's clear that Trump has hurt himself. So if he wants to offer chains offering rooms at big buck prices, it won't appeal to his base.
He'd have to open Motel Ts or something.
And, given some of his comments on race and the identity of some of his followers, may have to switch from Trump ties to Trump White Bedsheets.
Or a hotel with a big wall built around it.
But the company had to take a hit — which must be of concern to his children because they will have to deal with a damaged brand. And watch how many people will decide not stay over at Scion hotels, unless they offers some impossible-to-refuse rates at Orbitz. So apparently one of the things that has been "yuge" in this election season is the blow to what the name "Trump" now stands for.
Perhaps a post-election appearance on Dancing with the Stars might help.
But his current political branding and the ongoing scandals about women suggest he might give a new meaning to the "goose step."
photo credit: Håkan Dahlström Golden Trump via photopin (license)
Joe Gandelman is a former fulltime journalist who freelanced in India, Spain, Bangladesh and Cypress writing for publications such as the Christian Science Monitor and Newsweek. He also did radio reports from Madrid for NPR's All Things Considered. He has worked on two U.S. newspapers and quit the news biz in 1990 to go into entertainment. He also has written for The Week and several online publications, did a column for Cagle Cartoons Syndicate and has appeared on CNN.